A memorial service for Paul Feuerzeig, who died Dec. 31, 2022, will be held Sunday, June 11, at 2 p.m. at Magens Bay, Shed No. 3.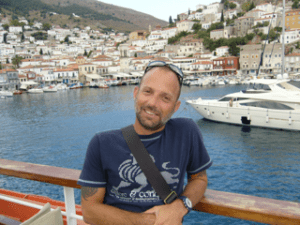 Paul died in Atlanta, Ga., of metastatic lung cancer at the age of 53. His roller-coaster life served as an inspiration to family, friends, and clients.
Paul was born Aug. 14, 1969, in Washington, D.C., but moved to St. Thomas at age 2 and grew up as an island boy.
He graduated from the V.I. Montessori School, and after a colorful adolescence — marked by attendance at Antilles School, Sts. Peter and Paul, and Charlotte Amalie High School — he ultimately got his GED.
He had a successful stint in the U.S. Navy from 1995-97, before graduating with a Bachelor's Degree from Georgia State University in 2002. Soon after he launched Rolling Bones BBQ in Atlanta with lifelong friend Dana Armour of St. Thomas.
Paul's life was transformed by two life-changing events: first, he stopped drinking, thanks to The Meadows in Wickenberg, Arizona, and second, Bill Collins of Texas Pit BBQ on St. Thomas refused to hire him, urging him instead to follow his dreams.
He went on to earn a Master's Degree in professional UAS counseling in 2010 from Georgia State University, graduating with a 4.0 grade point average. He worked for five years at the MARR Addiction Treatment Centers in Atlanta before starting his own private practice in 2015, specializing in addiction and trauma therapy. It was in this capacity that Paul blossomed and became a renowned therapist, treating and helping to save the lives of many of his clients.
Along the way, he met and romanced Raquel James of Atlanta and Trinidad. They got married in 2010 on St. Thomas, and had two children, Micah and Kai. This was the happiest, most satisfying time of his too-short life.
Survivors include his wife and children; his parents, Penny and Hank Feuerzeig of St. Thomas; a sister, Darcy Coty of Atlanta; brother-in-law Aaron Coty of Atlanta; mother-in-law Heather James of Trinidad; sister- and brother-in-law Dr. Shari-Ann James and Jason Baldeau of Orlando, FL; and nieces Addison Coty of Atlanta, and Maya and Zara Baldeau of Orlando.