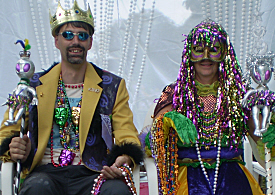 It's always a little spacey on St. Croix's North Shore at Cane Bay, but Saturday it was really out of this world, thanks to the Mardi Croix Parade.
"Krew de Croix Blasts Into Outer Space" was the theme for the eighth annual parade, and people were certainly having a blast.
"This is so much fun," said Ali Hember, from England. "We would love to start something like a Mardi Croix in the U.K." Hember and her friend Sheila Millener said they come every other year for the festivities. This year they marched in the parade with the Red Hat Ladies, a social organization.
Hundreds of Mardi Croix revelers dressed in all kinds of crazy outfits lined both sides of North Shore Road, standing in the blazing sun or sitting in folding chairs in the shade. Vicki Rose looked like she was ready to party, dressed in a shinny purple sequined sheath dress. Metallic wigs were everywhere, and people were adorned with loads of Mardi Gras beads.
Blasting off to outer space was old hat for the Grand Marshal, NASA astronaut Leland Melvin, who was riding in a royal blue Mustang convertible tossing out beads.
"I am so humbled to be part of this distinguished crowd," Melvin said with a big grin. "This is great – there is such a sense of community here today. I'm happy to take part in it." Melvin had been on St. Croix giving inspirational talks to local students.
The Central High School Jr. ROTC color guard, who always look impressive in their crisp green uniforms and shinny helmets, led the parade. Following them were10 members of the Rain Riders motorcycle group.
King of the parade was Larry Barr and Queen was Pat Dawson."I feel so royal and special," Dawson said. Dawson looked like royalty from outer space with a multi-colored metallic wig, a strange-looking gown of yellow satin and royal blue velour and bright green velour elbow length gloves.
The Gentlemen of Jones marched along the route in high spirits. Seven Red Hat Ladies all dressed in purple and red were strutting along having a gay old time laughing and carrying on.
At one point during the route a viewer who called himself "Nacho" was overheard saying "This parade has turned into a real party."
Judges Brian Bishop, Wes Small and Marcus Vadio gave first place to the Island Aliens and their Island Tours float.
"They really deserved first place," said Val Stiles, media representative for Krew de Croix. "They put a lot of work into their float."
The Mardi Croix celebration was the brainchild of Tom and Dorey Tiblier, who moved to St. Croix 18 years ago from New Orleans. The parade is self-funded by the members of Krew de Croix.
"Things are going well," Tom Tiblier said. "The tough part is getting everyone lined up and ready to go." Tiblier estimated the crowd to be around 2,000 people.
New Orleans rhythms and blues were heard coming from Spratnet Beach Bar, where the Grandsons were playing live.
Beau Newsome, 89 years old said, as he danced the Jitterbug with Mary Bodio, age 85, he loves to come out for some fun at Mardi Croix.