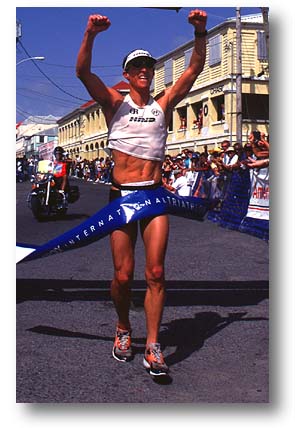 Still growing after two decades, the 22nd St. Croix Ironman 70.3 triathlon will bring business and international attention to St. Croix May 2, but what is its overall economic impact to the island?
Athletes, their spouses, children, friends and supporters will soon descend upon St. Croix, and racers will wind through the island's waters and roadways for one of the premier destination triathlons in the world, bringing attention and business.
The V.I. Tourism Department is a principle sponsor of the race, putting in $100,000 to help bring it about.
"This is one of our best performing sports tourism events," said Brad Nugent, deputy tourism commissioner, Tuesday. Tourism tries to have at least a three-to-one return on its investment, generating at least three times as much commercial revenue from hotel stays, restaurant tabs and shopping bills as the department spends to help promote and put on an event. According to Nugent, the triathlon "well exceeds" that.
"Many of the folks that participate in the tournament are here several days prior, getting acclimated to the weather and so on, and during that time, they are spending money in the community," Nugent said.
For the past several years, over 400 athletes have traveled to St. Croix to race, bringing family and friends along with them, according to Chantal Figueroa, Tourism's deputy commissioner in charge of marketing. In the past, race organizer Tom Guthrie has estimated as many as 850 or more multi-night hotel visitors come for the weekend. While a cruise ship may bring in a lot more people than that for a few hours, hotel visitors spend a lot more time—and money—during their stay.
Most of the benefit goes to Christiansted and East End businesses near the race course. The Friday before the race a Jump Up celebration will pack the streets, stores, bars and restaurants of Christiansted. Hotels see a big spike, restaurants in the hotels do well, and restaurants a bit further afield see a bump in sales; a few good but not necessarily extremely busy days. But these good days, which come at the tail end of the season, are prized.
The King Christian Hotel overlooks the race's starting point, across from Ft. Christiansvaern.
The race "comes at the right time just when things are falling off the winter highs," said King Christian Hotel manager Earl Powell. "Over the past nine years we have seen the triathlon grow, and we have found out many triathletes are returning year after year; at least 55 percent." While the 40-room hotel has been full or nearly full for the past five months, tourism has been slowing down since March 18, Powell said, so a big burst of business before the lean summer months is welcome.
While not as close as many hotels, Divi Carina Bay Resort gets a late-season boost because of its size.
"We host the awards banquet, serving over 800 athletes and family members after the race," said Kevin Jackson, assistant manager at Divi. "We do see our fair share of athletes, too. But we have the large space you need for the banquet."
Other hotels in town, like Holger Danske, King's Alley and Company House, also see increased business.
"We do see a boost, but typically they book at the last minute, so we haven't seen the increase yet," said Tony Jeffers, hotel manager at Kings Alley.
Out on the West End, the impact is much less and a bit more difficult to gauge.
"In terms of having an actual participant staying with us, I would say we see maybe one every other year," said Paul Benedict, proprietor of Cottages By the Sea, a small resort south of Frederiksted. "We may get some reservations because hotels are full elsewhere, but I haven't really seen it." His hotel does see a little boost sometimes on the night of the race though, because some roads are closed for the race.
"People leaving Christiansted can't get to the airport easily, so they send us a couple of one-night reservations who are leaving early in the morning," Benedict said.
Back at Tourism, Figueroa, Nugent and the rest of the team look not only to dollars spent, but also to exposure, media coverage and any increase in general awareness of St. Croix.
"Our support of the event goes beyond trying to fill hotel rooms solely for this time period," Figueroa said. "We are also trying to garner widespread coverage of the event in order to promote travel to St. Croix for next year's event and throughout the year."
To that end, Tourism will host two international triathlon writers on St. Croix to cover the race. Longtime triathlete Barry Siff, who is also participating in the race, will produce pre- and post-race coverage for "Daily Triathlon," the Australian magazine, "Triathlon & Multisport," and Ironman.com, which collectively reach more than 100,000 readers around the world.
And Nis Sienknecht, editor of the Germany-based "Triathlon" magazine, will recap the race for the magazine's 45,000-plus readers in Germany. The writers will also experience elements of St. Croix's leisure travel offerings firsthand when they tour the island, dine at restaurants in Christiansted and Frederiksted, and visit historic sites.
That sort of media exposure may not directly bring in money but can be compared to advertising that reaches a similar number of eyes and ears and is good for the overall marketing of St. Croix and the territory, Figueroa said.
All told, the 22nd St. Croix Ironman Triathlon may not bring an overwhelming tide of cash, but between media exposure, "heads in beds" and meals served, the race is a welcome economic annual shot in the arm for St. Croix.