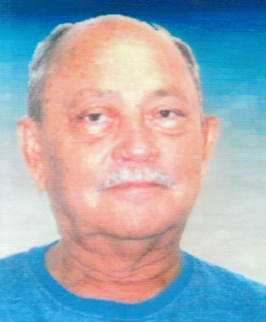 Rev. Mr. Angel Maldonado Rodriguez, also known as "Tito," of Campo Rico died on April 19. He was 69 years old.
He is survived by his wife, Ada Raya; mother, Rosalia Rodriguez; daughters: Amarilys Maldonado Raya, Amnerys A. Maldonado-Rivera and Jessica A. Maldonado; son, Marco A. Maldonado; stepson, Dennis Clarke; grandchildren: Benjamin A. and Soleil A. Rivera Maldonado, and Christian Maldonado; sisters: Lucrecia, Maria and Rosa Maldonado; and brother, Pablo Maldonado Jr. He is also survived by sons-in-law: Benjamin Rivera Jr. and Tony A. Soto; nieces: Rosa Armstrong, Virginia John, Brenda and Annette Robles Raya, Yamilette and Lourdes Yamaris Arroyo Raya, Mara and Fiorimar Raya Gonzalez, Alma and Phyllis Garcia, Gretchen and Krisia Raya Rodriguez, and Amaris Luz Raya; nephews: Hernan Robles Jr., Jorge Abdiel Arroyo Raya, Jose Francisco Raya, Joseph Garcia, Ernesto Emmanuel Raya, Joel Raya Angulo, Hassani Raya and Pablo Maldonado III, great nieces and nephews too numerous to mention; sisters-in-law: Alma Mandresh, Luz S. Raya, Carmen L. Raya, Virginia Arroyo Raya and Altagracia Maldonado; and brothers-in-law: Salvador, Francisco, Ernesto and Joel Raya Davila. Other survivors include his aunt, Isabel Rodriguez; mother-in-law, Maria L. Davila; cousins and other special relatives: the Nieves family, the Clarke family, Jose Armando Rivera, the Frederiksted Health Center family, the Holy Cross, St. Patrick's, St. Joseph's and St. Ann's Catholic congregations; special friends: Roebuck-Galiber family, Efrain Santiago, Carmen George, the Deaconate family, Miguelina and Leonardo Ayala, and the Roman family; as well as other relatives and friends too numerous to mention.
A funeral service will take place at 1 p.m. on Thursday, April 22, at St. Patrick's Catholic Church. Interment will follow at FrederikstedCemetery.