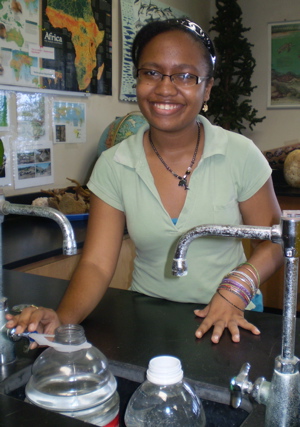 Whitly Charles, a senior at St. Croix Educational Complex, says success in life is all about the choices one makes.
Charles, who lives in the William's Delight area, says your situation doesn't define who you are, you choose to make something of yourself. She is looking forward to a change of scenery and leaving William's Delight behind. She has chosen to continue her education at the University of Indianapolis and study graphic design, a life in which she hopes she will not have to struggle as hard as her mom, Marinna Stanislas.
She says since she was young she has wanted to be a doctor, policewoman, chef, and a medical examiner. She has chosen to go into the fine arts and concentrate on graphic/web design and marketing. She wants to become an art director at a major magazine or television network.
Charles has been dabbling in art for as long as she can remember. She has seriously concentrated on her art work since she was a freshman. Her junior year she was selected to take Advanced Placement art classes with local artist, John Jones. She took an introductory course on computer graphics and was hooked. She enjoys photography too and works with the PhotoShop computer program.
Complex didn't have a local chapter of the National Art Honor Society, so she spearheaded getting one up and running and was elected president of the society.
Last summer she attended a one-week art workshop at Savannah College of Art and Design on a scholarship from the St. Croix Community Foundation.
"I loved the classes and the chance to see what college life is like," Charles says.
She has volunteered at the Caribbean Museum Center for the Arts helping set up displays for shows. A poster she created was chosen to be used as a fundraiser for art scholarships from the Art Thursday group of merchants in Christiansted. She has displayed her work at Danica Art Gallery in Christiansted.
Art isn't her only love and form of expression, she expresses herself in her writing too.
"I express my feelings and emotions in writing," Charles says. "I have written 370 poems and filled seven journals."
Veronica Prescott, the teacher she had in the Gifted and Talented Program at Juanita Gardine Elementary School, got her interested in poetry.
"Ms. Prescott encouraged me to take challenges and was very supportive," Charles says. "She was like a second mother to me."
Charles also excels in advanced placement classes such as English and biology.
"Whitly is a very dedicated student who asks a million questions," says Tanya Nichols, AP biology teacher. "She always comes out and does extra work — like today."
Charles' interview for the Source was at Complex on Saturday where she was studying for a biology test to earn college credits.
Her extracurricular activities include membership in the National Honor Society and the National English Honor Society. She does photography for the yearbook and school newspaper that she also writes for. She took part last week in the V.I. High School Appellate Moot Court Competition.
"I loved the competition, but it was nerve wracking," Charles says. She loves to debate and had the chance to do so in a students mock Senate session last year. She has also competed in school quiz bowls.
She doesn't know where she will end up after college, but she would like to come back to St. Croix to raise awareness of careers in art for local students and raise funds for their educations. She hopes to be a positive influence for students of the arts.
"I want to show other kids your situation doesn't define who you are," Charles says. "They can change their situation."