Superior Court Judge Michael Dunston denied bail Friday to 28-year-old Jody Penn, who is accused of killing 26-year-old Dion Henry by shooting him multiple times in the back with an AK-47 assault rifle on April 8.
Citing "substantial corroboration from hearsay testimony" indicating that Penn committed the crime, Dunston's ruling leaves Penn behind bars while he awaits trial for first-degree murder.
During the hearing Friday, V.I. Police Detective Albion George said he and other members of the VIPD Major Crimes Unit were called to Anna's Fancy just after 8:30 a.m. on April 8. When they arrived, they found Henry dead, lying face-down on a dusty dead-end street with numerous gunshot wounds.
Around his body lay spent brass casings and 7.62 mm bullets – the type fired from an AK-47 assault rifle. Henry, for his part, was carrying a loaded .357 Magnum, police said.
Canvassing the area immediately, George said numerous witnesses came forward to describe what they saw or heard, including one witness who led them to Penn.
Police arrested Penn at the witness's house, with the help of a neighbor who George said recognized that the woman was in distress. George said the witness was "fearing for [her] life, fearful, traumatized."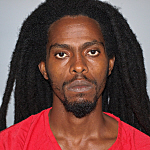 George said at least two other witnesses saw someone matching Penn's description running from the spot where Henry was shot.
Another man, who happened to be working nearby, said he saw the whole shooting but did not specifically identify Penn, George said.
The man said he saw two men walking or running in the same direction, one apparently chasing the other with a rifle or a "machine gun." He said the armed man then shot the other man in the back. When he fell on the ground, the gunman stood over him and shot several more times, according to George.
That witness, George said, was "very helpful, very positive and wanted to do something about what they saw." He and the others gave video- and audio-taped statements to police.
When police obtained permission from the owner of the abandoned house to enter it, they found a Glock .40 caliber pistol and an AK-47 assault rifle, as well as .40 caliber and 7.62 mm magazines, clips and rounds for both weapons.
Penn's clothes, as well as the AK-47, Glock and ammunition are being analyzed at the FBI lab on the U.S. mainland.
Giving a hint to his defense strategy Friday, attorney Russell Pate told Dunston that neither weapon could be linked to Penn, that no witnesses identified Penn as the shooter and the abandoned house where the guns were recovered was locked. "How could he have gotten in there?" Pate said.
Dunston seemed unimpressed.
Penn's mother and another woman remained in the frigid courtroom for two hours Friday to show support. They made hand signs and mouthed greetings during breaks.
In a previous hearing, Dunston said Penn faced a mandatory minimum of 15 years in prison for possessing the weapons with obliterated serial numbers and faced life in prison without parole if convicted for first-degree murder as charged. An AK-47 has "no useful purpose other than to shoot human beings…." Dunston said at the time.
In addition to the murder and weapons charges for Henry's death, Penn is also charged with two counts of first-degree assault and more weapons charges for shooting and wounding a man and a woman driving in a car two days before the Henry murder – apparently with the same AK-47. He was re-arrested on April 16 while locked up by the Bureau of Corrections.
Dunston set the murder trial to start with jury selection on Sept. 27.