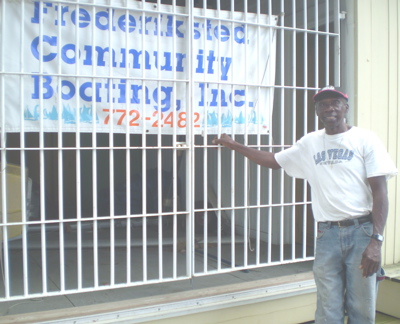 Over the past couple of years funding has dried up for Frederiksted Community Boating, as it has for a lot of non-profit organizations these day.
In the past the school has been funded by Law Enforcement Planning Commission under the V.I. Police Department, the V.I. Senate and private donations.
Now the board of directors of the children's sailing school hopes to fill holes in its funding by attaining non-profit status in March. The group has sent out more than 60 letters to potential donors.
"We hope to get the word out soon that we will be able to hold classes this summer," said Susan Allick, founder of the school. "We need the funding to pay instructors, which isn't an easy job."
She said not just anyone can teach sailing. Instructors have to be certified and experienced sailors.
Instructors have introduced more than 600 children to the marine environment through lessons in water safety, physical coordination, self-esteem and environmental awareness. They provide opportunities for children between the ages of 8 and 16 to learn sailing skills necessary to participate in the development of the local marine industry.
The primary focus is on the youth in the public housing communities in Frederiksted.
"The kids are happy learning to sail instead of just hanging around doing nothing," says instructor Wilfred "Junie Bomba" Allick, Jr. "Imagine how many kids would have problems if we didn't have the classes. They get so excited about sailing they have a hard time sleeping at night and can't wait to get here in the morning."
The school has been around since 1995 and has had its ups and downs over the years, but they are still determined to ride the waves.
The first two sail boats they started with crashed in 15-foot waves that hit Frederiksted in 1997. Since 1998 an anonymous donor has given 14 Clark Craft boat building kits. Students in the marine technology class at St. Croix Career and Technical Education Center have assembled the boats under the instruction of Frank Cousins. A motor boat is used during instruction as the safety boat.
A boathouse was built in 2007 through the generosity of Ursula Neuburger and Nick Castruccio, board of directors president.
The two-week classes are held during the summer at the boathouse from 9 a.m. to 3 p.m. Monday through Friday on Strand Street next to the Frederiksted fish market.
Safe boating practices are taught first, and all the students are tested on their swimming ability and required to wear life jackets. They start out on dry land learning the parts of the boat and sails and how to drive and steer. The class views a DVD of capsize recovery methods. Next a capsize is demonstrated while a boat is tethered to a floating raft. Each sailor gets in the capsized vessel, rights it, and bails until it can be sailed. The young sailors learn navigation, wind direction, knot tying, hand signals and responsible rules of the sea. In the second week the students get into racing and competitions. The last day is a family fun day with trophies and awards given out.
Wilfred Allick Jr. learned his sailing skills at an early age from his father Wilfred Elisha Allick, a well-known local ship captain. Susan Allick learned to sail growing up on Cape Cod, Mass. and was on the Boston University Womens Varsity Sailing Team.
Susan Allick says they would eventually like to provide the classes year round and get a core group into competition in regattas.
"I hope it is going to start happening now with our 501.3c (non-profit) status," Susan Allick says.
Those wishing to make a donation can call Castruccio at 773-9633. Further information on the program can be obtained by calling 772-2482.