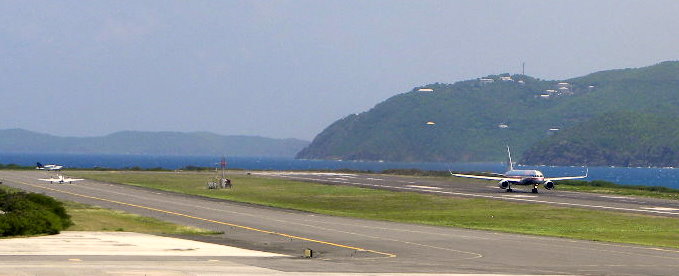 Three runway closures at Cyril E. King Airport over the past two months, including one this past Sunday, have caused planes to be diverted so that repairs could be made to the surface.
The King runway, which is being repaved, failed in first 1,200 feet, which is the oldest part of the runway, according to Byron Todman of the V.I. Port Authority's (VIPA) engineering department.
The repaving project is still on schedule for completion in early December 2010.
The area affected was the outermost 25 feet from the centerline, and not where the wheels of the planes touch down.
"The existing pavement failed after it was milled," Todman said. "The area was only scheduled to be milled less than one inch to roughen the surface for repaving."
The 15-inch-thick runway is made up of many layers, Todman explained, and following milling and rains, the bond that used to exist between the layers of the asphalt delaminated with the introduction of water.
"If there is room for water, then there is room for air," Todman said. "If you have air going under the force of air from the jets it peels [asphalt] back.
According to Joanne Bohr of Worldwide Flight Services, the airlines are concerned the loose material around the center could get into the jet engines.
On Sunday at Cyril E. King, the cleanup of the several cubic yards of loose asphalt brought out both Port Authority staff and contractors armed with brooms, shovels, a vacuum truck and a backhoe.
"We had everything out there," VIPA Executive Director Kenn Hobson said. Repaving continued through the night so the airport could reopen on Monday.
"We don't expect it to happen again," Todman said.
The authority has budgeted some $15 million for repairs to the runway on St. Thomas.
A recent inspection at St. Croix's Henry E. Rohlsen Airport showed that runway was also in need of repairs.
At its Wednesday meeting at its St. Thomas Headquarters, the Authority's board directed staff to request a lift on the Federal Aviation Administration's ban of discretionary funds for Rohlsen Airport.
"We need to sensitize the FAA at our next meeting for urgent need for runway repair work," Public Works Commissioner Darryl Smalls said.
A recent redesign bid by Ricondo and Associates for the Rohlsen Airport project estimated construction costs at approximately $10 million, not including the cost of $660,000 for the design work.