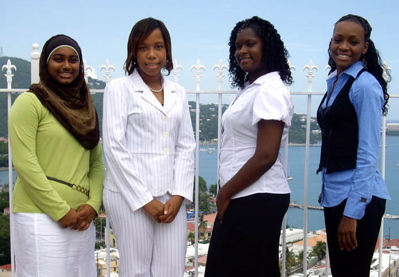 More than 80 students from the territory's high schools were honored and awarded cash prizes at ceremonies this weekend on St. Croix and St. Thomas in the 10th anniversary of the Laws of Life essay contest in the Virgin Islands.
Students chose topics from a wide-ranging list of issues, including ecology, friendship, the power of choice, the role of anger, personal development, and admirable historic figures and wrote essays on them.
Conducted through English classes, the contest is primarily a character education program, but teachers can also use it as a tool for teaching writing skills. The contest judges – community activists who serve anonymously – make their selections based primarily on content.
The concept of the contest was first developed in the 1980's by the late Sir John Templeton of the Templeton Foundation, and there have been hundreds of versions of the contest conducted in U.S. communities and throughout the world since then. In partnership with the Community Foundation of the Virgin Islands, The Peter and Patricia Gruber Foundation introduced the contest in the Virgin Islands in the 2000-2001 school year. The Gruber Foundation funds the contest through a grant at CFVI.
Besides recognition, students receive cash awards: $50 for honorable mention, $150 for third place, $250 for second place and $500 for first place. A full set of prizes is awarded in each grade at each competing school. This year three schools participated: Charlotte Amalie High School, Central High School and Educational Complex High School.
The award ceremony for St. Croix students was Saturday afternoon at Government House in Christiansted. The St. Thomas ceremony was held Sunday afternoon at the Governor's Residence, Catharineberg.
The first-place essays will be posted on the Gruber website Tuesday. Those who wish to read them can go to www.gruberprizes.org and click on the green and blue icon marked "Virgin Islands philanthropy."
This year's winning essay writers are:
Educational Complex

9th grade:
1st place, Jirah Famucol; 2nd, Bryan Peterson; 3rd, Elishuwon Mitchell; honorable mention – Vanessa Matthew, Tafari Nelson, K'Mandii Philpot.
10th Grade:
1st, Lanique Rivera; 2nd Yarixa Rodriguez; 3rd, Vanessa Peter; honorable mention, Julisa Marcel, Alejandro Perez, Rakeem Samuel.
11th Grade:
1st, Shaunté Baptiste; 2nd, Kayheem Lewis; 3rd, Bianca Monelle; honorable mention, Maxime Frederick, Shakirah Ritter, Nia Victor.
12th Grade
1st, Gemel Joseph, 2nd, Marissa Ruiz; 3rd, Devon Pelle; honorable mention, Whitly Charles, Neoshia Poleon, Sharifa Renee.
St. Croix Central High School
9th Grade
No entries
10th Grade
1st, La-Shawn Tyson; 2nd Eric Bright; 3rd, Shamika Claxton; honorable mention, Shane Alleyne, Cheyenne JohnBaptiste, Tinisha Roberts.
11th Grade
1st, Cherea Scotland; 2nd, Lynda Suffren; 3rd, Jasmine Roberts; honorable mention, Lissandra Boatswain, Shaniffa Christian, Krystal Maragh.
12th Grade
1st, Evanna Mills; 2nd, Sharice Liburc; 3rd, Tichelle Serrano, honorable mention, Dinah-Lee Brewster, Grace Comacho, Destanee Lake.
Charlotte Amalie High School
9th grade
1st, Sadiyah Ali; 2nd, Kamau Hoston; 3rd, Malene Liverpool; Finalists – Sadiyah Ali, Cerelia Donald, N'Kai Dowe, Danielle Griffith, Kamau Hoston, Malene Liverpool, Josae Martin, Elisha Ortiz, Shareal Salem, Marlyka Williams.
10th Grade
1st, Simfoni Nibbs; 2nd, Akil Richardson; 3rd, Savannah Anthony; Finalists – Savannah Anthony, Melissa Bryan, Javier George, Kyle Gonsalves, Amber Lewis, Simfoni Nibbs, Tiffany Richards, Akil Richardson, Zola Roper, Nyala Stagger.
11th Grade
1st, Nicole Ramdhansingh; 2nd Suhaibu Yehuza; 3rd, Lakeisha Wade-Malone; Finalists –Sha-Kiah Bryan, Alexis Fleming, Mosi Mckie, Kimberly Morris, Aquisha Peets, Nicole Ramdhansingh, Elisa Thomas, Michael Vante, Lakeisha Wade-Malone, Suhaibu Yehuza.
12th Grade
1st, Shawntay Henry; 2nd, Krythemer Edmead; 3rd, Shelani Birmingham; Finalists – Shelani Birmingham, Shiraé Brewster, Krythemer Edmead, Addis Elliott, Gloria Payano Flores, Shawntay Henry, Sean LaPlace, Odesa Royer, Jontè Samuel, Marika Williams.