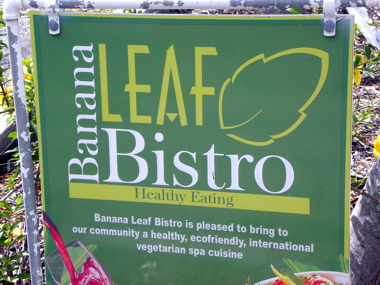 Taking food preparation beyond just taste and texture, chef Linda Chesterfield uses cuisine for nourishing and holistically healing those who eat her vegetarian dishes.
Trained at the Institute of Culinary Education in New York, formerly Peter Kump's New York Cooking School, Chesterfield can perform more than 18 international cuisines, but focuses on a vegetarian menu for her Banana Leaf café on St. Thomas in the Scott Bellavista Hotel, behind Long Bay Pueblo.
Chesterfield's food philosophy is to nourish the body first, and excite the palette as a bonus.
"It is based on foods that are not just healthy, keeping cholesterol down and promoting weight loss," Chesterfield said.
Incorporating ingredients that are said to fight cancer and other diseases is part of Chesterfield's mantra. Chesterfield uses a lot of shiitake mushrooms, spirulina, alfalfa, flax seed and even uses Omega-3 oil in her vinaigrettes.
Grounded in Asian cuisine, the bistro's entrees incorporate varieties of seaweeds and noodles that are hard to come by elsewhere on St. Thomas.
Dried seaweed, which is high in vitamins, is an important ingredient in her sauces and soups.
"It is excellent for prostate cancer," Chesterfield said of the seaweed.
What makes Chesterfield's meals distinct is what is not included. Eschewing table salt, Chesterfield uses only sea salt and never uses saturated fats or bleached flours. She works to keep caloric content low, which means the meals are ideal for diabetics and those watching waistlines.
Banana Leaf's vegetarian, vegan and raw dishes contain less than 300 calories each, according to the menu.
Most of Banana Leaf's cooking occurs right in – you guessed it – a banana leaf,
Chesterfield wraps fish, vegetables and herbs in the leaves and steams most of her dishes in a bamboo steamer. The leaf, folded like an envelope, allows all the flavors to mingle.
"I love the Japanese concept of direct steaming," Chesterfield said.
Many of her menu's offerings come from local catches and locally sourced vegetables such as eggplant, collard greens, kale and carrots are featured in the dishes.
Chesterfield does most of her staples purchasing in New York, with its abundance of Asian grocers.
Indeed, Asian influence can be found in many of her dishes. Chesterfield wants to educate people about the way they should eat in addition to preparing food.
"There is so much work to be done," Chesterfield said. "It is hard trying to lead people to what we should eat and how we should eat."
Her dedication to organic and natural ingredients is life-long.
"I wasn't always a vegetarian," Chesterfield said in a recent interview. "But I was always very picky about what I ate.
While she will eat organic chicken, Chesterfield expressed concern over hormones and artificial coloring found in commercially raised chicken and objects to the fat and slime she finds in typical grocery store chicken.
Unfortunately, the restaurant's location on Long Bay Road has hidden her talents and not that many customers venture up the driveway to the hotel. However, her appearances at Food Fair during Carnival have gotten the word around.
Banana Leaf offers two entrée choices daily and diners should call in their order 30 minutes in advance. In addition to Banana Leaf, Chesterfield provides catering and personal chef services and offers cooking classes.
Further information about Banana Leaf or Chesterfield's cuisine is available by calling her at 714-2433.
Linda Chesterfield's Banana Leaf Steamed Chicken Recipe
2 Letter-sized pieces of banana leaf
2 skinless, boneless organic chicken breasts
2 cups. julienned swiss chard, leeks, carrot
2 tbsp olive oil
sage, sea salt and pepper to taste
Place 1 chicken breast and half of other ingredients on center of each banana leaf sheet, fold leave around ingredients like an envelope and tie with a piece of the leaf, creating a little package.
Set bamboo steamer over viciously boiling water, place package in steamer, cover and steam for 6-8 minutes. Test for doneness (press with finger) – if too soft, cook a little longer, if firm it is done. Plate with steamed wild rice or fingerling potatoes and parsley.