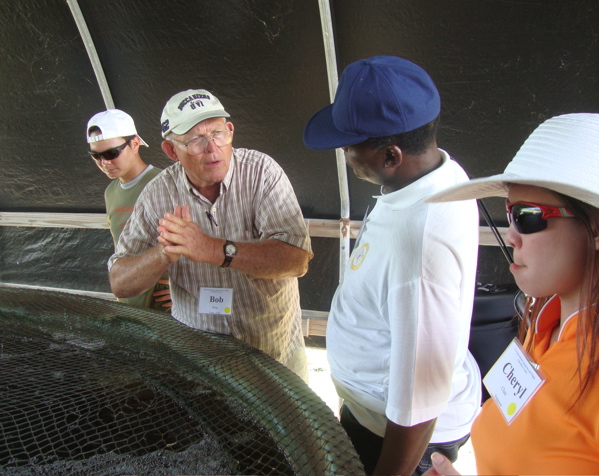 They came in record numbers from all over the United States and the globe, arriving at St. Croix this week to learn details of a food-production system that potentially could feed a hungry world, a system developed and refined on St. Croix at the University of the Virgin Islands.
The 12th Annual International Aquaponics and Tilapia Aquaculture Course is taking place this week on the St. Croix campus, drawing 92 participants from 21 of the 50 states, 18 other countries and three U.S. territories. It's the highest turnout ever for the program.
"The turnout was so large we were forced to turn away many students because enrollment exceeded our capacity," said James Rakocy, director of the university's Agricultural Experiment Station.
Rakocy has been conducting aquaponics research on UVI's St. Croix campus for 30 years and is considered the world's leading expert on the system that combines aquaculture and hydroponics in a symbiotic relationship that combines culture of food, fish and vegetables in re-circulating systems. The fish effluent provides nutrients for rapid plant growth, and the plants in turn purify the water, which is returned to the fish culture tanks in a continuous cycle.
Rakocy started the program 3 decades ago with three barrels that were cut in half to form fish tanks. Since then it has been scaled up again and again, and now produces tilapia and fresh produce in the large complex at the ag station, just east of the campus.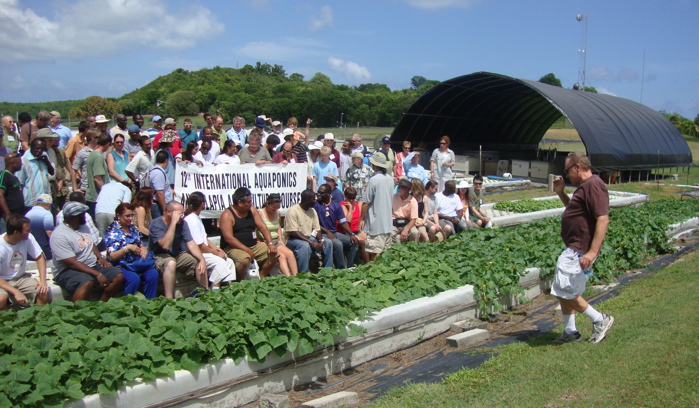 The tilapia are raised in large tanks. The water from those tanks is pumped out, the solid waste (i.e., fish poop) removed, and the water circulated through large raft hydroponic tanks.
Because it's a closed system, it doesn't use water as intensively as most other aquaculture systems. And it may hold the key to several potential problems brought on by the Earth's growing population.
Studies by the World Health Organization say that to feed the growing number of people, by 2050 humans will have to find arable farm land equal to an area the size of Brazil. Other studies suggest that before that time man will have scoured the sea of fish, and fishing industries will not be able to feed people.
Aquaponics is a system that conserves resources and can be set up commercially almost anywhere, including warehouses all over urban landscapes. In fact, in northern climates such systems would almost have to be built indoors, Rakocy noted. Bringing food production closer to the populations that consume it would also cut transportation costs and take pressure off rural lands.
This year's class for the weeklong course includes participants from Singapore, Botswana, the Northern Mariana Islands, Peru, Argentina, England and Reunion Island in the Indian Ocean off Madagascar. The 92 students push the total who have attended the program since its inception to over 500, with people attending from 45 of the states and territories and 50 other countries.
Bentz Kotzen is a landscape architect and teacher at the University of Greenwich in England who traveled to St. Croix for the weeklong course because he is interested in urban agriculture and food security. Aquaponics has potential for making a difference in both those areas, he said.
Mike Fetherston of Cambell, Texas, was on the Internet when he happened across the program. It looked interesting, he said, so he convinced his wife to come with him. He owns a ranch and said he might consider starting an aquaponics system when he gets back to Texas. Not a little, backyard hobby system, he said. Something commercial.
"My wife says I never do anything small," he said.
A Wisconsin company, Nelson and Pade, has begun marketing complete systems based on the UVI design, Rakocy said, which means it's starting to catch on around the world. That was the purpose of the research, he said, and he's delighted to see it getting more acceptance.
Nelson and Pade has sold about 30 systems—mostly backyard-scaled—and is setting up a commercial project near Madison, Rakocy said. They've also received three orders for what Rakocy calls "social projects," in which systems are to be set up in inner-city areas for education and food production.
Rakocy has done a lot more than aquaponics in his 30 years at UVI's Agriculture Research Center, but that time is drawing to a close. In November he will retire and has already bought a condo half a world away, on Golden Buddah Hill in Thailand. But he will continue working as a consultant and researcher, and hopes to be able to come back to UVI next year, to help out whoever takes over the program, when the world beats a path to St. Croix to learn about aquaponics.
For further information about the Agricultural Experiment Station and the Aquaponics Course, contact Rakocy at 692-4031 or via e-mail: jrakocy@uvi.edu.