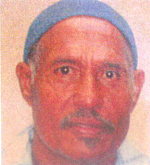 Police on St. Thomas are on the lookout for 59-year-old Ubiles Santana, wanted for the murder of Pricilla Monique Davis.
Police have issued a wanted poster of Santana, who is believed to have had a romantic relationship with Davis, 43, and distributed it to all law enforcement agencies, along with port officials. In a statement Friday, police said they believe Davis's death is the result of domestic violence.
Santana is 6 feet tall and weighs 172 pounds. He was born in Puerto Rico and has a medium brown complexion.
Concerned citizens in the neighborhood called 911 around 6:12 a.m. Friday to report a disturbance at the Frenchtown residence. When police arrived, they found Davis's unresponsive body with "obvious" signs of trauma, according to a release from the V.I. Police Department.
Davis was transported by ambulance to Schneider Regional Medical Center, where she was pronounced dead. The final cause of death will be determined by the medical examiner
Police are following "solid leads" to locate the suspect, according to police.