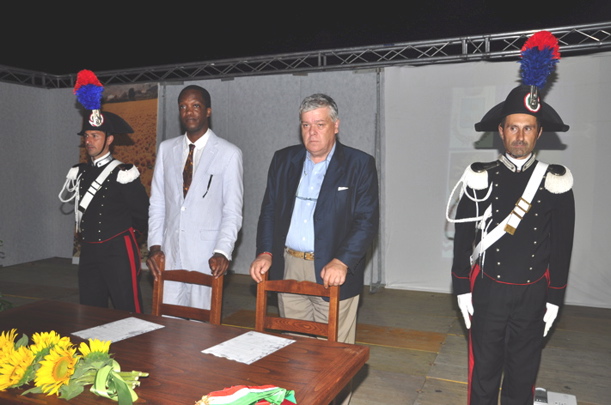 With a flourish of pens, Christiansted, Frederiksted and Charlotte Amalie finalized a twin-city agreement with the Italian city of Montescudaio, Italy.
Sen. Wayne James represented the territory at the signing in the Italian city. Joining him in the event, which took place Sunday, was Montescudaio Mayor Aurelio Pellegrini.
The agreement between the wine-producing city and the rum-producing Caribbean territory allows both to explore mutual trade and cultural exchanges.
The relationship sprang from discussions starting March 2009 when Pellegrini extended the invitation to James through a mutual friend. In late November and early December, James visited Montescudaio, where as Pellegrini's guest, he was goodwill ambassador at a series of gatherings— from a tribute to the American soldiers who died during the liberation of Montescudaio on D-Day, to winery tours and meetings with the village's municipal council.
A delegation from the town repaid the visit in January and were feted throughout the islands.
James introduced a resolution to the Legislature to formalize the relationship and Pellegrini introduced a similar initiative to secure the relationship under Italian law. Both were approved, formalizing the relationship. Sunday's signing ceremony finalized the agreement.