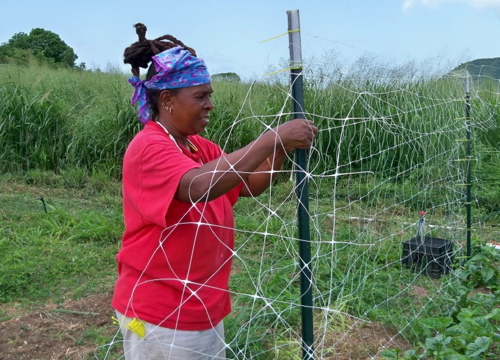 Six days a week, from early morning to dusk, Rita Stinson can be found laboring in her three-acre, garden plot on the V.I. Farmers Cooperative land in Beeston Hill.
Stinson says it isn't hard labor in a garden, it is a labor of love.
"I love to be outside and I love the connection with the earth," Stinson says. "It is so peaceful in a garden."
She had spent 18 years in the kitchen and it was time for her to do what she loves most – working in the field. She was a cook and co-owner of UCA, United Caribbean Association, an ital vegan restaurant in Frederiksted.
Three years ago one of the co-owners at UCA suggested she join the cooperative. Since joining she has taken on a number of tasks to help out the farmers in the cooperative.
Stinson is the fruit and vegetable director and is in charge of quality control. She checks what comes in off the fields, grades, sizes, weighs and decides if the produce is acceptable for market. She assists in the selection of crops and seeds. She also assists the farmers in using organic practices. She helps with gardening questions they have, doing research on line and using gardening books. She can also be found working at the cooperative market Thursday through Saturday.
Upon arriving at Stinson's and Sam Smith's plot one is met with a real feast for the eyes –yellow sunflowers, red zinnias, orange marigolds, and basil in flower bordering the plot.
The scene is peaceful looking, with Smith hoeing and Stinson putting up a plastic mesh trellis for climbing spinach she said she just had to get off the ground because the recent heavy rains came early, making the spinach grow exceptionally fast.
She says rain can be a blessing and a curse.
A portion of her crop of Chinese cucumbers were turned yellow by the rain, making them unsuitable for sale in the Cooperative Framers Market. But they tasted fine, so they donated them to My Brothers Table soup kitchen.
She says farming can be a challenge because of incidents like the cucumbers. She was moved to tears recently when she lost her patch of red, green and yellow Swiss chard to bugs.
"You can loose the battle with bugs and that's when people want to give up," she says. "You have to be resourceful and find the right organic insect repellent through trial and error."
They only use USDA certified organic fertilizers and insect repellent.
"Farmers have to be aware of diseases and bugs and know how to address problems," she says.
That is why Smith has planted the zinnias, marigolds and herbs around their plot to act as natural insect repellents. Stinson said Smith wants to start flower seedlings so all of the farmers can border their gardens with the flowers. She says lavender helps keep bugs off of cucumbers.
She has very healthy looking beds of greens that are planted in raised beds for proper drainage.
She did some marketing research, surveying local restaurant owners and managers to see what kinds of gourmet greens and lettuce they were looking for and what would grow well in this climate. She is growing osaka mustard, mizuna greens, arugala, and oak leaf, deer tongue, and red leaf lettuce. She is trying her hand at growing a number of different kinds of fruits and vegetables like pineapple and corn.
There are 15 farmers in the cooperative working in three- or five-acre plots. Half of the proceeds from sales goes to the farmer and the other half goes into the cooperative. Dale Browne, president of the cooperative, says there is strength in numbers when the farmers work together.
"Rita is a very dedicated farmer," says Yvette Browne, vice president of the cooperative. "She is hardworking, reliable and resourceful."
Stinson says Smith plans to build a greenhouse on their plot. She would like to see children do field trips to the farm and learn about the produce and make healthy food choices at the farm market.
"When people see success at raising vegetables it is an inspiration," she says.
Further information about the cooperative is available by calling 773-3276.