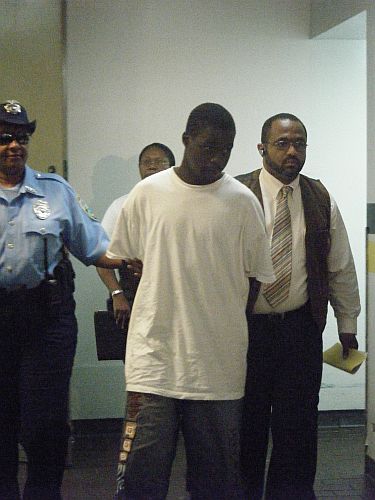 After an all-night search through the East End of St. Thomas, police were told early Tuesday morning that 22-year-old Steven Tyson, suspected of being one of the major players in Monday's deadly shootout at Coki Point Beach, was turning himself in.
Police said they put a hard press on Tyson's contacts throughout the night, looking in all the places they thought he might be hiding.
Press were called in Tuesday afternoon in time to see Tyson after he was booked at the Zone A Command station and escorted upstairs to the Bureau of Corrections, where he will remain until he's advised of his rights Wednesday.
Assistant Police Commissioner Raymond Hyndman said in a subsequent briefing that Tyson came to the station before noon accompanied by his lawyer, and has been arrested and charged with first-degree murder.
Monday's shootout left two dead: 18-year-old Shahid Joseph, who police say was on the other side of the gun play with Tyson, and 14-year-old Lizmarie Perez Chapparro, a tourist shot while traveling aboard a safari bus that got caught in the crossfire.
The deadly scene erupted in the midst of a funeral being held at the Coki Point Cemetery for Joseph Ferrari Jr., who died after being shot late last month in the Tutu Park Mall parking lot. Police said Tuesday that they are still looking into whether Ferrari's death and Monday's shootout are connected, or whether Joseph was even a target.
"We want to get all the facts before we make a determination on what led to the shooting," Hyndman said Tuesday.
While the other three persons of interest picked up at the scene Monday have since been released, District Police Chief Rodney Querrard Sr. said there should soon be more arrests. Community members have been calling in around the clock with information, which has helped police determine that more than one person was involved in the incident, but police need that continued cooperation to help wrap up the case, he added.
Meanwhile, the department is going to continue doing what it can to clamp down on what they and other top officials have basically described as a continued onslaught of vigilante justice fueled by local gang and turf wars. Funerals have recently become a stomping ground for some of this activity, and police have been receiving calls from families requesting that the police stand guard at the services, Querrard said.
"Yesterday we were not notified that a funeral was taking place," he added. "We did have officers in the area at the time, but they were not enough. But we will continue to maintain a presence at the funerals and other such events — the next funeral is on Thursday and we will be there."
In the interim, VIPD and other government agencies are running damage control with the cruise lines, and want to assure visitors that they aren't targets. Chapparro and her family were passengers aboard the Carnival Victory, whose captain sent notice to guests Monday evening that the ship's on-shore excursions, including Coki Point Beach, have been suspended until further notice.
"We want to assure visitors and citizens alike that the V.I. Police Department is going to do everything possible to protect this territory," Hyndman said Tuesday.