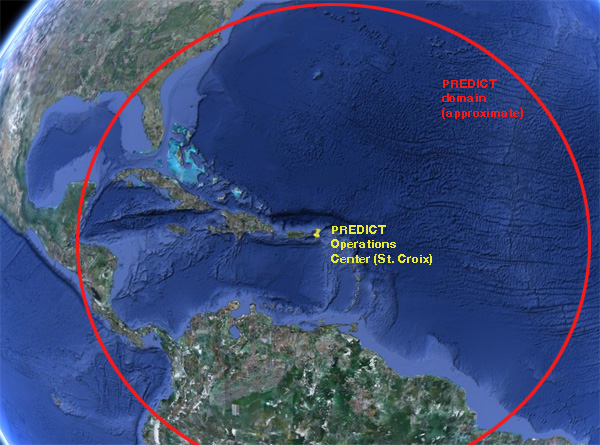 A team of scientists from the National Center for Atmospheric Research will come to St. Croix this August and September to study the earliest moments of hurricane formation.
"One of the great longstanding mysteries about hurricanes is how they form," Christopher Davis, a principal investigator on the project, said in a statement from NCAR. "There are clusters of thunderstorms every day in the tropics, but we don't know why some of them develop into hurricanes while others don't. We need to anticipate hurricane formation to prepare for hazards that could develop several days later," he said.
The study, entitled: "PREDICT, the Pre-Depression Investigation of Cloud Systems in the Tropics," will run from August 15 to September 30, the height of hurricane season.
The hope, according to an NCAR statement, is by better understanding the formation of tropical storms that may become hurricanes, scientists can help the National Hurricane Center reach the goal of seven-day hurricane forecasts, rather than the current limit of five days.
Reached by phone Wednesday, Davis said St. Croix was chosen as the base for the study because it is part of the United States, making everything easier and less expensive; it had sufficient accommodations and the airport runway is long enough. But location was the trump card in this case.
"We wanted a place from which we could go as far east into the Atlantic as possible," he said. The team will be flying the National Science Foundation and NCAR Gulfstream V research jet, which has a range of up to 7,000 miles, according to NCAR's statement. The NSF sponsors NCAR.
"We will be able to fly to about 40 (degrees) longitude," he said. "That's more than half way to Africa.
Storms and hurricanes form in the Gulf of Mexico and large parts of the Atlantic, but many form in the eastern Atlantic off the coast of Africa, then move west. So that eastward reach is helpful to the scientists, Davis said.
The Gulfstream V will reach an altitude of about 43,000 feet, letting scientists take observations near the tops of storms that form thousands of miles from the coast. The scientists will fly near thunderstorm complexes once or twice a day when tropical systems of interest come within about 1,500 miles of St. Croix. They will drop parachutes with packets of instruments to measure things like temperature, humidity, wind speed and direction and gather fine-scale details of ice particles and water droplets in clouds. One of the main goals is to take measurements of airborne Saharan dust and associated dry air that can interfere with hurricane formation, according to NCAR.
To get the most coverage and scientific information possible, the NCAR flights from St. Croix will be coordinated each day with flights for two other, independent hurricane studies taking place this summer, according to NCAR. NASA is leading a related study of hurricane formation called GRIP, for Genesis and Rapid Intensification Processes, while the National Oceanic and Atmospheric Administration is leading what it calls Intensity Forecasting Experiment, or IFEX.
While separate studies, taken together, the three projects may capture the complete evolution of a more hurricane from the moment of formation until landfall. While not as dramatic as a hurricane, capturing information where conditions seem ripe, yet storms do not develop, is equally important for understanding the whole picture of why some disturbances become storms and others do not.
Several universities are working on the study along with NCAR, including the Naval Postgraduate School; University at Albany-SUNY; University of Illinois at Urbana-Champaign; University of Miami; NorthWest Research Associates, Redmond, Washington; New Mexico Tech; Purdue University; and University of Wisconsin–Madison.
The scientists will be reaching out to St. Croix high schools and to the University of the Virgin Islands in hopes of giving talks and demonstrations to a few classes. Alison Rockwell of the Earth Observing Lab, a part of NCAR, will be leading that outreach early Sept ember. Teachers and school administrators interested in arranging a talk may email Rockwell at rockwell@ucar.edu.