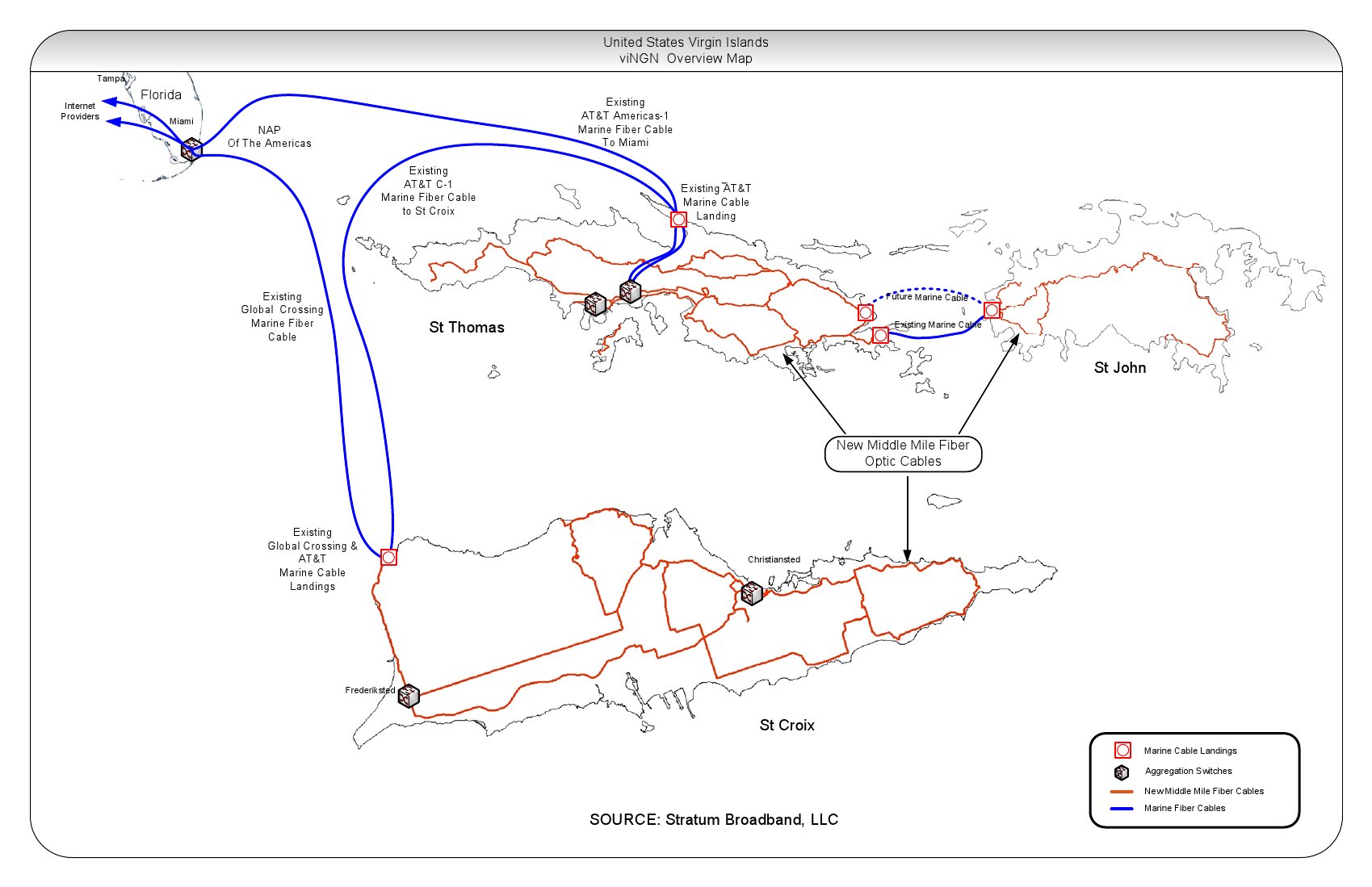 The U.S. Government has awarded the territory $59 million in federal stimulus to help design and build a super-fast fiber optic broadband network, according to statements issued Wednesday from Delegate Donna Christensen and Gov. John deJongh Jr.
The network will allow the V.I. Public Finance Authority to offer affordable "middle-mile" broadband service on St. Thomas, St. Croix and St. John, according to a statement from Christensen's office.
The "middle mile" refers to the internet infrastructure that links retail-level internet providers and telecommunication services to the massive undersea fiber optic trunk cables that carry regional and global data traffic.
"This is incredible news and a tremendous opportunity for the Virgin Islands to improve and expand broadband services throughout the territory," said Christensen in her statement.
An entity within the PFA, called the V.I. Next Generation Network (viNGN,) will build an underground fiber ring network on St. Croix and St. Thomas, and an aerial network on St. John.
These networks will be connected to each other through existing fiber cables; while Puerto Rico and the U.S. mainland will be connected via existing submarine fiber cables.
"Over 300 miles of new fiber cables will be laid in this project," Julito Francis, director of the PFA's Office of Economic Opportunity, said in a statement.
This particular bit of stimulus funding is meant to encourage economic development and enable access to online educational, health care, and government services for the elderly and residents facing high unemployment and poverty rates.
The project calls for connecting as many as 325 community institutions to broadband with a focus on key institutions such as schools, libraries, the university, hospitals, public safety agencies and government buildings and centers.
As many as 43,000 households and 2,500 businesses also stand to benefit by enabling local Internet service providers to use the project's open network.
There will be opportunities for expansion of the network to libraries, hospitals and government agencies, along with local organizations, such as the Boys and Girls Club, which will get money for training and new computers through the grant.
Local internet providers will also be able to buy access to the network and sell it back to their customers. For the home user, that means a service speed of10 megabits per second — or in layman's terms, being able to download a book or movie in the blink of an eye.
The federal award requires $29.4 million in matching contributions, according to Francis. The V.I. Water and Power Authority for WAPA will provide roughly $15 million in in-kind contributions consisting of conduit and pole space and certain other construction services, Francis said Wednesday evening in an email.
In exchange for its in-kind contributions, WAPA will get access to fiber strands that will help it complete its smart-grid, real-time grid data monitoring effort and it will get a share of wholesale revenues.
"This is truly a win-win for WAPA to participate as a partner in this project, as it will allow the authority to diversify its revenue base, as well as improve WAPA's network serviceability and reliability to its customers," said WAPA Executive Director Hugo Hodge Jr., in the Government House statement.
The V.I. Government, through the PFA, will have to contribute roughly $15 million in cash, primarily through a bond issue after authorization is received from the Legislature, he said. In March, when first applying for the federal funds, the PFA authorized up to $20 million in new bonds for the project.
Because those bond funds will be repaid with the revenues generated by viNGN's wholesale business selling broadband to suppliers, the V.I. Government's budget should not be affected, he said.
While it is ongoing, construction should create over 200 jobs and help spur economic development in the territory for generations to come, by attracting businesses—and creating jobs—in the high technology and financial sectors, which depend heavily on reliable advanced high-speed telecommunications to interconnect their offices worldwide, according to Francis. It will also be a boon to the Virgin Islanders who want to start a home-based Internet business or simply want to connect to the World Wide Web at high data rates, according to Government House.