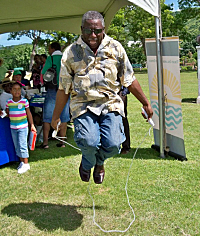 To start the school year off right, WTJX Channel 12 and its partners launched a campaign against obesity with a Back to School Jamboree Saturday on St. Croix, on the heels of a jamboree Aug. 14 on St. Thomas at Tutu Park Mall.
"We want to provide exposure to children about developing positive health habits at an early age," said Yvette deLaubanque, development officer at WTJX. "And we want to let children know going back to school can be fun."
The lawn at Fort Christiansvaern was alive with children dancing with life-size cartoon characters from PBS such as Clifford the Big Red Dog, Super Why, Alpha Pig, Word Girl, and Langford the Lizzard, WTJX's mascot.
There was music, dance performances and free giveaways of school supplies, fitness items, and books.
Piles of Scholastic Books were given out to students for the Governor's Summer Reading Challenge.
Angeli Ferdschneider, special assistant to Gov. John deJongh Jr., said the students could have as many books as they wanted to help build their own home library. She said the students could still sign up for the summer reading challenge that was sponsored by the governor.
Shevron Phillips, 11, said he had read five books over the summer and he picked out five more.
"I like to read, and I'm happy to get books that I can keep," Phillips said.
There were physical fitness demonstrations performed for the crowd gathered under the blazing sun.
Aerobics and stretching demonstrations were given by Curves instructors. Sen. Terrence "Positive" Nelson, black belt instructor at the St. Croix Martial Arts Center King Cobra School of Taekwondo, and three yellow belt students gave an impressive demonstration of Taekwondo kicking techniques.
DJ Vic, V.I. Superior Court Rising Stars Steelband, Calypso Inc. and King Derby Banjo Players provided musical entertainment.
St. Croix Animal Welfare Center, V.I. Energy Office, Job Corps, Learning Network Foundation, V. I. National Guard, School of the Good Shepherd, St. Croix Dolphins, VI Care, Youth Net, and Grove Place Weed & Seed had representatives giving out freebies and information.
For the fifth year FirstBank, WTJX and the National Park Service, in its second year, have hosted the jamboree. This year Subway is joining forces to help fight obesity. Subway plans to add a healthy kids meal to its menu.
The V.I. Pace Runners club is also partnering with WTJX hosting walk/run races beginning in November on St. Croix, St. Thomas and St. John. Residents can get information on the races and register their exercise practices at the Pace website. Representing the Pace Runners, Wallace Williams said Virgin Islanders needed to focus on healthy lifestyles, and "There is no better way to have that focus strengthened than to have an organization like WTJX focusing on it."