At Sunny Isle amphitheater Saturday, around 100 fathers, mothers, guardians and children attended the Rally for the V.I. Fathers March, encouraging dads to take part in their kids' school lives.
The rally was hosted by the Stop the Bleeding Foundation, whose founder, Cheryl Francis, urged fathers to take their children's hands and help them go back to school Monday.
"Our focus is on fathers, and uplifting them, making them feel good," Francis said.
Businesses were asked to give fathers two hours off that morning (with pay) to take their children to school. Under V.I. law, employees of the government are entitled to two hours off every month to participate in school activities involving their children.
Francis said in a statement that strong family structures produce children who are more academically proficient, socially developed and self-assured. These children become adults who are valuable assets to their communities.
Chief of Police Oakland Benta pleaded with fathers to be counted every step of the way with their children. Pastor Daniel McIntosh urged fathers to stay involved and help their children to be successful.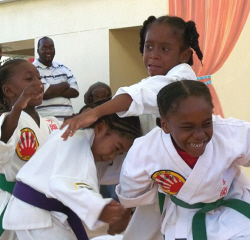 Rev. Reginald Perry encouraged dads to follow the family values of their own parents. "It is time to be the men God called us to be," he said. "Let's be great men for our sons and daughters."
And young martial arts students provided entertainment with jujitsu and karate demonstrations.
At the end of the rally, the men took a pledge to accompany their children back to school and were given T-shirts and a badge to wear Monday.
The rally coincides with the Back to School Days of Prayer Sunday when clergy will lead their congregations in prayer for returning teachers and students and to pray for the fathers to be with their children during the school year.