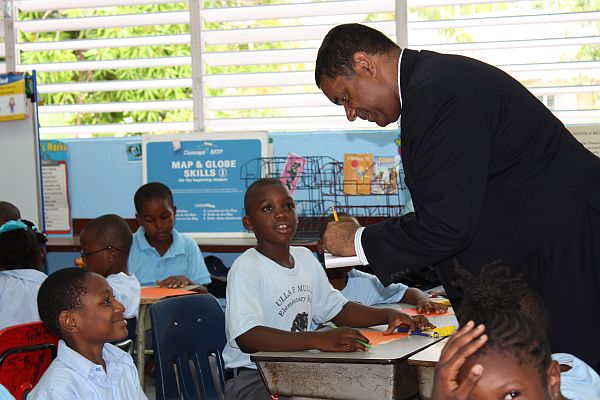 Somewhat delayed by Hurricane Earl and ongoing recovery efforts, Gov. John deJongh Jr. picked up his traditional tour of the local public schools Tuesday, making the rounds on St. Thomas with visits to four schools before noon.
DeJongh said he also delayed the tour in order to see exactly how the schools were impacted by the hurricane and what was still needed to fix them up, but found that there were few issues overall.
"I was met with very positive attitudes from the school principals, their administrators and staff," he said, speaking from Ulla F. Muller Elementary, his last stop of the day. Previous visits included Addelita Cancryn Junior High, Joseph Gomez Elementary and Charlotte Amalie High School.
"On the whole, I'm pleased," deJongh said.
Of course, there are a few sore spots — such as a teacher shortage, which has left open some critical spots in subject areas such as English, Math and Social Studies.
DeJongh said substitutes are being sent out at this point, but that he will soon be talking to Education Commissioner LaVerne Terry to see where the voids are and how they can be filled.
With many of the schools more than decades old, there's also bound to be some maintenance issues, the governor added. And while those are being sorted out, investments being made throughout the territory are boosting the facilities, putting a new cafeteria at Cancryn and a new state-of-the-art stage at CAHS, he added.
A new stage and changing area for Muller's cafetorium was also highlighted Tuesday, as school principal Symra Brown and Assistant Principal Daphne Thomas accompanied deJongh on his rounds. Muller has 472 students this year, many of whom were out and about with their teachers Tuesday, smiling and waving, even hugging the governor, as he passed by.
And in Antoinette Gomez's fourth-grade classroom, 9-year-old K'jhani Biscombe even asked for deJongh's autograph, which he hugged to his chest afterward.
Each grade is broken up into three homerooms, and Brown said later that the school is at capacity for both students and teachers.
"I think the secret is out — Muller is the place to be," she joked to deJongh, who said later that the students, overall, seem "really excited" to be back on campus.
A similar trip over to St. Croix was postponed Tuesday because of the weather, according to a Government House release.