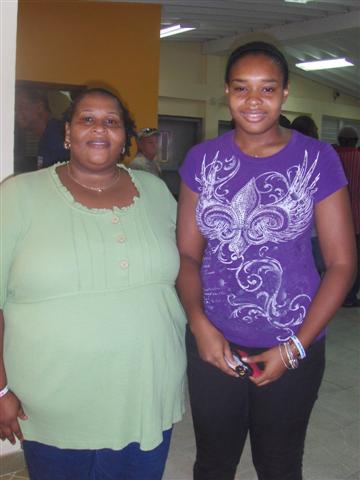 Several Elections workers commented Saturday about what they called a record number of campaign supporters seen gathered around the island's polling sites, but said that the low voter numbers – despite all the talk surrounding this election – were to be expected for a primary.
At Charlotte Amalie High School, supporters got out before the morning started to heat up, with many bright-eyed and ready to welcome Gov. John deJongh Jr. as he drove in around 8:15 a.m. to vote. Camped outside the entrance gate, supporter Ernest Knight said the day was "very special" to him, so he made sure to don his white shirt and jeans, then hit the early birds with his signs, fliers and wristbands.
"This way I can make sure to get the senior vote," he joked.
Greeting residents left and right as he made his way to the voting machine, deJongh said he felt "very optimistic" about his chances, and spoke enthusiastically about what he described as a "good walk" he had Thursday evening with supporters.
Across the way at the Donastorg/Baptiste tent, Keibo Thomas was chatting up passersby about the "need for change" in the territory. He said he flew down from Atlanta – where he lives with his sons, the musical duo better known as Rock City — especially to cast his vote in the primary. Thomas spoke about the territory's spiraling murder rate, and said it "hurt his head" to think that "things had gotten so bad."
"I had to be out here, doing my part to make sure I help convince as many people as I can," he said.
Nearby, Addelita Cancryn Junior High School student Tishira Seales was just as excited to support Sen. Patrick Simeon Sprauve, who she said recently made an appearance at her school to speak about putting more money toward education and care for senior citizens.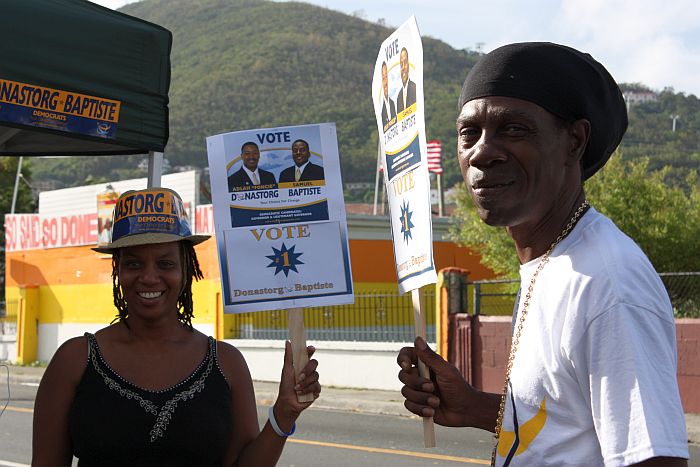 A ways down the road, Shiniqua Vanterpool simply couldn't get into Cancryn's newly expanded cafetorium fast enough. The 18-year-old was about to cast her first vote. She didn't waste any time, showing up at the polls shortly after 7 a.m.
"She's very excited," explained her proud mom, Dawn Simon. "We wanted to be the very first to support deJongh."
Though the day had special meaning for Vanterpool, it was no less celebrated by veterans Virginia and Leon Danet, who figure they have 40 years each of voting experience behind them. Manning the deJongh/Francis booth, they said they have voted in every election since the territory's first elected governor Melvin Evans in 1970.
The Danets had nothing on Elizabeth "Lelell" Aubain. "I've voted since 1970," said the tiny Aubain, a Frenchtown fixture. "I ran around all over the place with the Evans campaign. As long as they invite me, I go." Then, she added with a sly smile. "But once I get in that booth, it's my decision."
For a primary, the crowd at Cancryn was hearty, folks agreed. Booths were shared by Sens. Louis Hill and Carlton Dowe, bookcased between smaller displays for newcomers on the Senate scene, Clarence Payne and Janette Millin Young.
Campaign workers lined the school area enthusiastically urging folks to cast a vote for gubernatorial candidates Adlah "Foncie" Donatorg and Samuel Baptiste, and first-time Senate aspirants, Simon Kevin Caines and Kent Bernier.
The campaign workers' enthusiasm this election appeared markedly more civil than past elections, according to many observers, with the workers politely asking for your vote without the customary paper handouts. Or maybe, campaign funds were shorter this year.
The elements did nothing for voter turnout, and, actually brought the candidates closer together with a common message: "Let's keep dry!"
Several mini-squalls swept through the area throughout the day, challenging the tents' stability.
Hill staffer Colette Monroe said, "We all huddled under our tent. There must have been 20 of us. The tent started to go, and we just hung on."
Election judge Ivy Williams said the crowd was good and came "in pockets" throughout the day.
As of 5 p.m., 450 residents had cast their vote.
"And they're still coming," said Leon Danet, like a true trooper.
But many other polls posted small numbers, which, according to Elections workers, is the norm for a primary – particularly one held on Saturday and in the middle of a rainstorm that surged on and off for most of the mid-morning and afternoon.
By noon only 85 residents had cast their vote in one room at Winston Raymo Recreation Center, while the other side showed 148 voters – at least a couple hundred less than those registered on the books.
Even so, the roads outside were jam-packed with supporters and residents, some of whom stopped to chat with deJongh and Lt. Gov. Gregory R. Francis as they made the rounds.
"Everything has gone very well so far," Cheryl Francis said later, pointing to a pack of campaigners who lined the sidewalk. "All our supporters are out there, excited, very positive, and that's what we're all about."
Wearing light purple, St. Thomas resident Christina Miller said her top choice this year was Senate hopeful Jeanette Millin Young.
"Our children need people to show them leadership," Miller said. "I know Jeanette can do it because she's done it already – that's why she's got our vote."
Crowds on the east side of the island were a bit more tempered – except for near the Curriculum Center, where crossing guards were posted on the sides of the street to make sure no one ran over pedestrian voters – but the numbers were high at Joseph Sibilly Elementary, where there was actually a line piling up in one of the rooms.
By 2 p.m., Sibilly Annex had 187 voters and 5 provisional ballots, while the upper room showed 231 voters.
"Everything's been running pretty smoothly so far," said elections judge Bernice Samuel. "We had a few glitches in the morning, but had everything worked out by the time the doors opened. I expect it to keep up like this for the rest of the day."