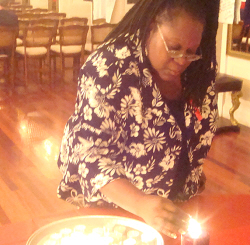 When someone is murdered, they leave a hole in the community bigger than mere physical dimensions. Family, friends, the whole community — all are diminished.
Saturday night the community gathered to pay tribute to those lost to violence as St. Croix took part in the National Day of Remembrance for Murder Victims with an evening ceremony at Government House in Christansted.
"We still have a lot of suffering in the community, we still have a lot of pain," said Saleena Gumbs of the Women's Coalition of St. Croix, which co-sponsored the local event. "It would be unusual to have someone in the community who has not been touched in the last 10 or 15 years."
The event brought an outpouring of pain and tears – and a few smiles of recognition and a little laughter, from the roughly 60 people in attendance.
First lady Cecille deJongh and Cheryl Francis, wife of Lt. Gov. Gregory Francis, read poems relating to the loss of loved ones. But the emotional peak came from the almost dozen women who came forward to speak about the loss of their husbands, children, brothers or other family members taken by violence.
"Everybody is affected at some level," said Jaslene Williams, the sister of Wendell Williams, a St. Croix police officer who disappeared in June 2001 and has not been seen since. "Lives are changed, lives are changed forever."
With the island's homicide rate hitting a record a year ago and approaching a new record this year, Williams said the community has gotten too used to the regular reminder of crime. St. Croix needs to wake up, she said. Obituaries always say a person has "passed away," she noted, which allows the community to become numb.
"If a person was killed, the obituary should say the person was killed," she said, drawing nods of agreement and a few clapped hands. "Maybe it should say he was gunned down."
There has never been closure for the Williams family, she said, since that summer when her brother disappeared and his burned-out car was discovered in the brush near Castle Oakley. But she said she will never forget him, and will never stop hoping for answers.
"As long as I live I will never let this community forget my brother," Williams said.
Some of the speakers could barely be heard through their tears, others spoke out loudly and passionately about how the loss of a loved one through violence has changed their lives. For two, it was hard to go on until Gumbs joined them silently at the podium with her hand on their shoulders for support.
For all of them, it was about giving a voice to their loss and saying the name, keeping that person alive, if only in memory.
"It's been one year and 52 days, and it feels like it was yesterday," said one woman.
A box of tissues that rested on the podium as well used.
After the reflections, a list of the names of St. Croix's murder victims scrolled silently across a screen. When audience members saw the name of someone who had been part of their life, they went to the back of the room and lit a candle. By the time the hundreds of names were complete, a small plate of the votive candles flickered brightly on the table.
The last name on the screen, Dave Martin, was murdered Tuesday, the 50th in the territory since the beginning of the year.
The National Day of Remembrance for Murder Victims was started by Robert and Charlotte Hullinger in 1978, whose daughter was murdered that year. They founded Parents of Murdered Children, Inc., an organization that now has more than 100,000 members worldwide.
Saturday's event in Christiansted was the fourth annual participation by St. Croix.