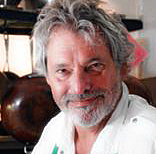 St. Thomas photographer Steve Rockstein is in reflection mode.
He's combing through 30 years' worth of slides and negatives for two gallery showings that will highlight his varied and successful career. A mix of journalism and art, Rockstein's work tells a story with just a single shot.
Rockstein came to the Virgin Islands from New York in 1975, having just given up a career in social work in favor of one in photography.
"It was the mid-70's and photography was on the scene," he said. "I kind of launched myself in the middle of that."
Although he had no experience in journalism, he landed a job with a St. Thomas newspaper. Up until then, he had been teaching himself art photography – but the job with the newspaper made him realize that a photograph could be beautiful and tell a story, too.
"I began to realize that it was a lot like portrait photography, except that everything was out of control," he said.
Rockstein's career has spanned the Virgin Islands, Rhode Island and Philadelphia. He has won several awards – including nods from the National Photography Association, the National Headliners Award and the Robert F. Kennedy Journalism award. He says despite his long and successful career, he remains connected to every single image.
"Every picture I ever took is in my head somewhere," he said.
He says some of his most memorable shots come from a story he was working on about life in the territory's low-income housing projects. He said he and a reporter spent months visiting every housing project in St. Thomas and St. Croix. He would show up in some of the most dangerous places in the territory with cameras strapped all over himself.
"We just knocked on doors," he said.
Rockstein said pictures he took of three residents in particular still stay with him – to the point that he still remembers the names of each subject.
"Those pictures were so poignant," he said. "They capture in black in white everything about those people – their lives, the terrible conditions they found themselves in."
He said that living in St. Thomas creates a unique challenge for artists because a smaller population in general means a smaller population of artists to mingle with and be inspired by. However, he says the fellow artists he meets through the Seven Minus Seven Alternative Art Alliance helps. So does his practice of driving around the island looking for good light and good pictures.
"Every day I'd make myself go out before work and just drive around looking for good art," he said. "I get my inspiration from the light. I'm inspired by the light."
He says he is constantly looking for new ways to create art – and he's not above using his iPhone to create images.
"I'm always trying to explore," he said. "Bored and boring are the worst things you can be."
Rockstein's career-spanning exhibition is planned for February 2011. Entitled "A Selective Retrospective," it will open at Maria Helne Studio on St. Croix and move to Oceana Gallary on St. Thomas the following month. He is still looking for supporters and patrons of the arts to help fund the event. His photos can be found online at www.photousvi.com.