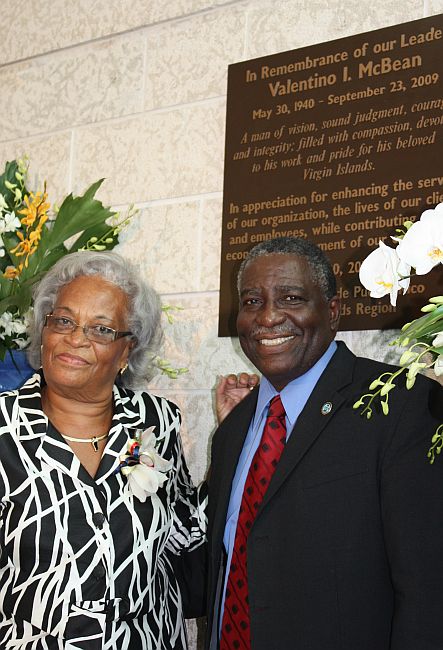 Everyone from family members to visiting dignitaries came together for a private ceremony Wednesday that celebrated the life of Valentino I. McBean and rededicated Banco Popular's headquarters on St. Thomas in his honor.
McBean, who died last year, was remembered as a banking giant who cemented Banco Popular's presence in the U.S. Virgin Islands.
Employees said Wednesday that he was hard-working and dedicated to his staff, stressing the importance of good customer service but also taking the time to teach and train them along the way.
"He was an extraordinary leader with a passion for excellence," said Ian S. Smith, Banco Popular's senior vice president in the territory. Smith also credited McBean with "singlehandedly enriching" banking on the local level.
Personal stories came out when McBean's daughter, Cyndia McBean-Dawson, took the podium and thanked bank officials for "bestowing this honor on our hero."
"Dad was a humble man, and he's probably looking down right now, saying, 'What is all this fuss about?'" she said, making the crowd laugh and cheer.
McBean-Dawson said growing up, she and her siblings would often have to be reminded by their mother that McBean just worked for the bank. McBean was Banco Popular's senior vice president and regional manager at the time of his death and spent decades growing its operations in the U.S. and British Virgin Islands, many of the speakers said.
"As children, we would always say that the bank belongs to daddy," McBean-Dawson said.
Meant as a joke, the remark still carried some weight for Banco Popular's President Richard L. Carrion, who said that plans for the bank's V.I. headquarters was McBean's dream. He got the permits and secured the land, and it is only fitting that it be renamed the Valentino I. McBean Building so his legacy could live on, Carrion said.
"The first time I met him, I knew this was the person to lead us in the Virgin Islands for years to come," he said, describing McBean as a "perfect mixture of discipline and love for everybody."
Carrion joined the McBean family and other bank officials in unveiling a plaque in the lobby of the building that honored McBean's service to the Banco Popular organization and his contributions to the economic development of the V.I. community.
"So, it really is poppa's bank," Carrion said to the McBean family as the ceremony came to a close.