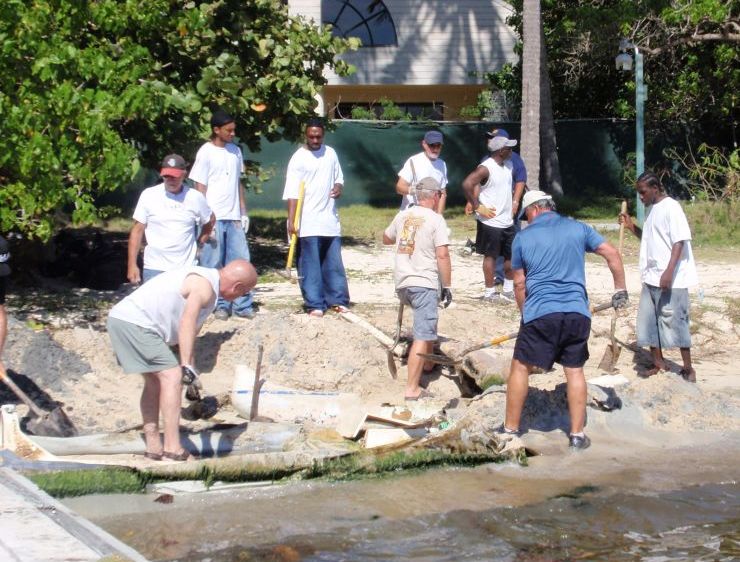 A mile or two west-northwest along the shore from Smith Bay Park lies a small, forgotten beach hidden from sight and use with the closing years ago of the once grand Renaissance Beach Resort – a place buried until Monday morning in layers of detritus.
"I never knew this was here," said Nigel Bailey. "And I've been here for 20 years."
Bailey is president of St. Thomas Rotary Sunrise and he, along with dozens of volunteers led by members and trainees of My Brother's Workshop, bagged and hauled away truckloads of garbage and debris, including two long-buried boats, from the white, sandy, otherwise deserted, crescent beach.
The cleanup effort, initiated by the Smith Bay Community Action Foundation, was taken up by the newly forming Rotary Community Corps – a group sponsored by Sunrise Rotary and populated by trainees and graduates of MBW and other non-Rotarian community members.
V.I. Police Officer Roy Chesterfield was on hand to help; it was Chesterfield who made a call for a backhoe when the volunteers reached the end of what they could do to extricate with picks and shovels the rotting, fractured vessels buried deep in the sand.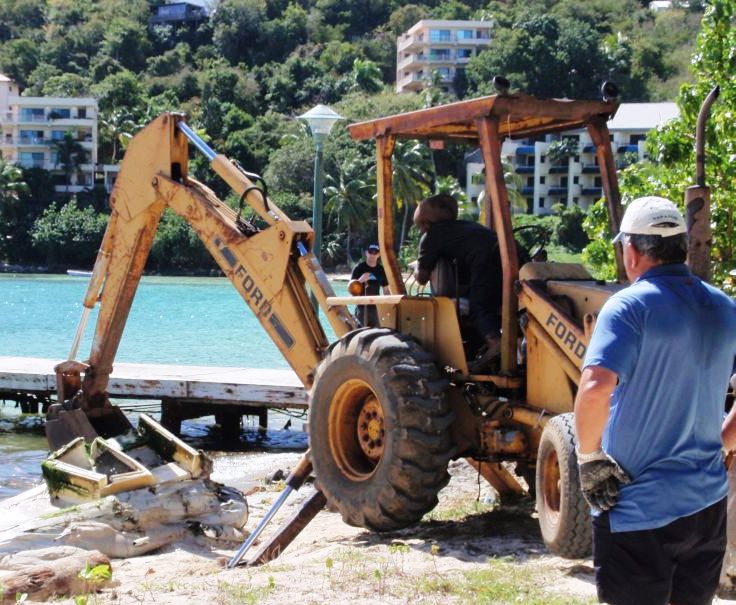 Chesterfield is a moving force with the Smith Bay Foundation, along with President Genevieve Small and Vice President Sam Rey.
Along with the members of the foundation, Rotary and MBW, participants from the surrounding residential and resort complexes showed up with shovels, rakes and picks in hand.
Judith Hromoko, who described herself as a "snowbird" who spends part of the year living at the Point Pleasant east of the beach, said the condominium association had approached the Smith Bay Foundation about doing a beach cleanup.
Justin Mis, board member of the Pineapple Beach Condominium Association, also wanted to get involved – and did. Before the Renaissance hotel was built, Pineapple, which lies adjacent to the deteriorating hotel, was the only resort in Water Bay. Now it is a condominium complex that also offers short-term resort rentals, as does Point Pleasant.
"It was community outreach" that drove Monday's cleanup, Hromoko said.
Keith LaMotta Jr., a graduate of and now supervisor with My Brother's Workshop and founding RCC member, said, "It was great to see people of all ages and walks of life come together to do something that needed doing. That beach was really dirty."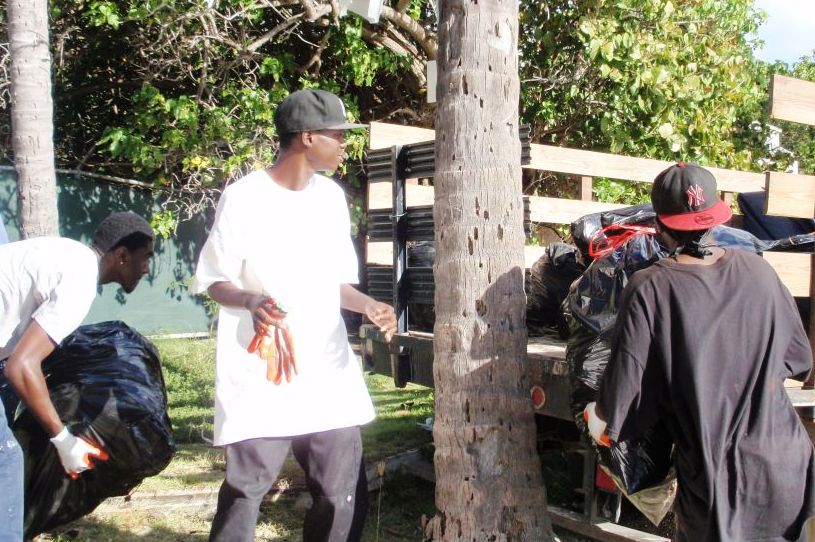 Community service is not new to the young men of MBW, the five-year-old organization that offers certified vocational training among other services to disengaged young men between 16 and 25. Its founder Scott Bradley estimates the group has completed more than 9,000 hours of service to the St. Thomas community.
But the Rotary Community Corps gives the service a home where the young men can plan and track what they are doing and become more a part of the larger society in which they reside.
Rotary President Bailey said the Corps is expected to bring even more services and opportunities to My Brother's Workshop.
For many, Monday's activity was the first time these divergent groups had come together, but if Officer Chesterfield has his way, it was just the beginning. By the end of the morning, Chesterfield was imagining bush cutting and barbeques on the serene shoreline with the whole community invited.
"I have a vision to bring back our island," Chesterfield mused. "The beautiful beaches…people turn a blind eye to what's happening."
Neatly turned out in his freshly pressed blue uniform, Chesterfield reviewed the quiet action taking place along the shore. "I grew up here," he said. "This is part of me."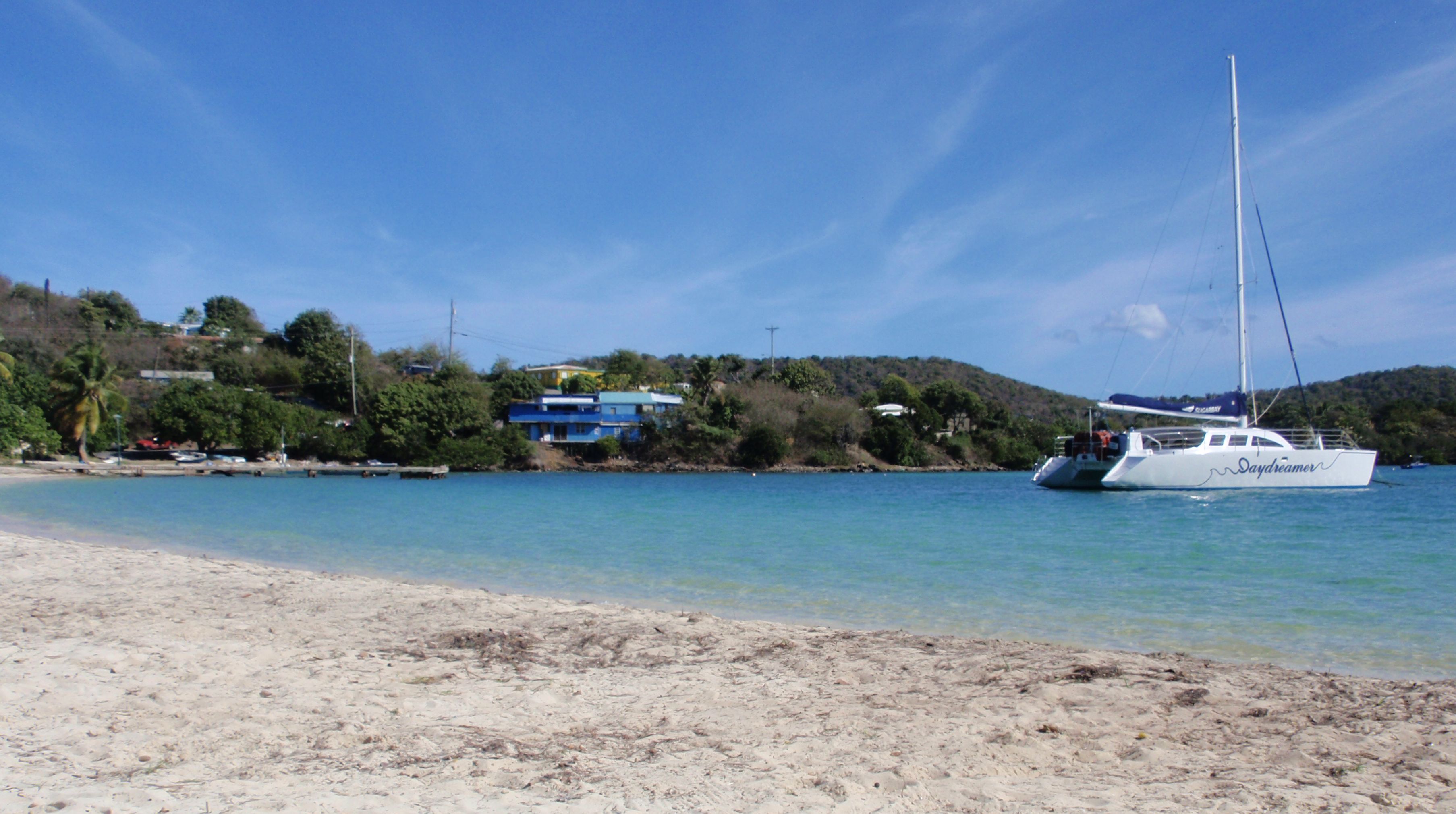 Smith Bay Foundation President Small held up her hand to shade her eyes. "I can't believe how much garbage we picked up," she said.
The blazing sun reflected off the spotless beach.