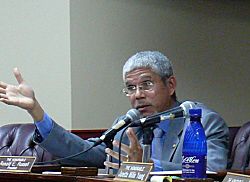 A bill giving St. Croix development company Christiansted Renewal Group extensive tax breaks, tax increment financing to help them build a parking garage and the right to build a stand-alone casino in Watergut was voted held in Senate committee for 90 days, Friday in Frederiksted.
The company has promoted the project as a plan to revitalize Christiansted, because its proposed tax break bill appropriates a portion of whatever taxes the casino would ultimately pay and directs it toward tax increment financing loans for hotel and business improvements in Christiansted.
Sponsored by Senate President Ronald Russell, the bill states, "licensees shall not be required to pay any other taxes and fees on any income derived from the operation of the casino, or the rental of property to the operator of the casino."
This means the Christiansted Renewal Group development company could rent out the entire operation to a management company, then keep the rental income tax-free. The bill also puts the new casino inside the Christiansted Enterprise Zone, which would enable the company to have those tax benefits, including a tax credit equal to the increase in property taxes as a result of building the casino on vacant land.
Offsetting these large tax breaks, the bill increases this one company's casino revenue taxes from a maximum of 12 percent of gambling revenues under current law to a final rate of 16 percent after six years of operation.
But that tax increase would again be partly given back to the company through a unique carve-out to the tax increment finance law, directing that a portion of the parlor casino's taxes go into a trust fund to help the company pay to build a 350-space parking garage.
The bill would allocate the remainder of this one company's tax revenue between security for Economic Development Authority loans, and for security lighting for the company's parking garage, which would comprise the revitalization component of the proposal.
Assistant Tourism Commissioner Brad Nugent and Casino Control Commissioner Ann Golden testified strongly in opposition to the bill to the Committee on Economic Development, Technology and Agriculture Friday, both objecting that it hurt efforts to increase hotel rooms in the territory.
Nugent also suggested it would create an impression of regulatory chaos in the territory, coming soon after an unrelated hotel development act last September that allowed hotels to use a portion of their taxes to help finance loans. That law "was designed to help current investors complete their joint hotel and casino development projects with strict stipulations by the government," Nugent said, while this new one "essentially gives a free pass on these rules to a specific competitor. This gives the perception that the Virgin Islands Government is inconsistent with its policies and our hotel development program is subjective."
V.I. Bureau of Economic Research Director Wharton Berger testified that a gambling establishment would have to bring in a substantial number of new visitors, or else it would just take revenues that would have otherwise gone to other businesses in the territory. Berger declined to offer a conclusive analysis of whether this particular project would meet that threshold, saying it would need detailed study.
Several senators expressed opposition to the measure. Sens. Usie Richards and Patrick Hill suggested to company principals Donovan Hamm and Duane Bobeck that they consider purchasing the Anchor Inn and the King Christian Inn, two small hotels on the Christiansted boardwalk currently owned by the government. That way, the casino would be connected to a hotel and would not need special legal status, they suggested.
Bobeck said he would consider it, but those hotels were too small to be able to make a profit.
Voting to hold the bill in committee for 90 days were Hill, Sens. Neville James, Shawn-Michael Malone, Patrick Sprauve and Janette Millin-Young. Sen. Terrence "Positive" Nelson abstained, and Sen. Alicia "Chucky" Hansen was absent.
The committee indefinitely tabled a bill sponsored by Sen. Carlton "Ital" Dowe, to allow up to seven casinos on St. Thomas and two on St. John, starting with one at Yacht Haven. Dowe argued hotel-based casinos would more effectively bring in tourist revenue than the existing video lottery terminals on St. Thomas, which are frequented primarily by locals.
Golden said since Racino gambling began on at the Randall "Doc" James Racetrack on St. Croix in August, Divi casino revenues dropped 20 percent.
University of the Virgin Islands economist Simon Jones-Hendrickson questioned figures in the Legislature's Post Audit Report that seemed to indicate gambling would be good for St. Thomas/St. John. Hendrickson prepared a report along with Gary Anders, a consultant for the V.I. Lottery.
Voting to hold the measure in committee were: Hill, James, Malone, Sprauve, Nelson and Millin-Young. Hansen was absent.