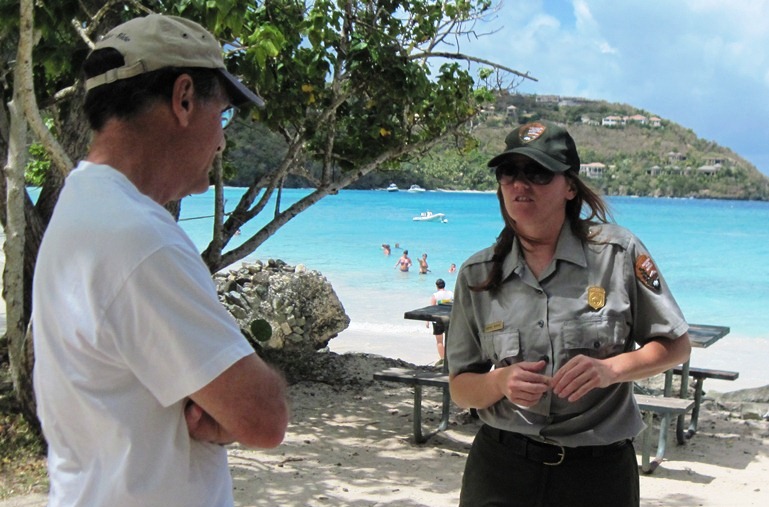 The old bones uncovered at V.I. National Park locations on St. John can't speak but they do have tales to tell. They show wear from repetitive work, the effects of diseases and that a woman thought to be a slave buried at Cinnamon Bay Plantation had poor dental health.
"There were multiple abscesses and missing teeth," said park archeologist Kourtney Donohue at a Friends of the Park seminar Wednesday. Those dental problems may have been life threatening, Donohue said.
The Investigating Island Burials seminar was held at the Cinnamon Bay archeology lab.
Erosion continues to wear away Cinnamon Bay Beach, and a plantation village once stood where beachgoers now soak up the sun. Since the 1970s, park staff has discovered the remains of more than 45 people, most uncovered as Cinnamon Bay Beach eroded. Hurricane Earl in 2010 uncovered yet another.
The park staff has saved the bones and will rebury them later this year in an ossuary located inland from the archeology lab.
Donohue said there are probably many more buried at Cinnamon Bay.
"At Cinnamon Bay, there's archeology everywhere."
Later she pointed out a spot near the Cinnamon Bay watersports concession that is home to more graves. Donohue said the beachfront vegetation is currently holding them in place. Tuesday, a beachgoer in a chair sat on top of them.
Donohue talked about graves at various other locations in the park. At L'Esperance, a bank on the side of a gut began to erode, uncovering bones.
For the most part, slave graves are hard to detect because the slaves were buried in the ground without tombs.
"We're still learning how graves are marked," she said.
While the park staff doesn't go looking for bones, when they are revealed the park tries to conserve the site. Donohue said the bones help to identify the area as a cemetery. Donohue added that trees planted near the grave provide additional clues as to grave locations.
And there might be jumbies lurking about, according to park archeology intern Chela Thomas, who told the seven people gathered for the seminar all about jumbies.
"A jumbie is the spirit of a deceased person who harbored evil intentions while they were alive," Thomas said.
Growing up on St. John, Thomas said she knew from an early age to show respect for the dead and to stay out of cemeteries. She also learned how to escape from jumbies.
"Leave your shoes by the door, sprinkle salt or rice around or walk inside backward," she said.
Since most people believe jumbies don't have feet, Thomas said the jumbies will spend all night trying to put on your shoes. They'll also spend hours picking up every grain of salt or rice. And if you walk backwards into your house, she said you can slam the door in their faces.
Maureen Flanigan of Littleton, Col., was one of those who attended the seminar. She said she picked Investigating Island Burials because it was a matter of timing.
"We come down once a year and sign up for whatever the Friends are doing," Flanigan said.
The Friends seminar series continues through April 28. Friends program manager Audrey Penn said that most seminars still have room left. For a list of seminars, visit www.friendsvinp.org.