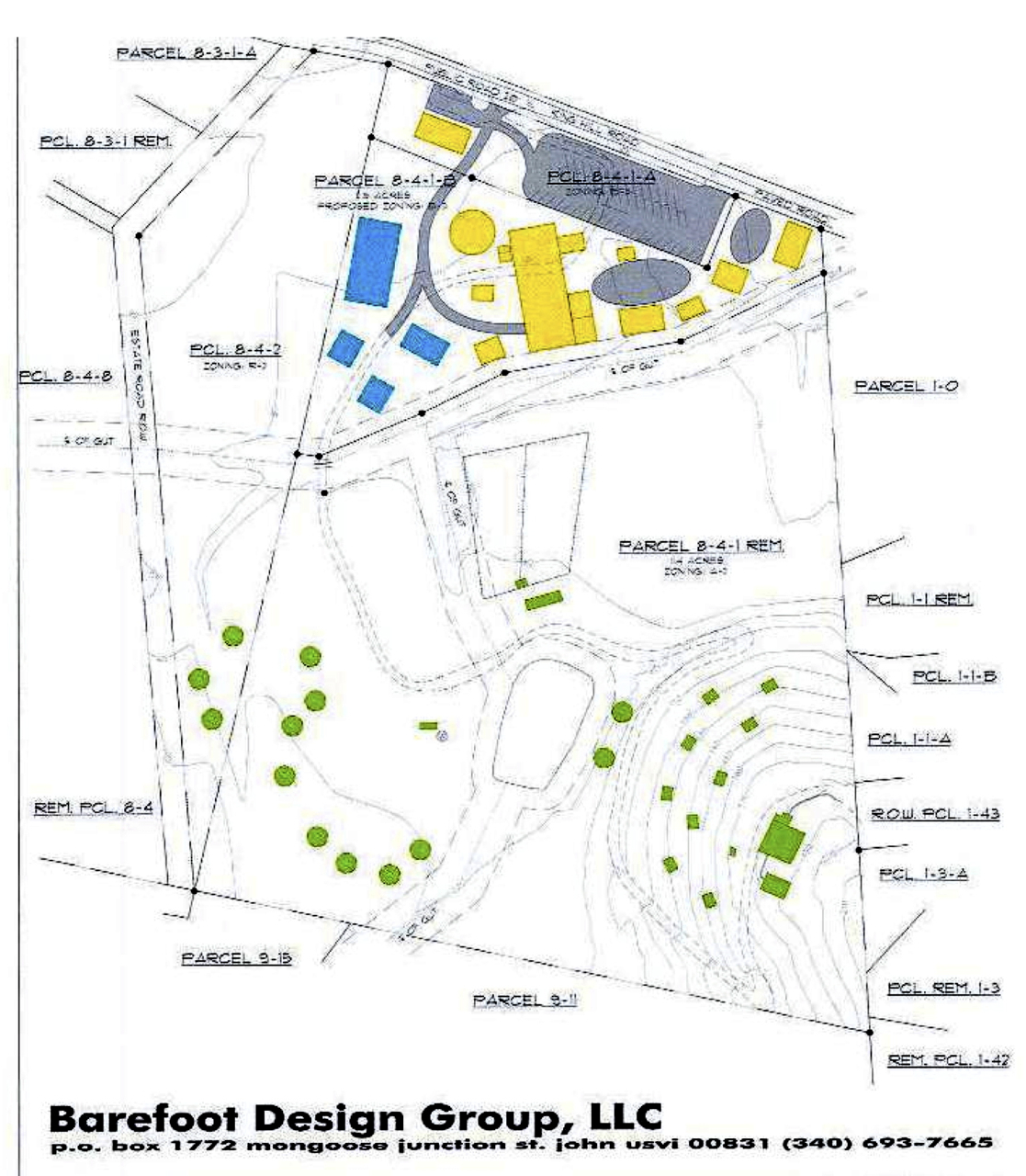 St. John resident Hugo Roller said he plans to build a campground at his Coral Bay Organic Gardens farm, but residents who attended a Planning and Natural Resources hearing in May in Cruz Bay on May 22 read the plans differently.
"We need to talk about the fact he's building a major resort," said Pam Gaffin, one of the handful of people who attended the May 22 meeting.
Lorelei Monsanto, who also attended the meeting, said Roller was not being forthcoming when discussing his plans.
"It looks like a resort," she said.
Roller refused to answer a reporter's questions about the project, saying he's irked that his letter to the Source editor on the project hasn't appeared. The letter, about 1,500 words long, appeared in the June 4 through 10 issue of the local St. John newspaper, Tradewinds. It doesn't state what he plans to build, focusing instead on blasting those who attended the meeting. At one point, he called one of the testifiers "a pit bull."
The property has .89 acres zoned B-3, business scattered, which is where Coral Bay Organic Gardens' farm is situated. Roller requested that 2.5 acres now zoned A-2, agriculture, be rezoned B-3. Stuart Smith, who heads the Comprehensive and Coastal Zone Planning Division at the Planning and Natural Resources Department, said this is the property directly behind the farm stand. The remaining 11.4 acres zoned A-2 will stay as such but will require a variance for the camping because it needs A-1 zoning for a campground.
Gaffin and others said they have no issue with Roller building a campground, as long as it's limited to just that.
Roller wrote in his Jan. 30 cover letter to Senate President Ronald Russell that he wants to build a multi-use commercial area with business and residential units on the parcel he wants rezoned B-3. However, a Feb. 21 letter from Planning Commissioner Alicia Barnes to Russell indicates Roller plans "camping" with no mention of other structures.
Smith said the department is in the process of determining if Roller's proposal meets the campground definition. Should Planning decide it's not a campground, Smith said it will be up to Roller to decide on subsequent direction.
Smith said another public hearing will not be held.
Sharon Coldren, president of the Coral Bay Community Council, pointed out that the rezoning to B-3 allows for myriad uses, opening the door to businesses that may not be what the Coral Bay community wants in its midst. The list of B-3 permitted uses has 143 separate categories.
The plans Roller submitted to Planning show 13 two-story "tree house" structures with bathrooms. Smith said they would have concrete bases with solid bamboo walls. Additionally, Gaffin said testimony at the hearing revealed Roller planned to build an unspecified number of residential units on top of retail space. Gaffin said she believes those units will be used as hotel rooms, not the residential units Roller indicated on his application. Smith said that if they are hotel rooms, they would not be allowed in B-3 zoning.
The plans also call for 50 vehicle parking spaces, a health spa and two restaurants, Gaffin said.
"It seems like a lot of support for 13 campsites," Gaffin said.
Coldren said she popped into the meeting on the way home from the airport but quickly left because she missed the presentation. However, she's looked at the plans since then.
"I think more information is needed to understand what's being discussed," she said.
On his application, Roller checked no when asked if there was any "flood ways" on the site, but Gaffin suggested that might not be accurate.
"There's a reason why it's such good farmland. It has the whole drainage system from Coral Bay," Gaffin said.
Smith said he plans to look into whether the Roller property is on a flood plain.
He said even if Roller gets a rezoning and variance, which is up to the Legislature, the project will have to go through the Coastal Zone Management process.
Coldren took issue with the lack of advertisement about the meeting. She said it appeared only in Tradewinds, but Smith said the two advertisements in Tradewinds met legal requirements.
Smith said it's not too late to comment on the project. He can be reached by calling 774-3320 or sending e-mail to stuart.smith@dpnr.gov.