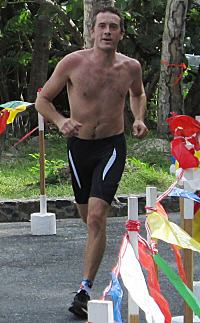 Slightly overcast skies, dry weather and water that was only a bit choppy from Tropical Storm Leslie's passage to the northeast made for great conditions at Sunday's 13th annual Love City Triathlon and Aquathon.
"The weather is usually iffy to poor," St. Croix resident Theresa Harper said.
Harper, 46, was first across the finish line at Maho Bay for the women's triathlete division with a time of 1 hour, 59 minutes and 9 seconds, a position she's held numerous other times.
"My motto is 'still tri-ing,'" she said, laughing at her play on words.
Harper, who's rehabbing a rental house on St. Croix, is in training for the Philadelphia Marathon, but she said the St. John hills were challenging.
Brent Lynn, 33, of St. John, finished first for the men in the triathlon division with a time of 1 hour, 55 minute and 57 seconds. A property manager, he said he started training for this event just two months ago.
"All I did was my bike. My goal was to just make it," he said.
The 23 triathletes swam a half-mile at Maho Bay, biked 14 miles to Cruz Bay and then ran four miles to finish at Maho Bay.
Eric Buck, 44, of St. Thomas was the second male triathlete to cross the finish line with a time of 2 hours, 3 minutes and 23 seconds. Buck, who works for the Nature Conservancy, said he made a practice run on St. John the day before the race.
"I started riding last week, and I got some gear for the hills," he said, discussing how he trained for the course. He said the downhill part of the bicycle course was "kind of scary."
Mike Klein, 47, said he didn't like the bicycling part either because he's afraid he'd crash and mess up his training for the World Sprint Championships in New Zealand.
Klein was one of several participants who came over from St. Croix for the event. A boat captain, he was the third man across the finish in the triathlon division with a time of 2 hours, 4 minutes and 42 seconds.
Sissel Holloway, 22, also made the trip from St. Croix. A personal trainer who works at Beeston Hill Rehabilitation, she was the second woman triathlete to cross the finish with a time of 2 hours, 12 minutes and 41 seconds. She too is headed off to New Zealand for the World Olympic Distance Championships.
"This was last minute," she said of the triathlon. Since she usually trains on flatter ground, she too said the hills were a "little scary."
Gail Vento, 36, of St. Thomas, director of the Lana Vento Charitable Trust, said she didn't train at all but still came in third in the woman's triathlon division with a time of 2 hours, 16 minutes and 48 seconds.
"I paddleboard, bike ride and surf," she said, discussing the extent of her training.
The Love City Triathlon also has an Aquathon, an event where participants swim a half mile and run three miles.
St. John resident Matt Crafts, 34, took first in the men's Aquathon with a time of 37 minutes and 5 seconds. He works at Waterfront Bistro, but said that surfing and building his house is what kept him in shape for the event.
Austin Giles, 53, of St. John was second with a time of 38 minutes and 30 seconds. He said he and his wife did the course several times to train, and that was it.
St. John resident Adam Thill, 46, was the third male aquathoner across the finish. His time was 41 minutes and 57 seconds.
"Every now and again I run, swimming not so much," the construction worker said, discussing how he prepared for the event.
St. Thomas resident Ashley Benson, 25, was the first woman aquathoner to cross the finish with a time of 40 minutes and 32 seconds. She said working on a boat helps keep her in shape, and she runs and bikes a lot too.
St. John resident Devon Nermire-Pepe, 28, took second place for the Aquathon women with a time of 43 minutes and 11 seconds. She also works on a boat, but said hitchhiking for transportation helps keep her in shape because she usually finds herself walking a lot.
Julie Sommer, 33, of St. Croix and an occupational therapist, took third for the woman aquathoners with a time of 43 minutes and 50 seconds. An occupational therapist, she said chasing after her kids keeps her in shape.
In the relay race, the team of Torey Lane, Ralph Antolino and Kevin Chipman placed first with a time 1 hour, 44 minutes and 1 second. Second went to the team of Eric Bauman, Pretlow Majette and Margaret Majette. Their time was 1 hour, 58 minutes and 57 seconds. The team of Sarah Stevens, Jude Woodcock and Trish Salter took third with a time of 2 hours, 16 minutes and 24 seconds.
Chris Chapman, who is battling cancer, received the Bill Gladfelter award given to someone in the community who faces big challenges but continues to fight.
The triathlon and aquathon only happen because people volunteer.
"This is St. John, all of us who live here do this," said Bern Putnam, who was busy at the finish line.
Another St. John volunteer, Karen Radke, echoed his remarks. "It's important to be involved," she said.
Timekeeper Jeff Miller said there was one volunteer for every two athletes. A total of 23 people participated in the triathlon, 28 in the Aquathon, and there were five teams of three people each who participated in the relay.
He had high praise for V.I. National Park, which owns the area where the triathlon and aquathon happened, the Police Department for its traffic help and St. John Rescue for standing by for emergencies.
"We're glad to help. We want to be part of the community," Bob Malacarne of St. John Rescue said.
Complete results will be available later in the week at www.stjohnlandsharks.com.