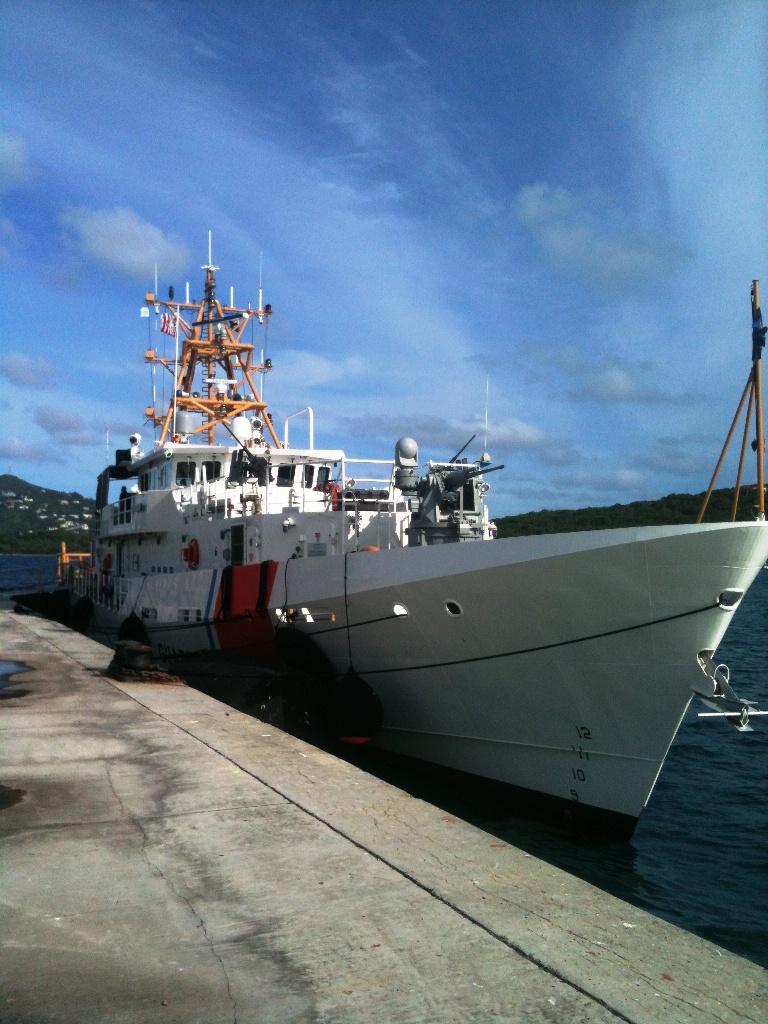 The U.S. Coast Guard fast response cutter Bernard C. Webber made its maiden visit to St. Thomas this week, arriving in the early hours of Thursday morning and leaving for its return journey to Miami on Friday morning.
With a complement of four officers and 20 enlisted personnel, the 153-foot cutter displayed the look of speed and optimal weapons efficiency even while at dock at Crown Bay. Sporting a pair of .50-caliber machine guns both fore and aft, a 25mm canon off her bow and a turbo charged 5700-horsepower engine, the vessel seemed well equipped to live up to her "fast response" moniker.
Its crew entertained guests from the local marine enforcement and support community aboard for a very thorough and informative tour both above and below decks on Thursday afternoon.
Engraved on a plaque leading into the common space below decks, reads the ships motto: "Determination heeds no interference."
The ship's multiple missions range from fishery patrols to countering drug and migrant operations. The Webber is one of 54 fast response cutters currently being built to augment the Coast Guard's aging fleet of 110 foot cutters. These new assets are to be home ported throughout the coastal United States.
Ship Commander Herb Eggert said, "We can expect the occasional visit by the new FRC's out of San Juan and Miami as assignments in this area are intelligence driven."