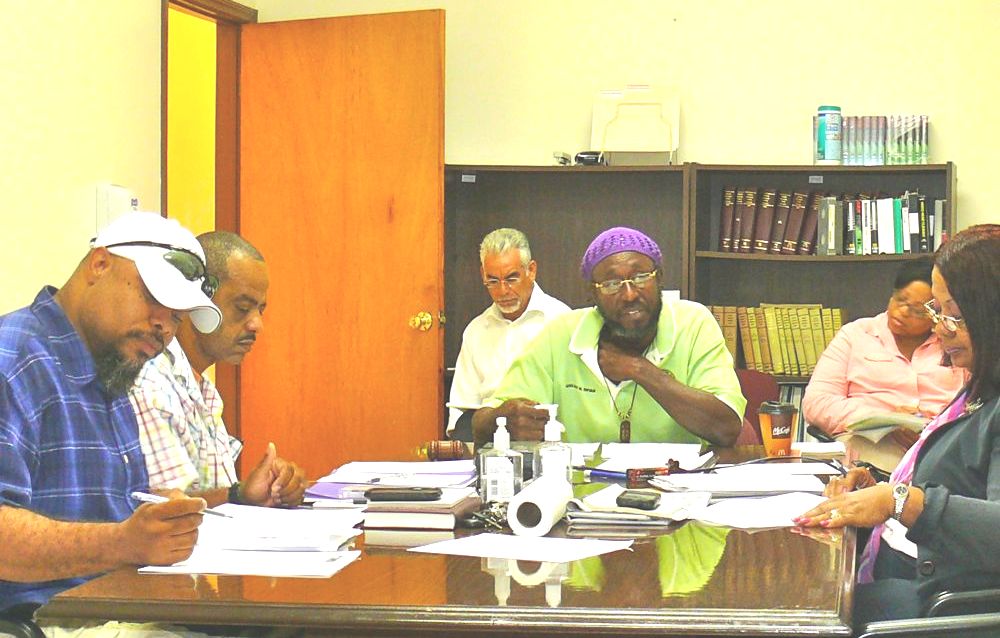 The St. Croix Board of Elections voted Wednesday to subpoena past board chairman Rupert Ross and Supervisor of Elections John Abramson for written financial statements, as a precondition for considering paying attorney's fees accrued representing board members over a failed recall election attempt.
While the board voted to authorize issuing subpoenas, it did not decide what information it is seeking.
"At the next meeting we will set a time and date to get the correct information and decide the particular information to get from Mr. Ross and Mr. Abramson," Chairman Adelbert Bryan said after the vote.
Ross said the financial information is already available through the office of the Supervisor of Elections and suggested asking Deputy Supervisor of Elections James Weber II, who was in attendance. Weber later confirmed he had access to the St. Croix financial records and could provide whatever financial information is needed, if given specific questions and some advance notice.
"What Mr. Ross said is correct. The Office of the Supervisor is the custodian of the financial records," Weber said after the meeting.
Voting to authorize subpoenas for the unspecified information were Bryan, board members Liliana de O'Neal, Glenn Webster and Roland Moolenaar. Ross and board member Lisa Harris-Moorhead were out of the room at the time of the vote and board member Raymond Williams was absent.
At issue is roughly $52,000 owed to attorney Scot McChain. The V.I. Joint Board of Elections, comprised of members of both the territory's elected district boards of elections, approved the hiring of McChain at the time of the lawsuit.
"I recall this meeting and I voted no," Bryan said Wednesday. Bryan was not yet chairman when that occurred. Bryan also vociferously supported and helped spearhead the recall effort that created the need for legal representation.
Ross has been pushing the St. Croix board to approve payment to McChain for a number of months. During budget hearings last fall, Ross asked the V.I. Legislature for a supplemental appropriation to make the payment, but no supplemental appropriation was made. When the matter came up in a recent Board of Elections meeting, Weber had said he would seek the funding from the Office of Management and Budget, if he could be shown the legislative act authorizing the appropriation, but there is no separate legislation.
Weber said the St. Croix Board of Elections still had about $38,834 remaining out of a total budget of $81,914, indicating that the board did not presently have the money to pay McChain's bill.
"Who controls the imprest account?" Bryan asked Weber. The imprest account is essentially a petty cash account for unexpected small expenses. Each governmental agency and department has one.
"It is the supervisor," Weber answered. Weber said V.I. law specifies that the supervisor of elections is the sole signatory on the account and – because it is solely under the control of Supervisor of Elections John Abramson, who is on medical leave until after his effective resignation date of May 31 – that Weber is unable to get information right away on that account.
Wednesday's meeting began acrimoniously with Ross, the outgoing former chairman, starting to verbally give a final chairman's report to the board, when Bryan insisted on a written report.
"It is my intention to submit an oral report," Ross said, adding that there was no rule or law specifying a written report and it had not been past practice.
Bryan said it would be up to the board members to decide if they would accept a written report.
Member Lisa Harris-Moorhead asked Bryan what law or rule required a written report.
"I'm not here to cite statutes," Bryan responded.
Moolenaar said he could not accept an oral report, while O'Neal and Glenn Webster both said they would be willing to accept an oral report if a written report were given later.
Ross ultimately gave a verbal report and said he would not be preparing a written one.
After the meeting, Ross said he was only paid a stipend, was not an employee and was not required to prepare written reports. He also reiterated that Weber and the Office of the Supervisor had the relevant financial information, not himself.
Bryan asked Ross what documentation there was for the McChain bill and what evidence there was that Ross had communicated with Abramson and the Legislature about the legal bill.
"You stated these were submitted six months ago. Do you have any documentation they were submitted?" Bryan asked, after saying he would not support any payment without documentation.
"We have the email," Ross said.
Bryan asked if there was a paper copy, suggesting that the email request did not sufficiently demonstrate that the request was made.
Bryan said the bill should have been submitted to Abramson months ago for payment instead of being brought to the board now.
"We didn't have the money to make payment at the time," said Harris-Moorhead.
"Are you finished?" Bryan admonished her. "You can't be interrupting in here."
Several vocal Bryan supporters in the audience then sucked their teeth, with one woman yelling "shut up" at Harris-Moorhead, at which point Harris-Moorhead walked out of the meeting for about half an hour.
Later Ross also left temporarily, also after Bryan told him not to speak. Bryan's supporters commented loudly that Ross and Harris-Moorhead were being uncivil.
Ironically Bryan and his supporters have an extensive history of disrupting St. Croix Board of Elections meetings themselves. In 2011 a court reporter gave up and left a meeting, and for a time no court reporters would agree to transcribe St. Croix meetings, because Bryan and other members kept getting into shouting matches.
Before that were a long string of incidents involving Bryan, as a member of the Fifth V.I. Constitutional Convention, a V.I. legislator and as a private citizen, in which Bryan brought numerous meetings to a crawl by constantly interrupting and refusing to allow others to speak. (See related links below)
In other business, the board voted to meet again at 1 p.m. Monday in the Election System's Sunny Isle offices, to prepare for a scheduled Joint Board of Elections meeting scheduled March 15 at noon in the Sunny Isle offices.
After the meeting, St. Croix residents in the audience expressed support for Bryan's stated concern about financial records and accountability, as well as for the board's actions since Bryan took up the chairmanship last month.
"I appreciate this meeting and how it was conducted," said Ira Hobson of St. Croix, who has come to meetings in support of Bryan before.
Juliet Liburd of Frederiksted said she shared Bryan's concern about the supervisor of elections having sole control over the imprest fund.
"I find it appalling that only one person signs. Every organization, you need two or three signatures," Liburd said. Asked about the fact that the signing authority is codified into law, Liburd suggested that meant the board of elections either wanted it that way or should have already asked the Legislature to change it.
"As Sen. Usie Richards used to say (to agencies complaining about legislation), you ask for this and you ask for that and then blame the Legislature for doing what you asked," Liburd said.
Liburd said she felt the board was having trouble doing its job because Abramson still has authority over the election system, but is not actually present. "The board is stagnating and they can't do anything unless Mr. Abramson signs off on everything," Liburd said.