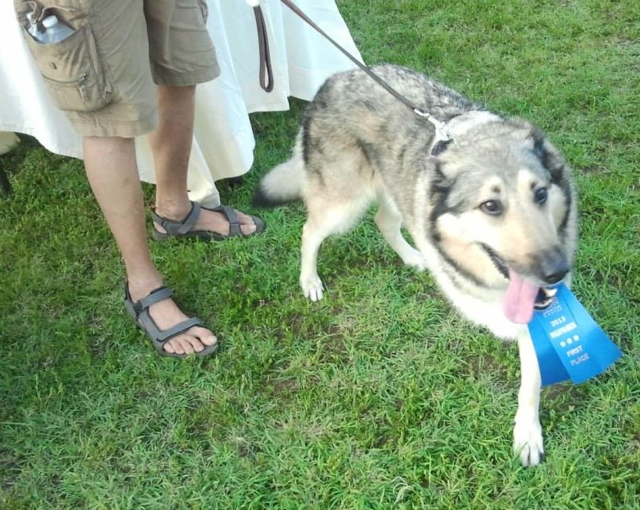 There were several stars at Saturday's dog show on St. John, but none bigger than Levi.
Levi, a 13-year-old border collie/German sheperd mix, was diagnosed with cancer in December, which led to the amputation of his right front leg. Despite this setback, Levi was a 3-legged bundle of energy at the annual Animal Care Center's 2013 Wagapalooza dog show at the Virgin Islands National Park ballfield.
Levi hit it off with the five-judge panel, winning first place in the old-timer senior event for elderly dogs.
The judges pinned a blue ribbon to Levi, but he wasn't done yet. Levi pulled his owner, Shelley Letendre, by the psychedelic dog collar with peace signs she bought for him. She talked. He barked.
"He's a peaceful dog," Letendre said. "But he's also a loudmouth."
The ACC, a non-profit organization dedicated to the well being of animals, held its annual spring fundraiser Saturday in downtown Cruz Bay. The event fashions itself as an island version of the Westminster Dog Show, according to a press release by the center.
Officials said the fundraiser helps fund their shelter, which provides kennels for homeless dogs and inside cages for a limited numbers of homeless cats. The fundraiser will also help fund the paid staff and the center's feral cat feeding stations, where feral cats are trapped, taken to the local vet, tested for disease and spayed or neuter.
Registration began at 4:30 p.m.; the dog show started at 5 p.m. and lasted until 9 p.m.
Wagapalooza started as a small event at Skinny Legs Bar and Grill more than a decade ago, and has blossomed into one of the ACC's biggest annual gatherings on St. John, event co-chairman Sally Furlong said. More than 30 dogs participated in the event and about 100 spectators watched dogs run, jump and perform various tricks.
Rob Upham, co-owner of pet boutique shop St. Johnimals, has been volunteering for the ACC for about two years. He usually walks shelter dogs on Sunday mornings but he sold popcorn at Saturday's event.
"It's a lot of fun. Everybody has a good time. Definitely a lot of characters," said Upham, who owns a three-year-old miniature schnauzer named Jolene.
The competing classes for the dogs included the best of old-timer, costume, adult handler, junior handler, trick, shelter dog, short agility, long agility, and friend. The dogs that placed one and two in each of those categories competed at the end of the show for Waga King and Queen.
People gave donations before admission into the event. Dogs not participating in any of the nine show categories paid $5. Entry into the show ran $25 for each class entered.
Quite a crowd followed Crystal Allen and her dog Taliah. Crystal Allen decided to coordinate outfits with Taliah, a 6-year-old Chihuahua mix. Allen, a seamstress and fashion designer, dressed Taliah in a pink dress with a sequined belt, black hair extensions, a pink bow and a pink scarf. Allen wore pink pants, a pink scarf and a black sequined belt with white shirt. She purchased the materials at a St. Thomas fabric store and created both outfits.
"I wanted to make it lighthearted and something funny," said Allen, who is originally from Los Angeles but moved to St. John two years ago.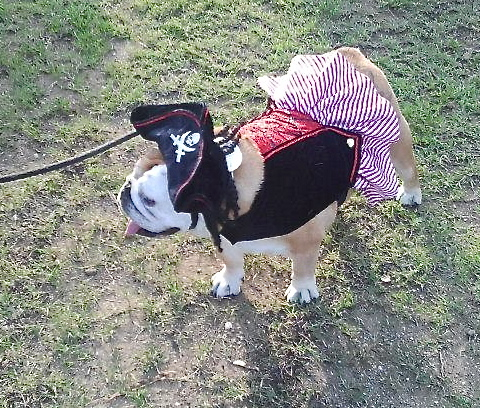 Allen and Taliah won best costume and Waga Queen in last year's competition. But this year the duo came up empty in the costume category. Allen said Taliah was a little skittish due to the large crowd and the attention from the spectators. Allen took the loss in stride because of the purpose of the event.
"I love what the ACC is doing. Especially stuff like this," Allen said. "I think its good that they're raising money and awareness."
Brenda Wallace served as the MC, introducing the dogs and their owners during competing events. Katilady's catered the event serving veggie burgers, chili slaw dogs and pulled pork sandwiches. Michael Beason deejayed the event, playing most of Paul Simon's discography. Wagapalooza's dog show judges were Dan Boyd, Miles Stair, Cid Hamling, Dr. Julie Outland, and Rosalie Gage, Furlong said.
Volunteers sold official 2013 Wagapalooza T-shirts and raffle tickets for various prizes, including wine, gift certificates and travel packages. Officials hoped to make more than $1,500 in donations.
Anne Marie Porter, a 20-year-volunteer at the ACC, reminisced about the beginning of the organization. She said when the organization started there was no building, no office, no electricity and no phone, just a group of pet owners, dog lovers and animal advocates.
"To see how it's evolved is amazing," said Porter, who owns a pitbull named Gina.
Porter said the ACC is the only no-kill shelter in the Caribbean. All monies come from fundraising. There is no government funding and volunteers make up most of the staff. Porter said the fundraiser is essential to pay for the veterinary bills and traps for feral cats.
"It's all based on the kindness and generosity of the community," Porter said.