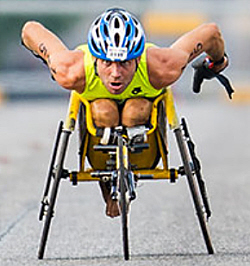 Geoff Kennedy explains why he sounds out of breath. He has just finished helping a man who he says "got shot like I did. I brought my extra hand cycle to help him."
That's who Kennedy is these days. A lot has changed since the afternoon of April 25, 2000, the day Kennedy, now 32, was shot in the back trying to flee an armed assailant on one of the byways behind Back Street in downtown Charlotte Amalie. He was left paralyzed from the waist down.
Now an elite paratriathlete, Kennedy is part of the USA National Paratriathlon Team, and he shared part of that journey with the Source in a telephone interview from his Puerto Rico home.
After the shooting, Kennedy was airlifted from Roy L. Schneider Hospital to Puerto Rico's University Hospital, where he spent six days in intensive care and 18 more in intermediate care.
On May 22, he was transferred to Health South, a rehabilitation facility in San Juan, where he spent another six weeks in therapy, before going home to Tortola where his parents ran a small hotel.
Life was a roller coaster for a time after the shooting.
"I was an athlete before," Kennedy said. "I was into mountain biking, horseback riding, sailing. I was 1996 Caribbean junior mountain bike champion." About three days before he was shot, he said he was offered a pro surfing contract.
After getting out of therapy in Puerto Rico, Kennedy said he hung out a lot on Tortola partying. "I was extremely angry for a time. I wanted to murder this guy," he said.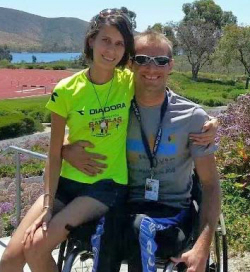 After a two-year stint at the Shriners Hospital in an experimental program which didn't work out, Kennedy moved to Puerto Rico where he earned a bachelor's degree in business at the Inter American University of Puerto Rico. He landed a social worker position at the Center for Independent Living in Puerto Rico, helping people with disabilities become independent and ready to take on life.
The job, where he spent a couple years, provided a learning experience for Kennedy, as well as those he helped. "I learned a lot," he said. "I was told I had to expect people to feel sorry for me and to just accept that and move on. This was going to be my new life."
He said, "I was still angry at the time, but my grandmother told me, 'You'll have a terrible life if you hang onto that anger. You have to let it go.' And I have. I never think about getting shot anymore," he said.
"I put it in the back of my head. I know when I wake up the first thing I grab for is my wheelchair. That's who I am. It's about surrounding yourself with friends. The best time in my life is today."
And a very big part of that life today can be summed up in two words: Amarlyis Gonzales.
"I saw her jogging in my neighborhood one day, and my buddy started to hit on her, but I told him 'no way.'" That was seven years ago.
"She and her mother got me interested in racing," he said. "They signed me up for the first hand cycle race over the airport bridge, a 10k, and I came in last. But, I took first the next year and the four or five after that. And I was hooked."
Racing is his life now.
"I have to hand it to people with disabilities," Kennedy said. "We are more motivated than able-bodied people, I think. I don't think people understand how hard this is. All these guys sitting in a minivan going to a race, different things got us here, motorcycle accidents, shootings. These are a bunch of tough guys, really tough."
"In the race," he said, "we are all out to beat each other, and then afterwards, we're the best of friends. That's the way it should be."
Kennedy excels in paratriathlon racing. He has won three gold medals, one silver and one bronze in the last three years. In 2011 and 2012 he had the title of USA National Champion. In 2012 he won his bronze medal in the Paratriathlon World Championship in Auckland, New Zealand.
This year he qualified for the Paratriathlon World Championship in Sep. 13, 2013 in London. And this qualifies him for his goal: to compete in 2016 Paralympic Games in Rio de Janeiro. This will be the first time that the Paratriathlon will be included in the Paralympic Games.
"I travel a lot – I was at the Great Wall of China, and in Hawaii a month later and I get to meet all sorts of people," he said. "However, you need lots of equipment. With the wheelchair and the racing hand cycle, it's almost more tiring to fly to another country and move all that equipment that to do the race," he said.
"You travel on a world circuit to international meets to accumulate points to qualify for the next races," Kennedy said. "To qualify, you still have to beat other categories, wheel chair, prosthetic legs, blind and the able-bodied. We all race at the same time, but we compete only with others who have the same disability."
He said, "Everybody thinks we have a lot of money. I don't get a paycheck. Some countries like Brazil and the UK give their athletes more funding. I get a stipend for the world championships."
Kennedy says he is always looking for sponsors. "Sometime they come up to you," he said. "My girlfriend Amarylis helps building my website. You send proposals to different companies, and you wait, and you maintain a healthy lifestyle."
To that end, Kennedy said he is the cook at the home he and Amarylis share. "We're vegetarians, so I always am conscious of a healthy diet. I'm in better shape now than ever," he says.
Well, he'd better be. In London, which he won, the paratriathlon sprint distance course consisted of a 750m swim, 20km bike (handcycle/tandem) and 5km run (racing chair). This is what's called a sprint race, which he will face in Rio.
However, Kennedy is gearing up right now for a December paratriathlon in Mayaguez, which is twice that: 15 meter swim, 40 km bike and 10km racing chair run.
"I did two 5 km races yesterday," he said cheerily. "And I won both."
We'll put our money on Kennedy.