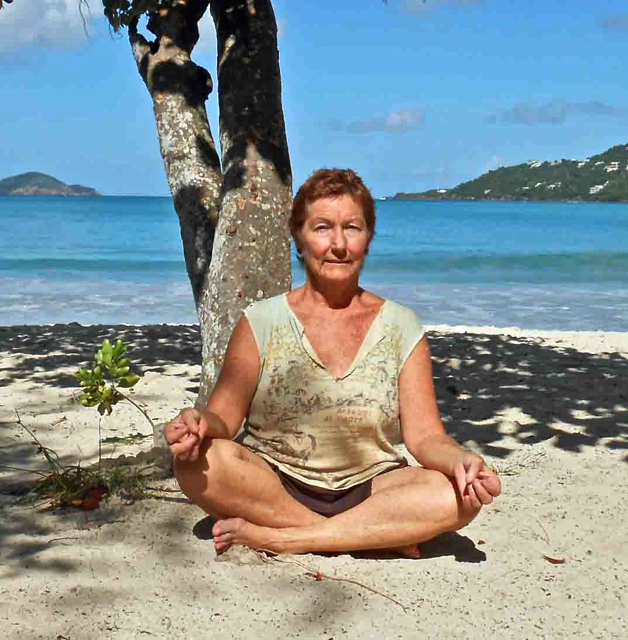 Doreen Walsh remembers as a teenager being a passenger on a long car ride, and contemplating what would happen if they got into an accident.
"It occurred to me that the best thing to do would be to be relaxed," she said. "I really don't know where that came from, but it made sense to me that if I should suffer physical trauma, it would be less harmful if I were not tense, if my muscles were relaxed."
It's a consideration that determined Walsh's journey. She shared that journey while sitting on the beach at Magens Bay, where she teaches a Sunday morning yoga class.
"Yoga is a way of life," she said, charting what she has learned over the past three decades or so. "I became intrigued in studying yoga in college at Penn State," where she majored in art education. "I'd always been interested in dance and movement, learning how the body feels. That was in the '70s, when yoga was considered esoteric, not nearly as popular as it is today, when I began classes. I was lucky to have been exposed to it at that time."
Walsh moved to Oregon after graduating and did her batik art while working for the Oregon Shakespeare Festival. Her brother lived on St. Thomas, working at Frenchman's Reef as production manager, when Walsh went to visit him.
The "visit' turned into "home," as Walsh moved to the island in 1989.
"There's a lot more to yoga than my class," the yoga practitioner said candidly. Walsh is barely five-foot tall, with hazel eyes, freckles and auburn hair, 50-something. She has no doubt about her role in life.
"The gentle feeling one gets from yoga is the main thing that has influenced me, I think. Looking back, it was more of the physical than the philosophical. I've never gotten into following a guru, chanting. It's what the physical does to you, not the other way around, which makes your mind feel good," she said.
Walsh is a thoughtful teacher; she keeps an eye on her students in classes, quick to notice when a movement appears difficult, when a student needs help with a posture.
"Each person is different," she said. "You have to be sensitive to their needs."
In her teaching she stresses "thanking your body."
"Reaching your toes is not the goal," she said. "That's not important; the stretch is what you are going for. It won't happen overnight. And you must thank your body, say 'thank you' to your muscles for trying. It's a slow process. You have to give it some time and it will happen."
Indeed, her classes range from men and women in their 70s to younger people, mostly women, who treat themselves to her gentle admonitions regularly.
"Now," she will say while instructing her students to do, for instance, the warrior pose, "raising your hands above your head will work your heart and lungs more."
Walsh began taking classes with Muffin Landt at Magens Bay when she first moved to the island in 1989.
"Muffin would bring other teachers, and we'd do different aspects. Some stress meditative, more spiritual. Others stress more aerobic strengthening. When she had to go away, I'd teach Muffin's classes; and when she moved for good, I took over."
Aside from Landt, Walsh has studied Margot Zimmerman, Ravi Singh, Ken Black and at the Kripalu Institute.
"When I first came to the island, there was hardly anyone practicing yoga," she said. "In fact, I think it was just Margot Zimmerman and Muffin. Now, there is a whole yoga community, teaching almost every form. The holistic health community on the island has really grown, I'm happy to say."
"What I've done is pretty eclectic," she said. "A little bit of teaching I've had through the years. I use several styles of Hatha, physical yoga, with Kripalu technique, Iyengar, Kundalini and Extension, with a focus on your mind body and breath connection, paying attention to posture and form and a little basic Pilates."
And, she said, "I've taken some movements from ballet. You know the movement where we turn from side to side with our arms up and to the side," she said. "That's a ballet movement."
Walsh explained her aims for her students.
"What I want to do is to enable people to feel better through being balanced in their bodies. A sense of balance is essential to good spiritual and physical health."
In fact, she ends each class with "mindful relaxation," a pose. "It's called by some the most important yoga pose. The Sanskrit name is savasana, or, it's sometimes called the corpse pose. It is a pose of total relaxation, lying on your back fully relaxed with eyes closed."
It is a wonderful way to begin your day, lying on the sand at Magens Bay with the water gently lapping at the shore and palms hovering above in the sunlight. (Full disclosure: the author is a student of Walsh's.)
Asked what is more important in her life, her batik art, for which she has taken several awards, or her yoga practice, Walsh gasped, "Why, I couldn't do one without the other," she said with an indulgent smile. "It's who I am."
She teaches several classes a week. Core Yoga with Doreen: 9 a.m. Sunday at the West end of Magens Beach; 8:30 a.m. Monday and Wednesday at the Hull Bay Hideaway restaurant; and 10:30 a.m. Saturday at the Extreme Fitness Gym at Market Square East.
She can be reached by phone at 1-340-514-3698 or by email at doreen052@hotmail.com