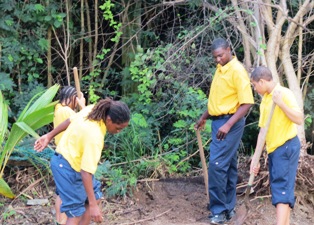 Following their participation in the 86th Annual FFA (Future Farmers of America) National Convention in Louisville, Kentucky, in late October, Elena Christian Junior High School Agriculture Class students returned to campus for serious business. About 13 students of the ECJH FFA Chapter, along with the agriculture class teacher, Stanley Farrelly, and the chaperone, Nubeltha Martinez, spent about a week participating in agricultural workshops and observing competitions in the 2013 FFA Convention titled "Ignite."
"The students were ecstatic about the experience," Farrelly said Tuesday as he showed students how to transplant and prepare soil for planting. "Although they didn't get the opportunity to participate in the many agricultural competitions at the convention, they came back inspired with many ideas to expand the agricultural program at Elena."
Farrelly explained that the school hadn't participated in any convention since he took a group of students to the FFA Kansas, Missouri Convention in 1992. That year, Farrelly resigned his post at ECJH to pursue a private venture, only returning to teach agriculture at the beginning of this school year.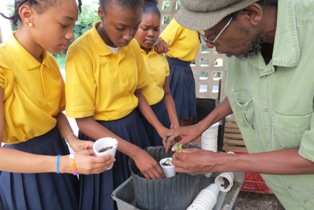 ECJH FFA President 7th grader Vivica Edwards spoke fondly of the FFA Convention and the school's agricultural program. "We attended several workshops on farming, agri-business and leadership, and learned a lot of what the industry has to offer," she said as she rested a hoe's handle on her shoulder. "Everything we consume today are products of the agri-business," she proudly proclaimed.
Edwards is planning fundraising events to purchase updated equipment to entice more students to enroll in agricultural classes. "We are hoping to attract more students into the program and FFA by having car washes, bake sales, etc., to raise funds to purchase new equipment," she said. "We want to ensure students that agriculture is not only about working in the field but entails many other facets."
Eleven year-old 7th grader Micaya Labadie is grateful for the agricultural program at the junior high school. She's not an FFA member and didn't attend the convention but said, "I have a garden in my yard and it's (the agriculture class) a good opportunity for me to formally learn about the farming process."
Taking a cue from the convention, Edwards and Farrelly said the program at ECJH will focus on agri-processing, particularly with the coconut. From the dry coconut: Edwards will be seeking assistance from an uncle to make coconut oil; Farrelly plans to purchase a shredder to decompose the husk of the nut for fertilizer material and a pyrolyzer or kiln to break down the hard shell of the coconut to create bio-charcoal, a soil supplement.
The students plan to share their cold crops harvested such as tomatoes, collard greens and cabbage with the school's cafeteria. Look out for their products at the 2014 Agriculture and Food Fair on St. Croix.