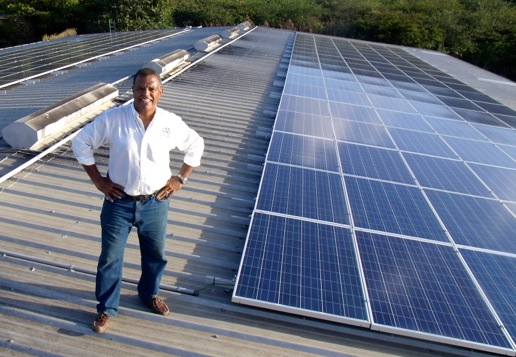 Virgin Islands energy officials applauded Food Town Supermarket in La Grande Princesse, St. Croix, for recent energy projects that "put energy efficiency first and alternative energy second – the perfect one-two punch," according to Don Buchanan, spokesman at the V.I. Energy Office.
"You have to give Food Town credit," said Onaje Jackson, president of Sustainable Systems and Design International, in a news release issued Tuesday by the Energy Office. "They made an investment that we think is a model for the Virgin Islands commercial sector."
Food Town invested a quarter-million dollars in a 100-killowatt; photovoltaic solar-electric system which is expected to cut the store's power purchased from WAPA by 30 percent. At that rate, the system will pay for itself in three years.
But that was just the final step in a project that began a year and half earlier with a walk-through audit conducted by Sustainable Systems and Design. Food Town owners were not only looking to produce some of their own energy; their plan called for them to use their energy in the most efficient way possible, to allow them to provide high-quality products at the best possible prices. To do that, they had to corral electric prices.
The first step was a half-million dollar investment in a combination of store beautification that included energy-efficiency upgrades. The completed "facelift" and replacement of existing lights and refrigerated cases with new, high-efficiency equipment resulted in a bright customer shopping experience while cutting storewide power demand 20 percent, according to the Energy Office.
"We urge all businesses who come to us to do an energy audit first. No energy is cheaper than the energy you don't use," said Karl Knight, Energy Office director. "Food Town, by looking comprehensively at its business, was able to integrate intelligent, energy efficiency upgrades in an economic way that will translate into lower prices for its customers."
According to Jackson, the third phase of Food Town's smart energy program will be the upgrade of its central refrigerated line system – multiple compressors that provide the "cold lines" for all refrigerated and freezer units. The upgrade should reduce total power demand another 35 percent. Once complete, the total power contribution from the solar system will total about 45 percent of the store's usage.
Further information is available by calling Jackson 1-340-718-4711 or sending an email to ojssdi@yahoo.com.