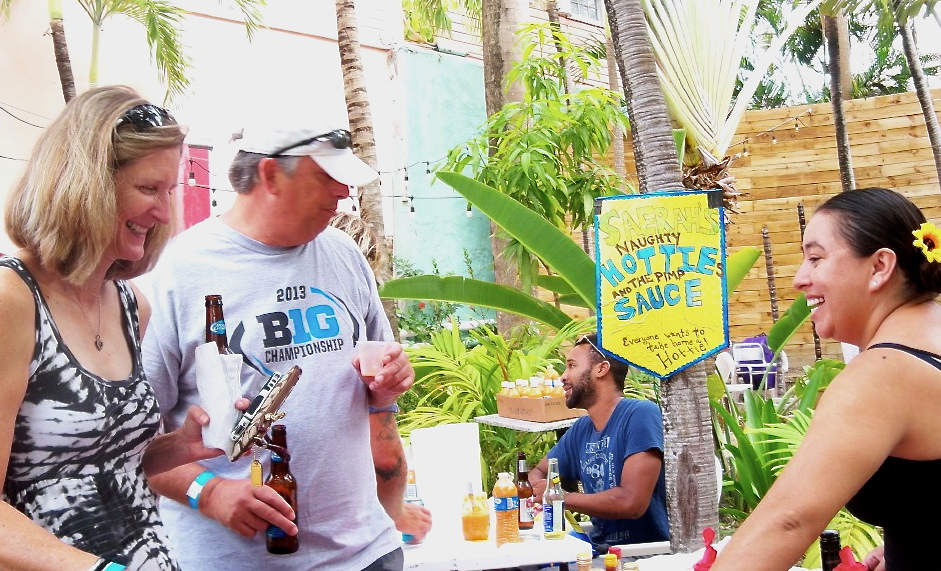 The contestants were as diverse as the different ingredients in their sauces in the annual Krew De Croix hot sauce competition Saturday. There were old guys, Tennessee boys, West Indian women, a pirate and an international contingent from Denmark competing in the second Krew De Croix Strand on Fire Hot Sauce and BBQ Sauce Competition.
The contest was held in a cool spot in Christiansted in the quaint old garden of the Comanche Hotel under palms and among lush ferns.
Wayne Myers, a judge, said the heat of the sauces and competition were both brutal. "By the end of the judging, my taste buds were shot," Myers said.
First place was awarded to Mike Belcheff of "Fungi's Hot Sauce."
"I'm really thrilled that I won," Belcheff said. Belcheff, in pirate garb, said he had spent the last three weeks working on perfecting recipes and designing bottles.
A.J. Simmonds was awarded second place and Mike Foltyn got third.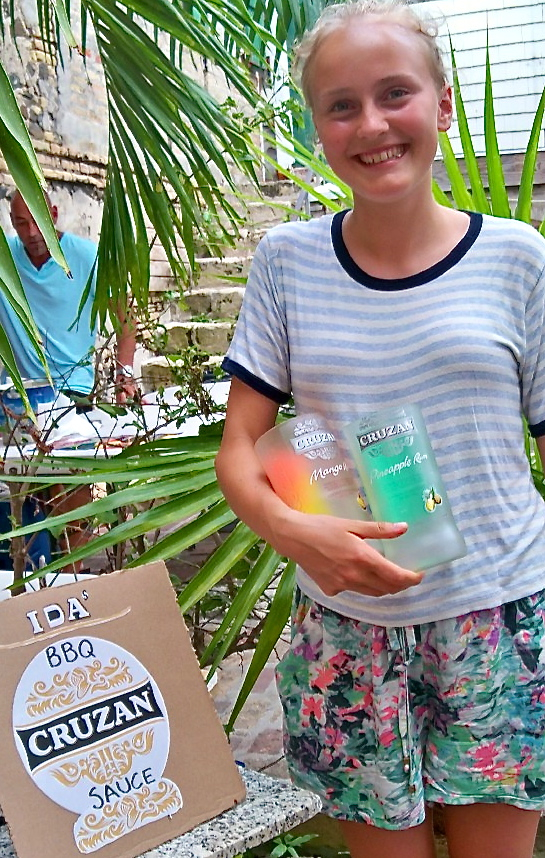 Ida Sceemeerg, 15, visiting from Denmark, said it was excited to take part in the competition. She said she just decided two days ago to enter the competition. She said a nice woman from a local restaurant offered the use of her kitchen.
"I had the idea to make a sweet sauce using local ingredients," Sceemeerg said. She made her sauce with hibiscus flowers, peppers, Cruzan rum and mangoes.
At Velma's Hot Sauce and Preserves table. Velma Cruz-Drew said she makes her sauces hot and sweet like her mango and jalapeno sauce.
Saerah's Naughty Hottie Pimp Sauce was made exclusively to be put in alcoholic mixed drinks.
Ayo John and Jason Williams made and sold "John Williams Jumbie Sauce" made from an old family recipe of Williams' that they tweaked a bit.
Christina Larsen said her mouth was still on fire even after the tasting was finished. For $5 people could sample as much as they could handle served on crackers and bread. And there was a $15 fee to enter the competition.
On Strand Street in front of the Comanche Rum and Wine Bar, five youth in the Pan Yard Theater played contemporary music on the steel drums. And Junie Jungle and his son, Rocky Thong, entertained the crowd gathered in the Comanche garden.
Valarie Morrow-Stiles, spokeswoman for Krew De Croix, said the number of entrants and attendance were down from last year. She said the large number of people leaving the island has made a difference. She said last year there were 35 competing and this year there were about a dozen.
"But everyone is having fun," Morrow-Stiles said. "This is what it's all about, providing good family fun for everyone. We're about having a good time."
Major sponsors of the competition were CBS Chanel 2, J. Benton Construction, JKC Communications and Crucian Gold on Strand Street. Proceeds will go towards the annual Mardi Croix parade.