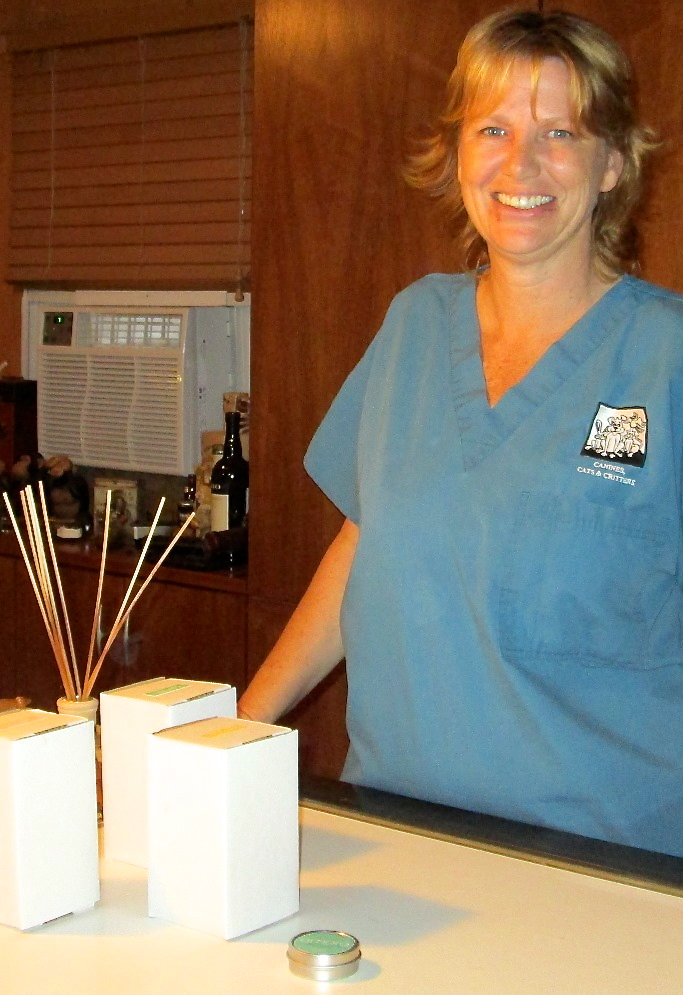 With "Take Your Vacation Home With You" as its slogan, Amora, the Essence of St. John, sends travelers as well as residents home with a made-in-St. John lip balm or aromatherapy oil diffusers in scents that speak island life.
"We're selling memories," said Laurie Damron, who with husband, Greg Damron, conjures up the products in what used to be a garage adjacent to their house.
The products are for sale at two Cruz Bay gift shops, Nest in Mongoose Junction shopping center and Pink Papaya in the Lemon Tree Mall, as well as at the company's website.
The company, which began manufacturing only a couple of years ago, has its roots in Greg Damron's curiosity about the bay trees he saw while hiking in V.I. National Park. When a park ranger tore one in half, Damron had a chance to smell the bay leaf's fragrance.
That discovery ignited something in Damron, and before long he was trying to figure out how to distill the essential oil that gives the leaves their fragrance. Alas, the majority of St. John's bay trees grow in the park, which means their leaves are off limits. He knew he'd have to come up with another avenue.
He located a company "down island" that distributed bay leaf essential oil and the rest, as they say, is history.
The Damrons wanted to play off St. John's reputation as Love City so they came up with the name Amora, which means love. They've trademarked their Amoratherapy brand aromatherapy oil. It comes in a diffuser bottle and needs no flame.
The Amoratherapy scents include bay, coconut, nutmeg, mango, key lime, frangipani, hibiscus and cinnamon. The aromas also come in blends with names that include key lime pie, the taste of St. John, Caribbean fruit, the beach, tropical floral, island bush tea and cinnamon bay.
The tubs of lip balm come in bay, painkiller and bushwhacker, with the last two being flavored like popular island drinks.
According to Damron, the products are made of the best ingredients. "Cocoa butter instead of flax seed oil," he said.
The business is growing. Laurie Damron said she's starting to get inquiries from couples planning destination weddings who want to put them in goodie bags they give to their guests.
"It's a great gift idea," she said.
Like many St. John transplants, they got to this place in their life through a circuitous route. After growing up in Orange County, Calif., Greg Damron, 59, bounced around a bit before settling on a design career working with malls, theme parks and other large-scale developments. He still does this, traveling to the mainland and other places from his St. John base.
Laurie Damron, 47, was born and grew up in Andover, Mass. After getting an associate's degree in travel from Bay State Junior College in Boston, she worked for Ivanna Trump at the Plaza Hotel in New York. She moved to California and took a job as office manager and in human resources at Universal Studios, where she met her husband.
Introduced to St. John by her father, a frequent visitor, the Damrons moved to St. John 13 years ago after a two-week vacation. Laurie Damron now works as the office manager at Canines, Cats and Critters.
When the two aren't at their regular jobs, developing new products at their work bench or putting their heads together to come up with ways to expand Amora's business, they hang out with their three cats and four dogs.
"And we like the water," Greg Damron said.
Visit www.amora-vi.com.