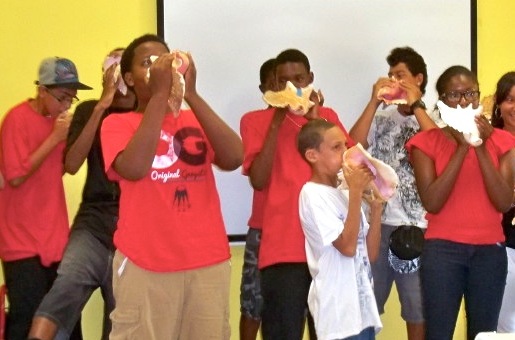 Junior high school students learned how to become good stewards of the sea at Eco Camp at the St. Croix East End Marine Park through fun, interactive and creative ways. Friday was camp wrap-up day, including an open house for parents where awards were presented, campers sang original rap songs, recited their own poetry, conch shell horns were blown, and dioramas made with recycled materials were displayed.
Lionel Andreas, a freshman at Complex, said Eco Camp was the best camp he had been to in his whole life and it made this his best summer ever. He said they saw a broad view of the island and how to protect it. He was in an organized group that tried to get the camp extended because he enjoyed it so much.
There were 17 children from public and private schools that attended the six-week camp that began June 23.
The first of what is planned to be an annual camp, sponsored by the Department of Planning and Natural Resources, was designed to build individual awareness and stewardship through interactive and creative ways. The youngsters took part in educational challenging outdoor adventures, fun hands-on activities, journaling, beginner field science, games and sports. The Eco Camp was based at the St. Croix East End Marine Park on the south shore.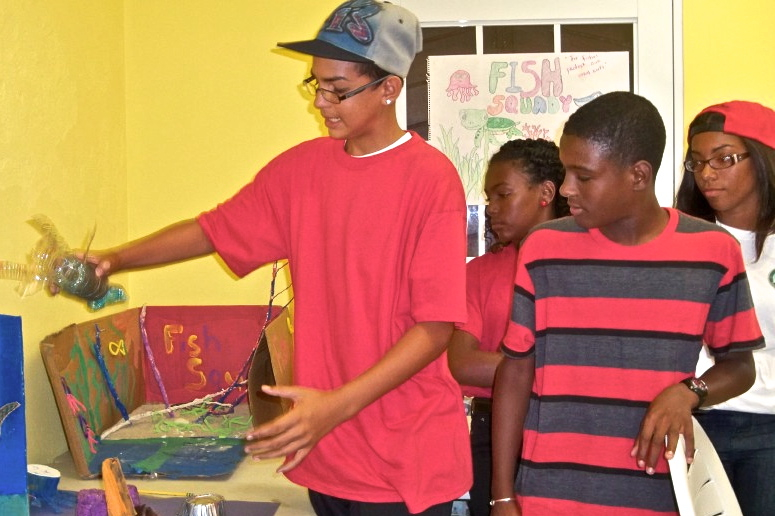 The students learned about the watershed and how it works and how to protect it. They learned about the fisheries, mangroves, sea grass, sea turtles and the coral reef.
Kemit-Almon Lewis from the Nature Conservancy discussed sea turtles and coral. Henry Christian, a local fisherman, built a wire fish trap with the campers and Raymond Sanchez presented information on sea grass and mangroves.
Jesus Espinoza, environmental and marine science teacher at St. Croix Central High School and Migdali Roach, Marine Park outreach coordinator, were the instructors. John Farchette, Luis Viera and Jose Sanchez assisted with various activities.
The camp even included physical fitness, that some felt was challenging.
They hiked Goat Hill, which some said was a rough hike, to Jack Bay and then to Cramer Park where they had an afternoon of snorkeling and a potluck barbecue.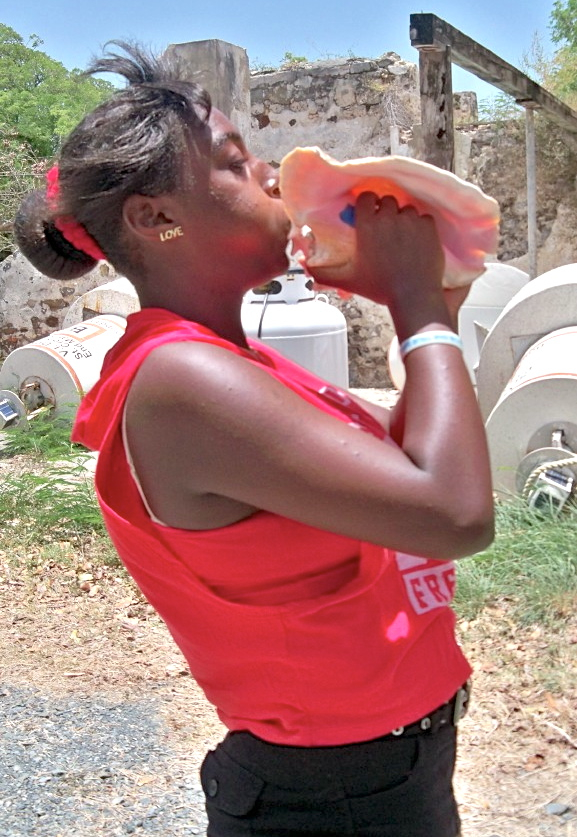 Brenee Soldiew, a student at Elena Christian Junior High, said they did fun activities and actually learned things over the summer.
Brothers Brandon and Nishawn Leon said they heard about the camp and said it sounded interesting so joined and were glad they did.
Luis Viera Jr. was chosen as the Eco Steward for picking up trash and generally being helpful. Nia Sylvester was chosen as the Eco Steward Leader for pulling the groups together and going beyond. All the other campers got awards and certificates.
Camp was closed with the youngsters all blowing conch shell horns individually then as a group. The campers each got a big royal blue recycled bag with gifts including a snorkel set.
Roach said the campers were excited about the whole marine experience provided. She added they will hold the camp again next year.
The camp was free for junior high age students and registration was promoted through guidance counselors. Transportation was provided with pick-ups and drop-offs at bus shanties across the island.