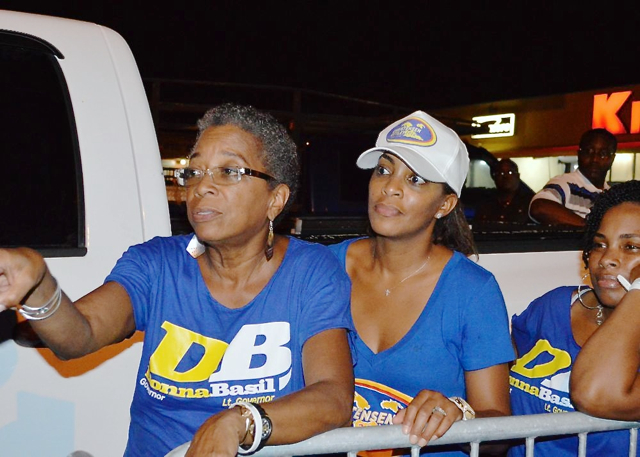 Unofficial primary results Saturday show St. Croix attorney Stacey Plaskett has clinched the Democratic Party nomination for delegate to Congress, and the team of Donna Christensen and Basil Ottley will be the party's gubernatorial ticket.
Absentee and mail in ballots had not been counted and Saturday night's announced results were unofficial.
"I am so grateful to everyone who put their trust in me," Plaskett said after hearing of her primary victory. She said she was looking forward to making her case in the general election "so we can look forward toward to an open and bright future."
Plaskett also said she felt the burden of duty that the office entails and would not let voters down.
"I know and feel the responsibility this honor involves," she said.
With 3,779 votes, Plaskett received 49.5 percent of the vote, beating Senate President Shawn-Michael Malone by 604 votes. Former Sen. Emmett Hansen II received 675 votes from primary voters.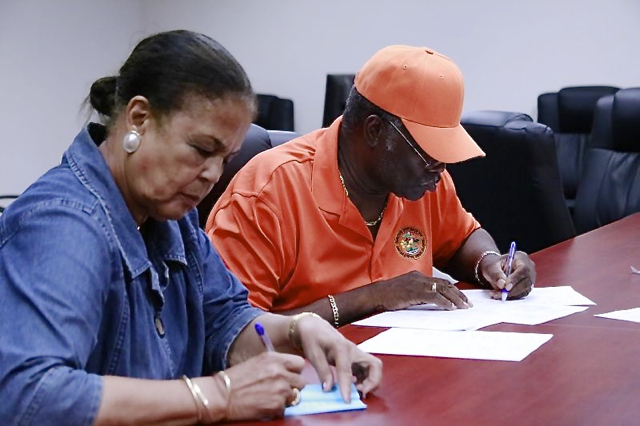 Christensen and Ottley handily won the Democratic Party gubernatorial and lieutenant governor nominations, receiving 2,540 votes, or 34 percent of the total.
Now that the primary is over, the fight changes shape a bit, Christensen said. The issues will not change, but now the fight moves out of the Democratic Party family, she said.
"The (Democratic party) family has endorsed us to run and we are ready to go," she said.
The general election will not be easy, but she and Ottley are ready to go, she said.
"We are going against someone who has run this race before who received I believe about 47percent of the vote last time," she said, referring to Kenneth Mapp and running mate Osbert Potter. "But I have also run against one of the candidates and was successful then and can be successful this time. More so because this time I am running as part of a team, a very strong team."
The office of the governor has a great deal of power and responsibility she said.
"The buck will stop with us and I will be the chief executive of the territory – that is a major responsibility. But I would not have run if I did not think I could handle it. I can and will be an agent of change."
Asked about her top priorities, Christensen said the territory has many pressing needs, from high energy costs to economic development to better education.
"But the most significant change we need is changing governance itself. Because once you get that right; once you get the systems working the way they are supposed to be working, I think a lot of the rest will take care of itself," she said.
Former Sen. Adlah "Foncie" Donastorg and running mate Angel Torres came in second, with 1,823 votes and 24.5 percent of the vote. The ticket of Greg Francis, the current lieutenant governor, and Patrick Simeon Sprauve, came in third, with 922 votes.
Complete unofficial primary results released Saturday night by the Board of Elections can be read here.
ST. CROIX SENATE PRIMARY
Two candidates who have never run for office before got the most and second most primary votes to be Democratic Party candidates for the seven St. Croix senate seats.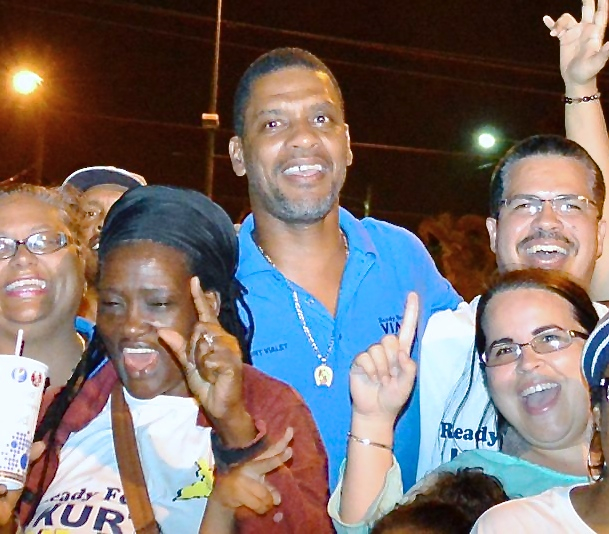 Public school principal Kurt Vialet came in first, with 2,896 votes, and former Police Commissioner Novelle Francis Jr. came in second, with 2,716 votes. The top seven vote winners will be on the ballot in November, where the top seven vote winners will take the seven seats.
"This is the first time I've run for public office, but I have been a public servant all my life," Vialet said, when asked to comment on getting the most votes in his first electoral effort.
He said he had worked for 27 years in education and 22 in education management.
"I think I am a proven leader in education, with a record of being able to turn around schools," he said. Vialet said he hopes to use that experience, and if elected, "my focus will be on turning around St. Croix," he said.
Francis came in second place, with 2,716 votes, and Sen. Kenneth Gittens placed third, with 2,189 votes. Former Sen. Neville James was fourth with 2,149 votes. Senate Vice President Sammuel Sanes came in fifth, with 2,035.Malcolm McGregor, a former special assistant to Gov. John deJongh Jr., came in sixth, with 1,719 votes; Sen. Diane Capehart was seventh, with 1,333. Paul "Paulie" Arnold is only a little behind with 1,303 votes, and could still pull ahead once absentee and mail in ballots are counted.
Absentee ballot counting begins Sunday.
ST. THOMAS SENATE PRIMARY
On St. Thomas-St. John, the Senate race is still locked up between three candidates vying for the seventh spot, but according to the unofficial numbers, the top three vote-getters are Sen. Clifford Graham, Sen. Myron Jackson and newcomer Jean Forde.
Graham, who received 2,413 votes Saturday, was also the top vote-getter in the 2012 primary election and said Saturday night that he is thankful to have the same strong showing at the polls.
"We began a journey two years ago and we have not yet finished that journey," Graham said. "There is more work to do as we look at the fiscal management of this government and trying to get this government back in a spending pattern where we are spending what we can actually afford to spend. So right now, I am tired, I am happy, I am elated and I am grateful for all the people that came out and wholeheartedly supported me so we can have a chance to finish the work we've started, and I look forward to the November election."
Jackson will also have a chance at a second term come November. According to the unofficial results, he earned 2,132 votes, putting him just behind Graham on the top of the list.
"I want to thank the voters in the St. Thomas-St. John district for their vote of confidence and I will continue to do my due diligence and continue to serve them," Jackson said Saturday night. "I am humbled by their support and I look forward to the November election. If we get through that, I will continue to work on the voters' behalf and address their concerns, the bread and butter issues and bring meaningful, insightful and visionary ideas and policies as one of their elected officials."
A newcomer to the group, Forde rounded out the top three during Saturday's primary with 1,915 votes. Forde threw his hat into the political ring two years ago, and said Saturday he has learned a lot since then about what it takes to run a campaign.
"I think that I certainly have learned from the past," Forde said. "My first time around, I had no idea what it meant in terms of running a campaign. I certainly am familiar with the issues, so that is not a problem. However, running a campaign is a whole different ballgame. So, I learned from my mistakes in the past and I think that what paid off for me. People are familiar with me because I have been a radio personality for the past 18 years, so they know that I am well versed in the subject matter. However, I just did not have it in terms of pushing a campaign and pulling a campaign together."
This time, Forde said he enlisted his daughter, Jerae, as his campaign manager and, along with his wife Lisa Hassell-Forde and the rest of his team, did more canvassing and "pounding the pavement" to find out what the community's real needs are.
"I am eternally grateful to the members of my team, who have worked so hard for me," he added. "And I most appreciate the electorate, who have gone out there despite the threatening storm, and expressed confidence in my abilities. I am forever grateful for that."
Following Forde were: Janette Millin-Young with 1,876 votes, Justin Harrigan Sr. with 1,793 votes, and Donald "Ducks" Cole with 1,757 votes.
Marvin Blyden was in seventh place after Saturday night's unofficial tally with 1,622 votes, but Sean Georges and Sen. Clarence Payne were not far behind. According to the reported results, Georges had 1,575 votes and Payne had 1,529 after Saturday's counting. Elections officials said Saturday they will begin on Sunday to count the more than 600 absentee ballots that could change the numbers.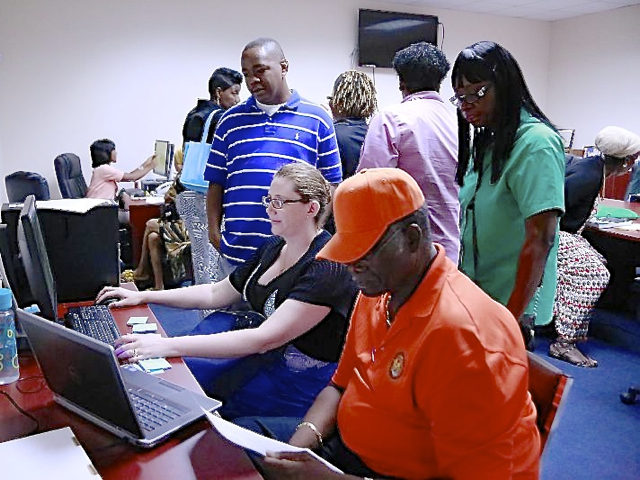 Elections Supervisor Caroline Fawkes added that the primary has to be certified by Aug. 12, so that sample ballots for the general election can be printed and sent out within the 45-day window set by the law. While the casting of the lots might be pushed back until Aug. 19, Fawkes added that she hopes to have the general election ballot formalized by the end of the month.
Fawkes said Elections will also look at issues experienced Saturday by voters. This is the first year Elections is using its new automated voting machines and Fawkes said that while the primary was successful overall, there were some glitches that have to be fixed in order for the general election to run smoothly.
Fawkes added that most issues Saturday were weather related. For example, the ports did not open until 6:30 p.m. and that caused a delay in bringing ballots back over from St. John to St. Thomas. Officials had to reprogram some of the machines' jump drives, work on glitches affecting the e-polling books at one or two sites and fix the audio on one of the machines used for residents with disabilities.
"Talking with voters on St. Thomas, most of them said they were happy with the machines and I saw many carefully reading the instructions, considering the ballot and making sure they darken the oval on the ballots as much as possible, so I would say that the day was overall successful," Fawkes said. "Any issues that we have we will work to correct by the general election and we will be working also to put out more public information announcements about what to do so that we keep the public informed about the process and their rights."
According to Elections' numbers, 17,269 registered Democrats turned out to vote on St. Thomas-St. John.