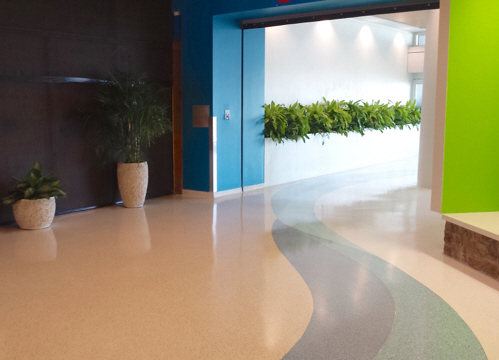 Air passengers arriving at St. Thomas Monday were greeted by a new entrance and restrooms in the baggage area of the Cyril E. King Airport, the first phase of the Virgin Islands Port Authority's baggage-claim area renovation project, VIPA reported.
The first major remodeling of the baggage claim area since the airport was constructed in 1990 was completed over the weekend, according to VIPA.
The new entrance features terrazzo tiles, which will be continued throughout the entire baggage-claim area. A welcome center staffed by the V.I. Department of Tourism is situated near the entrance to greet residents and visitors as they enter the terminal.
The renovation includes fresh plants, stonework and a bright coat of paint.
The new restrooms are equipped with what the authority's announcement called "all the modern amenities." They were expanded from two stalls for men and two for women, to eight stalls for women and five stalls and five urinals for men – providing adequate restroom facilities during peak hours.
The other phases of the project includes splitting one existing baggage belt, the installation of a new belt with automated signage, new concession areas, a new restaurant area and the full enclosure of the baggage claim area to add air conditioning.
VIPA hired Custom Builders as the project contractor. The renovations began in December and work is expected to be finished by November 2014.
The $4 million project is funded by Passenger Facility Charges.
VIPA is also preparing to do a similar renovation to the Henry E. Rohlsen Airport Terminal restrooms on St. Croix, according to the statement. The authority hired FR Maintenance and Construction as the project contractor and renovations are expected to begin this month.
VIPA Executive Director Carlton Dowe said the Port Authority also plans to include renovations for all its restrooms at all its port facilities in its upcoming fiscal year.
Further information is available by contacting VIPA's public information officer, Monifa Marrero, at 774-1629.