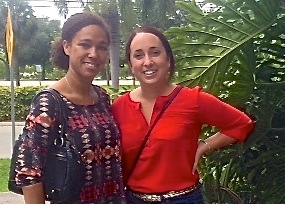 Virgin Islanders and Coast Guard Lieutenant Junior Grades Rebekah Seifer and Ronaqua Russell have recently completed aviation training at the U.S. Coast Guard Aviation Training Center in Mobile, Ala.
Seifer and Russell are the first Virgin Islands women known to have completed U.S. Coast Guard Aviation training and are now assigned to Coast Guard Air Stations in Miami, Florida and Corpus Christi, Texas, respectively, according to a press release issued by the Office of Delegate to Congress Donna M. Christensen.
"I was very ecstatic to hear the news of our two Virgin Islands women and 2012 U.S. Coast Guard Academy graduates completing flight training school," said Congresswoman Christensen. "This is a tremendous achievement, and I heartily extend congratulations and best wishes to Lt. j.g. Rebekah Seifer and Lt. j.g. Ronaqua Russell and their families. What they have accomplished was no easy task, and speaks volumes of their commitment and willingness to work hard to accomplish this goal. Virgin Islanders everywhere are beaming with pride, and I look forward to hearing more wonderful news."
Russell's parents, Aquanette Chinnery and former Sen. Ronald Russell, and other family members will attend a winging ceremony at Aviation Training Center (ATC) Mobile, Alabama, on Sept. 19. Russell graduated from the U.S. Coast Guard Academy in 2012 with a Bachelor of Science in Operations Research and Computer Analysis. She is also a graduate of the Ivanna Eudora Kean High School on St. Thomas, as well as New Mexico Military Institute.
Seifer also graduated from the U.S. Coast Guard Academy with a Bachelor of Science in Marine and Environmental Science and is a 2008 graduate from the Country Day School on St. Croix. Seifer's mother, Deborah Cestaro-Seifer, attended her daughter's winging ceremony last month.
Christensen said Russell and Seifer are among a growing list of Virgin Islanders who have been afforded the unique opportunity at a U.S. Service Academy to develop physically, ethically and intellectually while building a foundation for a challenging and rewarding career as a military officer in the service of our nation.
Both Russell and Seifer are former Coast Guard Academy classmates, very good friends, and are now qualified to fly the Coast Guard's HC-144 Medium Range Surveillance Aircraft.