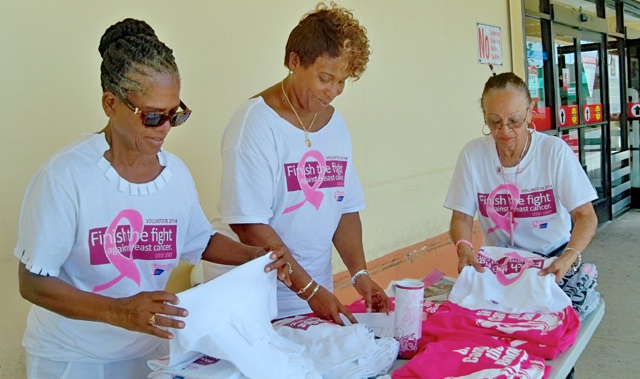 The volunteers of the St. Croix Unit of the American Cancer Society are preparing for the third annual "Making Strides Against Breast Cancer" walk.
The walk to raise awareness about breast cancer is set to begin at 6 p.m. Oct.18 at Basin Triangle. Walkers wearing pink will make their way through town, down King Street to the Christiansted Wharf.
Vivian Furet, chairperson for the walk, encourages men, women and children to come out and walk and be a part of the war on breast cancer. The rallying cry this year is "Finish the fight against breast cancer."
Furet said all the money raised from the $10 registration fee will stay in the territory. The funds will help cover the cost of mammograms and follow-up care for women who can't afford healthcare.
"Every single dollar raised here stays in the Virgin Islands," Furet said. Registered participants get pink, white or gray T-shirts to wear during the walk.
"Men are more than welcome to come out and walk to show their support too," Furet said. "We want them to know that even tough guys wear pink."
Furet said about 600 people registered for last year's event. As of Friday afternoon, more than 300 had registered.
Registration will be held from 9 a.m. to 1:30 p.m. Wednesdays and Fridays through Oct. 17, at the Sunny Isle Kmart. A registration also will be held beginning at 8 p.m. Oct. 17 at Divi Carina Bay Resort.
Final registration is at 4 p.m. the day of the walk.
Stanley and the Ten Sleepless Knights will provide music and there will be guest speakers. Cancer survivors will be recognized and women who have lost the battle with cancer will be remembered.
Information on breast cancer will be available. Doctors and health care professionals will be on hand to answer general questions.
Organizers said the walk, suitable for all ages, will be a nice family activity to help raise awareness about breast cancer. They said people can have fun getting all dressed up in pink feathers, wigs, hats, glitter and spangles. Some folks even get a little risqué wearing embellished pink bras on top of their clothing.
"Education and early detection is the best protection and saves lives," said Lucy Rodriguez, co-chairperson of the walk.
Rodriguez said since the unit's organization in 1988, the local group has raised funds to provide 900 free mammograms to uninsured women. The local unit helps cancer patients with medical supplies, medication, travel assistance, lodging and more, she added.
The ACS volunteers are encouraging everyone in the Virgin Islands to wear pink clothing and accessories Oct. 17 to make people stop and think about breast cancer.
Sponsors of the walk are Avon, the V.I. Lottery, Rustico, and the Palms at Pelican Cove. Zumba instructors on St. Croix will donate a portion of proceeds from Party in Pink Zumba classes held on Oct. 17 and 19.
People can call the ACS office at 1-340-719-4898 to register for the walk or to get more information.
According to the American Cancer Society 2013-2014 statistics, breast cancer is the most common cancer among women in the United States. About 232,000 women were expected to be diagnosed with breast cancer in 2013.
While breast cancer death rates have gone down, about 39,620 women with the disease will not survive this year, the society said. About 2,240 new cases of invasive breast cancer will be diagnosed among men and about 410 men will die from breast cancer.