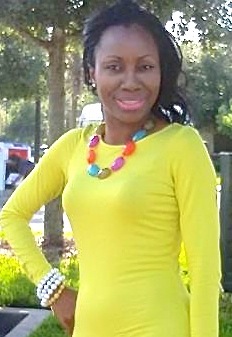 Jewels of the Virgin Isles is a feature series profiling Virgin Islanders in the diaspora who are excelling in their respective fields and/or positively representing the USVI abroad.
Zerene "Zee" Testamark is an avid traveler with a zest for life, who has made a career out of helping others experience their perfect vacation. However, that is just a snapshot of the influential woman she is becoming, one who is building her empire.
As she speaks, you can feel the fiery enthusiasm she brings to whatever she is doing, especially when it pertains to her home, and there is no question that she carries a heart full of pride for the Virgin Islands. She knows where the source of her inner power lies – in her faith– and her upbringings.
Testamark proudly embraces her beginnings as a self-proclaimed "ghetto youth," paying homage to her childhood home in the Oswald Harris Court housing community. Testamark says she often makes this reference as a way to inspire others who may not have had an easy upbringing to realize that they can become great; but mainly as a tribute to her "village."
"I don't care what part of the ghetto you came from; I was THAT child from the ghettos but I had a 'village' … my sisters who are Rastafarians and their friends, my neighbors, family and so many others who impacted me positively," she shares.
A 1988 graduate of the Charlotte Amalie High School, Testamark also attended the Lockhart Elementary School and Wayne Aspinall Junior High School (now Addelita Cancryn Jr. High School). In addition, she also holds a degree from the University of Phoenix and is currently working on another.
A 17-year veteran of the travel industry, Testamark is a travel counselor based in the Atlanta area. Testamark's journey into the travel world was not planned. In fact, she began her career on the other side of the spectrum as a medical billing instructor rising to the top in her organization as she fulfilled her childhood dream of teaching.
Once she had reached the apex of that field, she began to evaluate what was next and found a natural fit in selling travel to clients. "I had no prior sales experience," she says, "but I always had a love for travel and I love to talk to people."
After much encouragement, Testamark took a leap of faith. In just a few months she became the top sales agent, was promoted to supervisor, while continuously gaining achievements year after year. Though there aren't many business owners in her family, Testamark seems to have inherited the knack for entrepreneurship from her father, Earle Abraham, who was once the proprietors of the former Beverly Hills Guest House in Contant.
Testamark's passion for greatness and "paying it forward" would prove beneficial when she and her sister-friends created a nonprofit organization – V.I. Sisters That Rock (VISR) – and in 2012 began a school supply drive from Atlanta to benefit Virgin Islands students.
She easily credits her mother, Olive Testamark, as her ultimate role model. "I have seen her sacrifices, always willing to help others. That strength inspires me," she comments. Her mother is also the one who made sure that she attended church and Sunday school each week at Frederick Evangelical Lutheran Church in downtown Charlotte Amalie, further extending Zee Testamark's village of elders and childhood friends.
She happily recalls the joy she feels visiting the church that was the foundation of her faith and being recognized by the older women who helped to shape her future. "My faith gives me power because I know who I am supposed to fear, so I treat everyone as if they were my equal, regardless of their position or authority," she says. "Going to church every Sunday, even after partying the night before, was just the way it was; but it also is a large part of why my peers and I are who we are today. We were given the right foundation."
For Testamark, home is definitely where the heart is, and she even quotes the "Wizard of Oz" in saying, "There's no place like home." Memories of a beautiful childhood fill her mind on a regular basis, she says. "This is home for me," she states and cites family, friends, music, food, culture, beaches and holiday festivals as part of the treasured moments that cannot be replaced when she things of the territory.
With so much to cherish about her younger days, Testamark says she is gravely concerned about the lack of connectivity she sees in today's Virgin Islands youth. "I want them to have the same sense of community, that village concept that we had," she says. "It troubles me that the young people don't have that foundation that we did."
Testamark would love to see a YMCA facility in the territory, a concept shared by one of her high school classmates who was featured in an earlier article, and she is determined to find a way to instill a sense of hope and purpose in this new generation of Virgin Islanders.
Testamark says she is blessed to be able to live her best life by doing the things she loves with the people who mean the most to her and to see her vision take flight to give back to the Virgin Islands community. "I don't want to talk about an issue; I want to do something about it."
"I am a leader, not a follower," she continues, "and if I have a vision, I bring it to fruition, even if I only have five people supporting me, because I know that eventually another five and so on will come."
A Nugget for V.I. Youth: "One of my favorite quotes is, 'A people without the knowledge of their past history, origin and culture is like a tree without roots.' Maturity begins with that knowledge and, once received, you can become and do anything great!"
Little Known Fact(s): Oh, my, so many fun facts … The CAHS cafeteria is named after my father, Earle F. Abraham; I was the voice of many ads that played on Ras Regg Reggae Runnings show on WSTA radio; I cohosted poetry lounges when I lived in Florida; I am a foodie and have created my new business venture on FaceBook, FoodVibeZ."
__
Loán Sewer is a marketing and tourism consultant and proud Virgin Islander who resides in Washington, D.C. She is also a founding member of the USVI Alliance Inc., an organization focused on reconnecting the Virgin Islands diaspora with the local community and host of the USVI Economic Development Summit on the U.S. mainland. Follow her on Twitter @LoTalksTourism or e-mail her at info@Lotalkstourism.com.