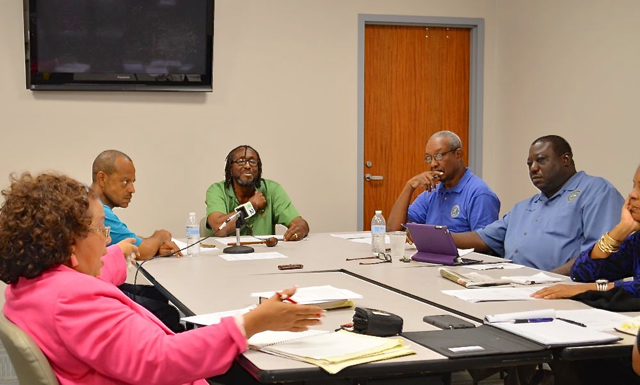 The St. Croix Board of Elections voted unanimously Wednesday to direct Supervisor of Elections Caroline Fawkes, who was not present, to report on efforts to post vote tallies "outside the election office and to the website as soon as the information is available."
Before the vote, members discussed the recent primary election, when vote tallies were delayed. According to the board, Fawkes and Elections staff had said posting the results quickly would be difficult because of the new tabulating machines, which have replaced the 1980's vintage Shouptronic machines that have been used for decades.
Chairman Adelbert Bryan said he did not see how it could be difficult. The new DS200 tabulating machines, which he pushed for purchasing, have USB ports and a tape backup. "It has to be possible, it's a computer," he said.
Neither Fawkes nor anyone with technical expertise was present at the meeting to discuss the nature of the issues that make it difficult to get results as quickly.
Voting in favor of the motion were Bryan, Roland Moolenaar, Lisa Harris, Liliana Belardo de O'Neal, Rupert Ross, Glenn Webster and Raymond Williams.
Bryan and other members expressed frustration with Fawkes, saying she has hired consultants and made decisions affecting the election without taking it to the board first. The board voted to write a letter to Fawkes directing her to take no actions which affect the election before bringing it to the board.
Harris said it was already required and "it should be obvious by reading the law, but apparently it is not."
Also with an eye towards getting election results up quickly, the board voted to notify all the technical consultants and contractors servicing the DS200 tabulators to come to the next Joint Boards of Elections meeting.
Ross voted no on the measure, saying he would prefer to simply direct the supervisor to make sure the results are posted rapidly.
"We want the supervisor to present timely results on election night," Ross said. "We don't want to enter into a debate with the contractors about why it can't be done. We want the supervisor to work it out so it happens," Ross added.
The board also voted to take some measures affecting transparency. It authorized all media to examine voting tabulators before and after voting. And it allowed all media video and audio access to the elections office while votes are coming in and being counted. Only recording devices and cameras will be allowed, not people.