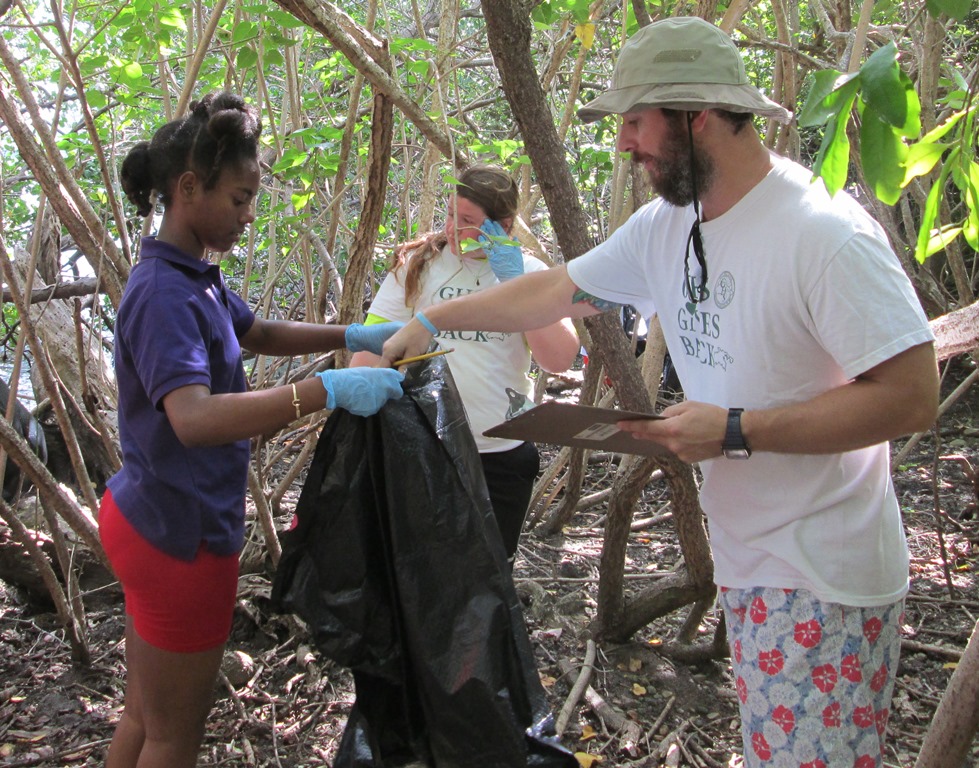 Lots of bottle caps, a fork, a shoe and much more went into black plastic garbage bags as 35 blue plastic-gloved middle school youths from Gifft Hill School did their Coast Weeks chores by picking up mounds of trash at Mary's Creek Friday.
"Another plastic thingy," Maya Dudkin said as she plucked yet another piece of trash from the mangrove muck that lines Mary's Creek, a small bay on St. John's north shore.
Phoenix Rose found a plastic "thingy" to scoop up cheese for crackers.
"Did you find any cheese with it?" history teacher Rich Walsh asked, laughing.
Some of the trash appeared to have blown off boats. Lyric Vacharat and Naheem Modeste found a slightly tattered waterproof guide to Bahama fishes.
The youths clearly got the message about the importance of keeping the area clean.
"Coast Weeks is important so we can have a better environment," Lily Francis said.
She said picking up the trash keeps it out of the ocean, which in turn keeps it away from animals that can get hurt.
"I don't want that to happen," she said.
Lunique Henley had a similar take on the issue, noting that animals can get sick and die from garbage in the ocean.
Trystien Pierre said St. John's environment is so unique, it's important to protect it.
"We have to protect the habitats of sea life and wildlife," he said.
The Gifft Hill students got an additional lesson on their field trip. V.I. National Park Ranger Laurel Brannick got word from some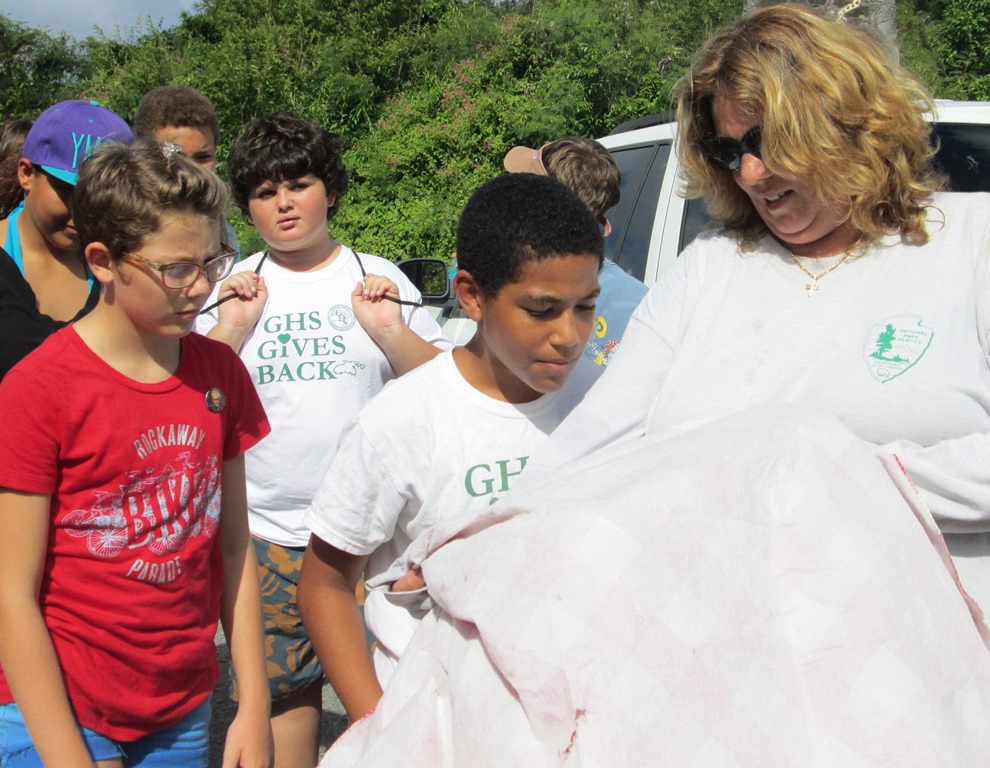 tourists while leading the park's Friday morning bird hike that a red tailed hawk was drowning in one of the Annaberg Plantation's sugar mill factory vats that had filled with water. She climbed in to rescue the bird.
"And I climbed out of the vat with the bird in my arm," a somewhat damp Brannick said, adding that this is a species that's known to bite.
By the time she got to the Francis Bay trail parking lot to lead the Coast Weeks trip, she had the bird in a garbage can and covered with a table cloth. Brannick sent the students and their teachers off to pick up trash while she waited for bird rehabilitator Phyllis Benton to arrive. The bird wasn't in great shape, but Brannick said Benton was hopeful that with a night of rest and recuperation, the bird would make it.
"If you see a bird in distress, it's very important to call someone," fellow bird lover Judy Buchholtz, who was with Brannick on the rescue, said.
While the youths were focused on the trash and the bird, the teachers saw a bigger picture.
Gifft Hill English teacher JoAnn Marchant said that while the students were giving back to the community, the cleanup helped them take responsibility for the world around them.
"We have to live together with nature," she said.
Kip Roberts, the school's technical director, said unlike students on the mainland, these students act like a family.
"They are just amazing. They think for themselves and are not afraid to ask questions," he said.