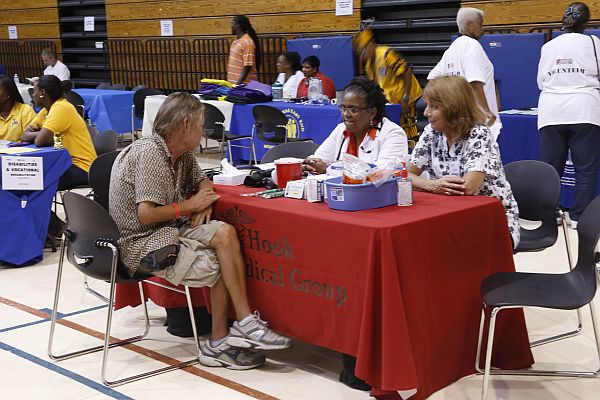 It was around 9 a.m. when the first wave of people hit the University of the Virgin Islands Sports and Fitness Center on St. Thomas for the Department of Human Services' annual Project Homeless Connect service fair on Friday. Once they stepped foot onto the sidewalk, they immediately began scattering in all directions, taking advantage of everything from the free breakfast being served to the free health care screenings and other activities that Human Services Commissioner Chris Finch said would normally take them, under even the best circumstances, "days and days" to access.
Each year, the fair brings together representatives from any and all government and private sector agencies or community organizations that work with the homeless or disadvantaged — populations that Finch said have a "hard time" getting access to even the most basic of care.
"People who are homeless tend not to have an easy time accessing most services — they either don't want to go to waiting rooms, don't have the documentation that's needed, or maybe don't even feel welcome at times and so they don't access services they could use to help them," Finch explained. "One way of cutting through all that is at least on a once a year basis, we just pull everyone together and give them access to as many services as we can think of. Because, really, even if you knew the system, and had a car, and had a phone to make appointments, it would still take you days and days to do what you can in half a day here."
Finch added that each year, the fair gets bigger and bigger, with the department learning from the needs of the previous years' clients. More volunteers were brought in this year to service bigger crowds, for example, and Finch said that even basic items, such as children's shoes, were given away to those in need.
Every two years, a count of the territory's homeless population is conducted in conjunction with other government and non-profit agencies, but Finch said some groups, such as children, are hard to measure. There might not be many out in the street, but "it doesn't mean there are not children out there that are homeless," he said.
"In most cases, children that are experiencing homelessness could be in an abandoned house somewhere, they are in a car that someone allows to be in their driveway or they are on someone's couch and that's a hard number to get a handle on," he said. "With our Head Start program, children that are homeless are admitted automatically, and we have had children that are in those situations I just described and in most cases, it could be that a lease is up, the family is being evicted, but they are doing everything possible to make sure people don't realize they are homeless."
The next homeless count is being conducted in February, but in the meantime, events like the Project Homeless Connect Fair, will give those families access to agencies that could help with housing or even finding jobs for family members who have been laid off or fired. Having "homeless" on your resume isn't a selling point, and Finch said agencies such as the Department of Labor that send their representatives to the fair each year are making progress with clients that come back to get counseling, financial advice or even just more information about what is available in the community.
"Not everyone here is homeless, but if they're here, we assume they're here for a reason," Finch said.
New partners, such as Walgreens and Medicaid Solutions, give clients a chance to look into different health care options — especially those that work with residents without insurance — and Human Services also has been working to partner with other local non-profits in an effort to increase manpower or even access to the grants or subsidies needed for them to run their organizations.
Raymond Lewis-Howard, for example, works with Human Services' Senior Citizen Employment Program, but is also active within Catholic Charities of the Virgin Islands, which offers food and clothing, and also runs the Bethlehem House shelter on St. Thomas to serve those in need.
"Being a minister myself, I think it's my job to help where I can, so I'm glad I had the opportunity to be here today," Lewis-Howard said. "Many of us here, we're on the front lines, and we see a lot of people sometimes get denied help from the agencies that they need the most. It's just not right. We all need to come together, help give them counseling and some peace of mind, and that's really what my prayer for this is today. So far, it's been wonderful, and I hope this event continues for many years to come."
Finch said the annual homeless count has remained "stable" over the past few years, showing a population of approximately 500 homeless territorywide. The statistics per island vary, however, and Finch said the next count will be conducted in February 2015.
Project Homeless Connect events were also held this year on St. Croix and St. John.