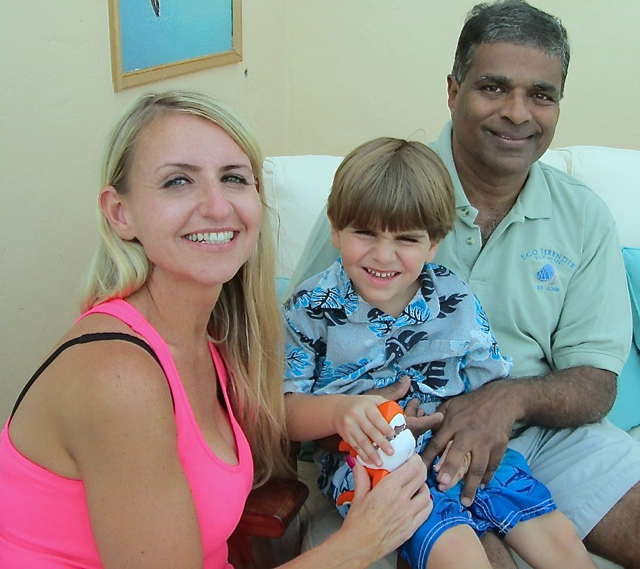 Harith Wickrema put into play what he spent years teaching when he developed his Eco Serendib villa and spa at Estate Rendezvous on St. John.
For his efforts, he garnered the first ever five-star rating from the Island Green Living Association's Green Villa program.
"He's done a lot to try to green it up," IGLA President Rob Crane said of Wickrema's villa.
IGLA's Green Villa program evaluates villas on ecological aspects of their structure, operations and maintenance, including water management, energy conservation, physical design/construction, site location, natural lighting and landscaping/grounds. Villas can earn from three to five stars.
Wickrema is quick to point out all the green measures he's done to the villa but is just as fast to note that in order to keep the eight-bedroom villa in the luxury class, it's not possible to have every single thing fall into the green category.
"You need to cut a few trees to save a few trees," he said.
He said he hopes that if he entices well-heeled captains of industry to Eco Serendib, they'll tell their decision makers to go green.
"And if the demand goes up, the price will go down," he said of the materials that went into building Eco Serendib.
Wickrema bought a newly-built four-bedroom villa but quickly found that it had construction problems. Since he had to make repairs, he said he decided to expand it and incorporate all the green materials possible.
His tour starts with the Zen garden and its path made of recycled glass. A meditation area sports rubberized tile made of recycled materials and bought from Home Depot on St. Thomas.
"When possible, we like to support local vendors," he said.
That support extends to artwork by local photographers Steve Simonsen and Caroline Rogers, as well as a locally-crafted home entertainment center in the great room.
The counter and cabinets that surround the barbecue grill look just like tile, but are made of foam plastic. Table tops look amazingly like marble but are an amalgam of leftover construction materials.
"The idea was to reuse and recycle," he said.
Top-of-the-line appliances use minimal energy, solar panels reduce dependence of the V.I. Water and Power Authority and a terraced garden provides food for a chef to create meals for guests.
Wickrema owns Harith Productions, a global marketing communications, organizational effectiveness, education, training, event/meeting/destination management and production company that provides services in the corporate, social and political arena.
He has long practiced what he preaches. At Temple University's School of Tourism and Hospitality Management in Philadelphia, where Wickrema is on the dean's council and has been a faculty member for more than a decade, he designed the first ever sustainable event-management curriculum.
"The idea is to introduce an eco-friendly way of reducing the carbon footprint in doing events," he said.
He also introduced the Green Initiatives Awards to recognize corporate sustainable leaders.
Wickrema is the recipient of several notable awards related to Harith Productions work, and was included among Lodging magazine's 2011 Top Ten Hospitality Innovators in the area of Sustainability for his efforts.
In addition to teaching at Temple, it's also his alma mater. He said he left his native Sri Lanka to attend school, and then made the mainland his home.
He first visited St. John in 1985, buying Eco Serendib in 2011. He said the name represents serenity. Additionally, Serendib is an archaic name for Sri Lanka.
He's been busy integrating himself into the St. John community and serves on the boards of both IGLA and the Friends of V.I. National Park. Proudly, he said he voted in the recent territorial elections.
"St. John is my home," he said.