Bathers could be seen soaking in the turquoise waters of St. Thomas's most popular beach Monday morning after leakage from the mangroves curtailed swimming over the weekend.
Lifeguards warned people to stay out of the water Friday and Saturday due to the brownish, odoriferous release from the swamp that is separated from the ocean by a narrow strip of sand.
Mangrove swamps are breeding grounds for baby fish and provide habitat for dozens of species of sea birds. Most mangroves live along the shoreline and are a natural part of the ocean ecology.
The separation of the swamp from the ocean at Magens is not the norm.
"We have permission from DPNR [Department of Planning and Natural Resources] to keep a berm, which will be low enough to allow water to seep naturally from the mangroves," Robert Moron, chairman of Magens Bay Authority, said Monday.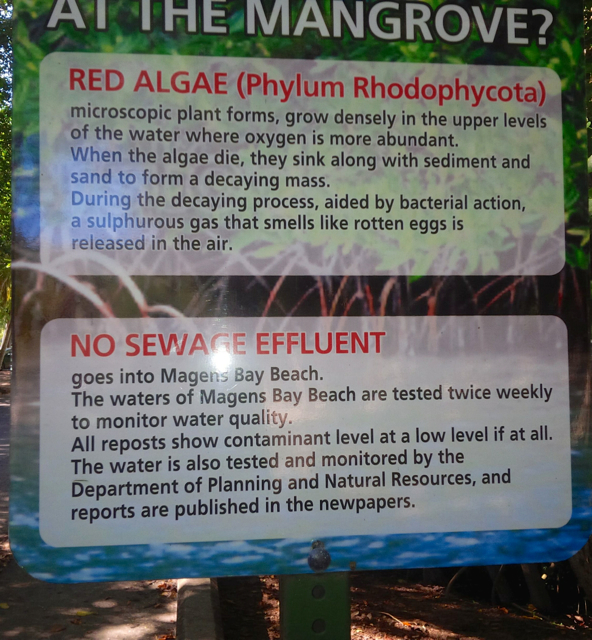 But the ocean surge builds the berm up too high, he said, necessitating lowering it periodically to allow a natural seepage. "When the buildup of sand gets too high, the water is going to find its own path out," Moron said.
He said the park has a sump pump to keep water out of the parking areas on either side of the mangrove swamp that runs through the middle of the park, but that during especially rainy periods, when the water rises above the banks and the bridge, the sumps don't work.
The proper height for the berm was determined by an engineer and approved by DPNR more than a year ago, Moron said.
When the lower berm is not maintained, the red-brown mangrove water bursts rather than seeping into the ocean and creates a large area of discoloration. But it is not dangerous to anyone's health, Moron said.
"There's no e-coli in our bay's water," Moron said. "We have it tested twice a week." He added the test is actually for much more than just e-coli.
But the accumulation of algae and other plant life in the mangroves causes sulfurous gas to form, hence the odor. A sign at the bridge that spans the mangroves spells out the process and explains the color and odor.
"Only DPNR can close a beach," Moron said. The beach was not closed over the weekend. But the Magens Bay Authority does have concern when there's a big release of the brackish water that people with allergies or sensitive skin might have a reaction. Moron said the board plans to have better signage in the future to let people know about water conditions.
DPNR monitors 35 beaches in the Virgin Islands weekly and reports whether they meet water quality standards and are safe for swimming and fishing. Friday's DPNR report deemed Magens Bay safe for swimming and fishing.
The bay water was actually clear by late Saturday afternoon and there were plenty of people in the water Sunday, Moron said.