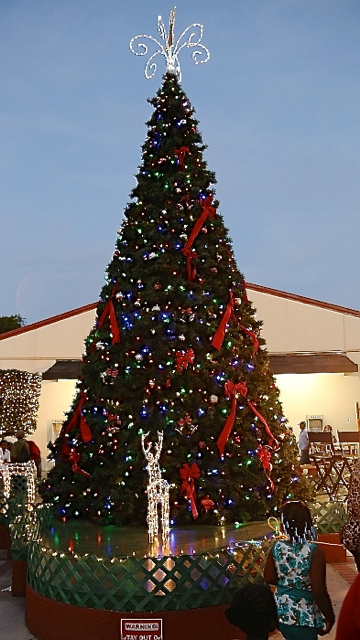 Ten St. Thomas school groups got a chance to perform before the crowd gathered Wednesday at Havensight for the West Indian Co. Ltd.'s traditional tree lighting ceremony.
Every year, WICO tries to "refine" the ceremony. This year, everyone from the Ivanna Eudora Kean jazz ensemble to Bertha C. Boschulte Middle School's Flambo Combo was out Wednesday, providing the entertainment for the night's festivities. The Combo – which has performed several times at the new "Jazz on the Dock" series – was even honored during the tree lighting and ribbon cutting.
"It's our 30th year, so it has sort of become customary now for the Christmas tree lighting and WICO to be the signal-in for the season," WICO Executive Director Joseph Boschulte said. "We continue to refine it and this year we invited over 10 school groups, which gives our students the opportunity to perform before a nice audience. Today was a big ship day, had three ships here and there were two more in Crown Bay, so it gave our visitors the chance to see what our students can do, and now, as we're transitioning into the more community-based portion of the evening, it gives our residents some great local entertainment."
Boschulte said more than 1,000 gifts were also given out this year by Santa Claus, a tradition each year for families with children. The youngsters also were entertained by local author Zenzi Hodge, who read her new children's book, "The Never Snowy Christmas."
Like most years, the event runs from the early morning to the later evening hours, giving locals and visitors alike the chance to take advantage of holiday deals offered by Havensight vendors and sample everything from local food to hand-made arts and crafts. The demand for vendor space at the event continues to grow and while the crowds in the evening were not as packed as in previous years, Boschulte said local booths set up along the dock have been a continuous draw for residents in the evening looking to spend time with friends and family, or get some early Christmas shopping taken care of.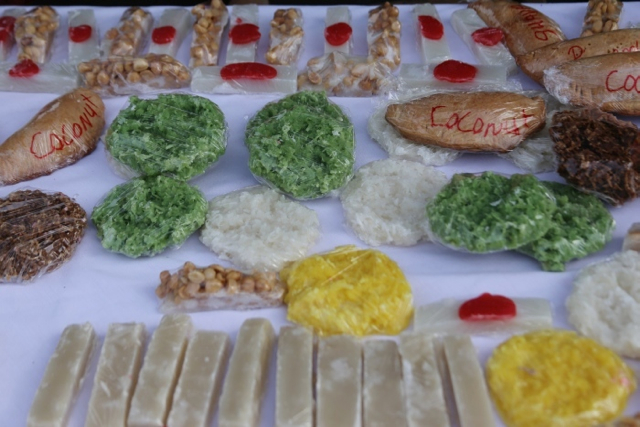 "When the locals come in, that's when I make my money," local vendor Coraline Greenaway-Casimir said Wednesday. "I've been here for three or four years now and while the tourists will come in, take pictures and say my things look nice, I know the residents will buy."
Greenaway-Casimir's booth features everything from light-up toys to local wood crafts and every year, she gives away a gift to at least one child.
One vendor, who called herself Lady Beauty, said business would pick up a little more if the cruise ships marketed the event more to their passengers, or if organizers put together activities like taste-testings, which would give visitors the chance to sit down, eat the local food and "sup" with members of the community. Partnering with ferry companies that can offer specials or late boats back for passengers from St. John, Tortola or St. Croix could also bring more traffic, she added.
Some of the mall's retailers said the event each year was exciting, but it doesn't necessarily mean more business.
"The season has been going good so far, and there has been good traffic," said Kay Vanterpool of Local Color. "But in terms of events like this, it's really pretty much the same. I've been here for the past seven years and what we have are people off the ship browsing, but locals coming in to buy. There are some years that the tree lighting does bring in extra business, and there are some years it doesn't."
Many Havensight tenants, however, said this year has been slower than normal. Looking around the event Wednesday, the crowds seemed a bit thinner than in the past and the normal traffic that makes it almost impossible for anyone to get in and out of the Havensight area was flowing smoothly.
Most attributed this to the large numbers of taxis that swarm the entrances on either side of the mall and pick up visitors only to shuttle them downtown.
"There are some days where we don't see a soul here, even when there are three or four ships in port," Fun at Sea Boutique's Prakash Chandiramani said Wednesday. "It's been much slower than in other years, mostly because of the taxi interference, where they are parked, what happens when the gates are closed and the fact that no one is really policing the issues that we're facing. Events like this don't hurt, and we want to support them, but with what's going on, you really have to want to do it and put in the extra hours."